Local Football Star Commits To Navy!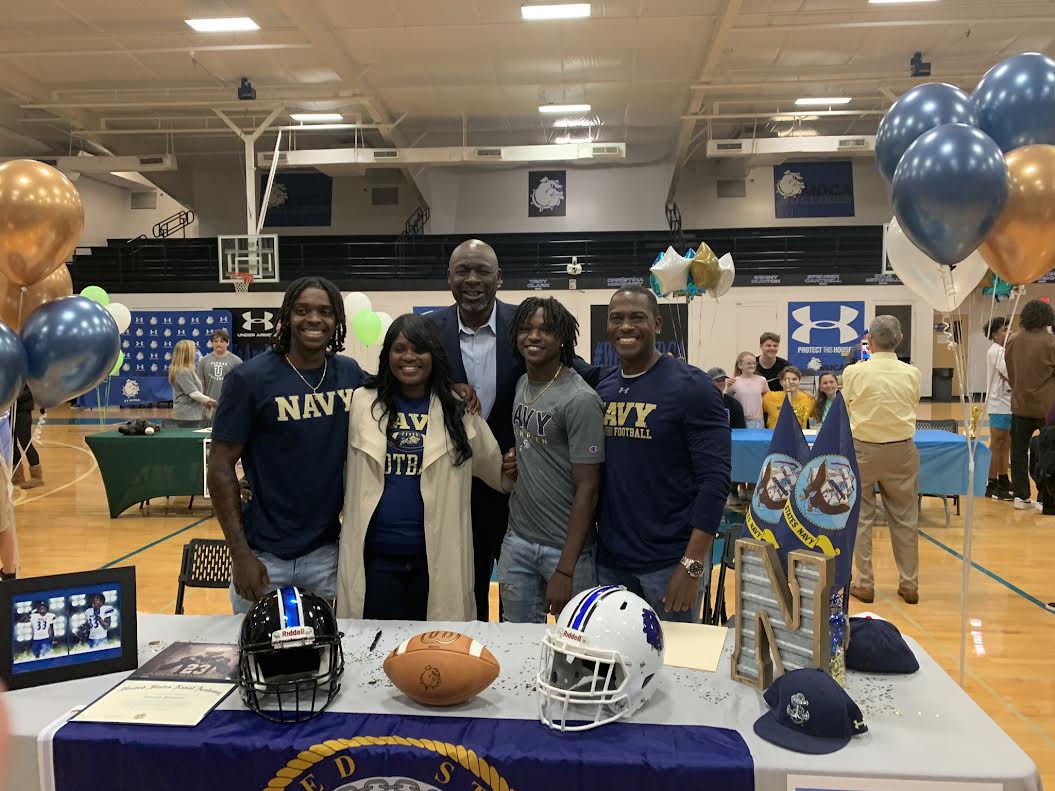 Mount Dora Christian Academy's Isaiah Bryant Is Headed To Navy!
To play football is a privilege. To play football for Navy is an honor unlike any other. The Men and Women of our armed forces are ready to make the ultimate sacrifice at any moment. That is the step that local high school football and basketball star Isaiah Bryant is about to embark on. His journey won't be easy but if there is anyone who can make it in the US Navy it's Bryant.
Isaiah Bryant is an amazing athlete, he is also a great person. He embodies exactly what the US Navy represents. He brings honor, courage and value. These are the kinds of traits we have seen out of Bryant this entire season on the football field. Bryant was the running back for the Mount Dora Christian Academy Bulldogs. He successfully played in every game this season. Bryant had 613 total yards of offense on the ground while racking up 7 touchdowns. He averaged 6.2 yards per carry and lead the Bulldogs to another championship berth this season.
Bryant is a player that is very physical. He fights through every tackle to gain the maximum amount of yards possible. He is very fast as well, if you have never got the chance to see him run the ball in the open field you are really in for a treat! There is so much potential that he brings to any college program. We have seen players like him get groomed to be very successful in Division 1 College Football Programs. One recent player in our area making waves is Mac Harris the former quarterback for The Villages who is now playing linebacker for the USF Bulls. If Bryant is anything like Harris he should be able to adapt to any position the Midshipmen put him at.
Bryant should fit in nicely with Navy. While Bryant and his family are going though this new transition, Navy is also going through transitions of their own. This season Navy promoted defensive coordinator Brian Newberry to the head coach position, replacing long time head coach Ken Niumatalolo who is the winningest coach in Navy football history. Bryant will be coming into a program that will be going through a plethora of changes but they were much needed for Navy.
The decision to Join any branch of our military is a tough one. I am sure it is a decision Bryant didn't take lightly. We should be proud and grateful he is taking this step. He will not only be out there on any given Saturday but Bryant will be out on high seas ready to protect our great country. Of this we are certain. Bryant is a true class act. He deserves this opportunity to play with the Midshipmen. He deserves our greatest respect and we are honored to have a member of the Lake & Sumter County Community Commit to such a brave new endeavor.
Did you know that Mount Dora Christian Academy have placed 42% of their seniors into College Football Programs in the last 3 years? That is incredible and we need to take a moment to congratulate MDCA on their success rate. They are truly role models for schools in our area when it comes to athletics. Mike Kintz has certainly done an amazing job ever since taking the Head Coaching Position for The Bulldogs in 2020 from Kolby Tackett who also built the program into the success it is. Coach Tackett now coaches Oviedo.
We are excited to see how Navy utilizes Bryant! They are absolutely receiving an excellent player who will excel no matter what position they end up choosing for him. It is worth noting that Bryant did play on the defensive side of the ball as well. We are unsure of which position Navy have in mind for Bryant at the moment, but we will know more in the coming months and year as he wraps up his high school career and gets ready to attend Navy.
We want to congratulate the Bryant family for this enormous step. We are also eternally grateful for his commitment to a branch of our armed forces. May the wind be at your back Isaiah! Go out there and make us all proud!
Photos Courtesy From –
Mount Dora Christian Academy Facebook Page
Mount Dora Christian Academy Twitter Page
Kyle Coppola was born in Newton, Massachusetts and received his Bachelor of Fine Arts in Communications from Curry College in 2016. After traveling to Florida on a family vacation, he decided he could not get enough of the warm weather and made the move from snowy Massachusetts to central Florida 8 years ago.
For the last decade Kyle has gained valuable experience in social media content creation, marketing and sales, writing, video production, sports announcing and even broadcasting for local radio stations, such as FM 102.9 in The Villages and FM 91.5 in Massachusetts. Every year he volunteers at The Villages Charter High School as a play-by-play sports announcer for the football games as well as a public address announcer for the basketball games, including the annual Battle at The Villages Tournament.
Outside the office Kyle is a husband and father to two beautiful girls along with their cat. In his spare time he likes to spend time with his family, travel, play golf and swim. He is also a huge sports junkie and even bigger motorsports fan and loves to attend racing events when he can.
Share This Story!