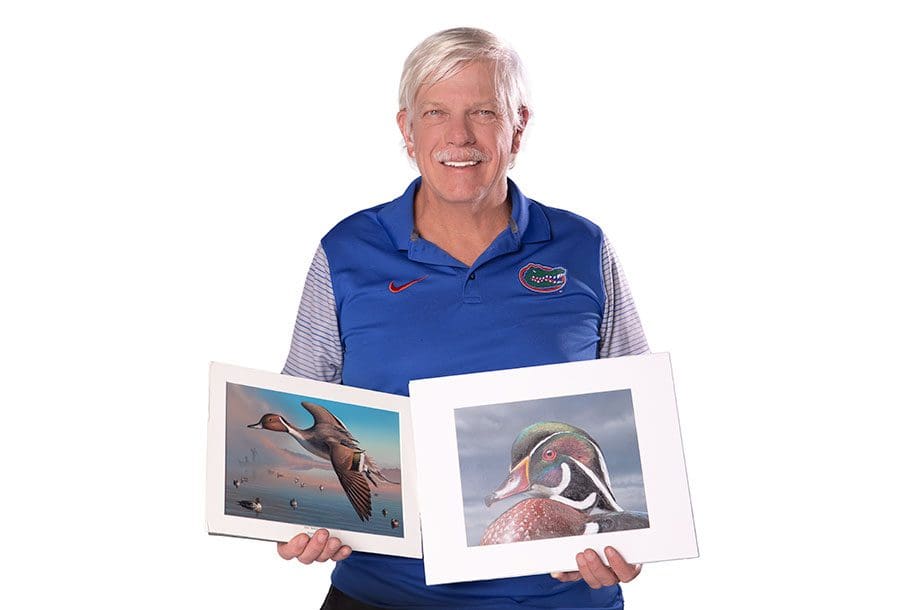 When it comes to painting, one local artist has some serious game.
Photo: Nicole Hamel
Actors have the Oscars. 
Musicians have the Grammys. 
Wildlife artists have the Federal Duck Stamp Contest. John Harris has created his own duck dynasty. 
Since the 1980s, John, a painter who lives on an 11-acre property south of Mascotte, has been a regular participant in the competition, the only art contest sponsored by the federal government. He also competes in state-sponsored duck stamp competitions. 
John is a three-time winner in the Florida Duck Stamp Contest, a two-time winner in both California and Louisiana, and won Oklahoma's contest two years ago. In 1998, he finished second in the Federal Duck Stamp Contest. Each victory is another feather in his cap. 
"I love these contests because of the high caliber of competition," says John, a member of the Society of Animal Artists. "It's an opportunity to test my talent against the best artists in the country." 
The competition exists because waterfowl hunters are required to purchase a federal duck stamp and state duck stamp as part of their annual licensing requirement. Entries must consist of a two-dimensional design and may be in any media except photography or computer-generated art. 
Though John and other artists receive no compensation for their work, they have the satisfaction of knowing their small stamps make big impacts. Millions of dollars are generated in sales to restore and preserve waterfowl habitat.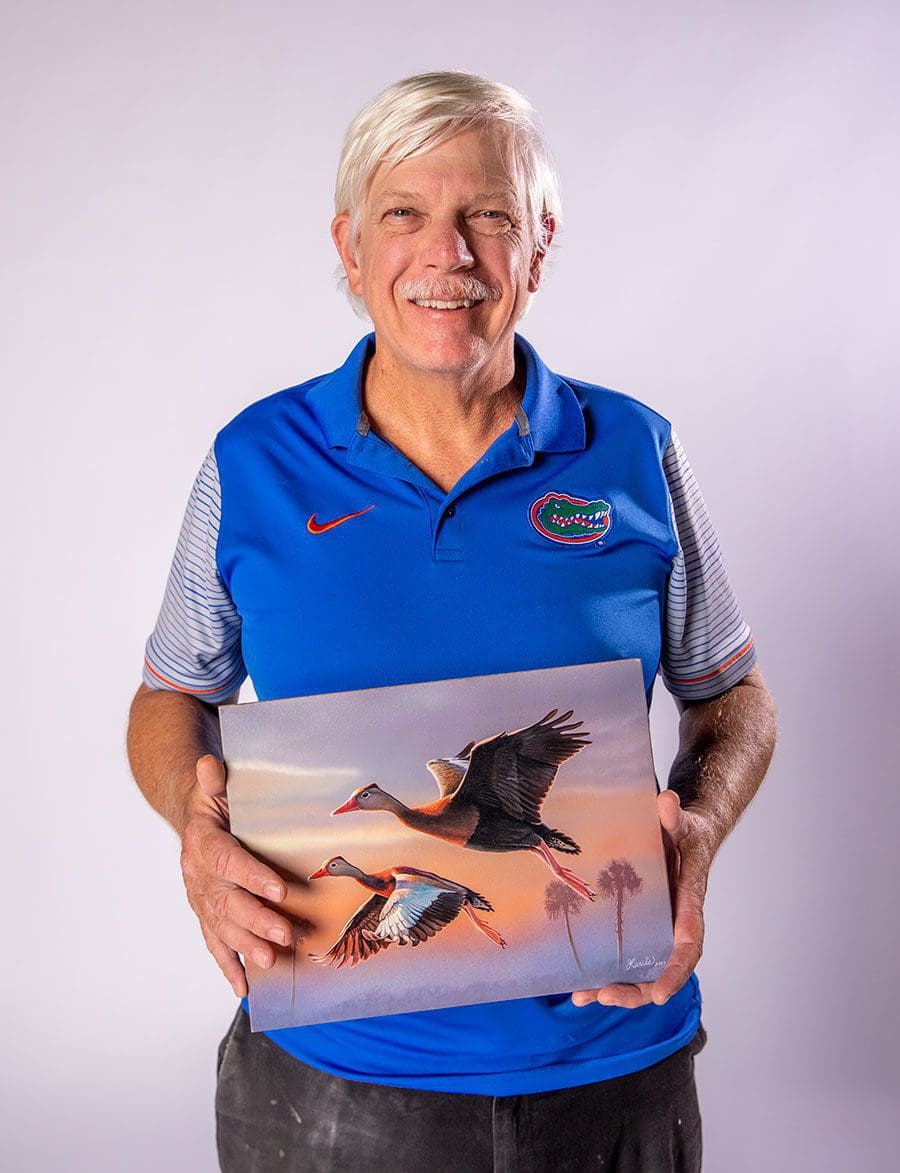 "I love getting out in the wild and watching birds fly because it's awe-inspiring," John says. "I'm witnessing God's creation."
Art has always been a big part of John's life. He painted in high school as a hobby and later earned a degree in ceramics from the University of Florida. In the mid-1980s, he became intrigued by wildlife art after seeing two paintings that appeared in an issue of Florida Wildlife Magazine. The front cover featured a turkey painted by artist Bob Binks and the back cover showcased a canvasback duck in flight by artist Robert Steiner. 
"I became inspired when I saw that," he says. "Several years later I started entering duck stamp contests. By about the fourth year I was finishing ahead of my idols. That motivated me to keep improving."
In addition to duck stamp competitions, John also paints several wildlife portraits each year. He doesn't have to look very far for inspiration. His property is home to sandhill cranes, owls, ducks, turkey, deer, foxes, and bobcats. 
"I usually spend between 50 to 60 hours on each one," he says. "I want the viewer to feel the same emotional response I feel. I try to make each one real and beautiful." 
Akers Media Group's James Combs has been a staff writer for several local publications since August 2000. He has had the privilege of interviewing some of Lake County's many fascinating residents—from innovative business owners to heroic war veterans—and bringing their stories to life. A resident of Lake County since 1986, James recently embarked on a journey to lead a healthier lifestyle. He has lost 60 pounds and walks nearly five miles a day. In his spare time, he enjoys target shooting, skeet shooting and watching his beloved Kentucky Wildcats!
Share This Story!