Local Talent: Nicki Forde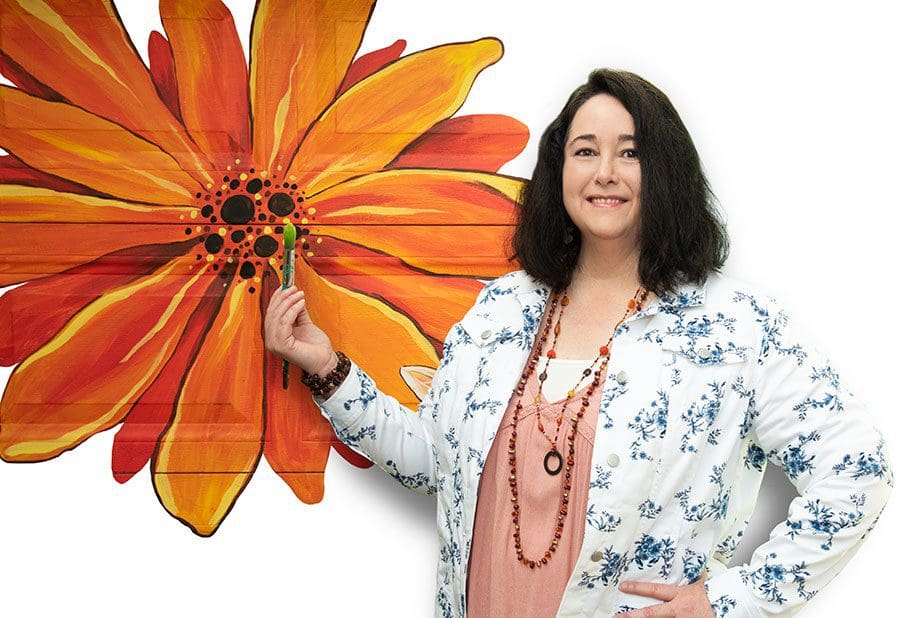 Designing woman rediscovers love of art.
Photos: Nicole Hamel
Nicki Forde has loved art since a very young age, when she first started drawing horses, her favorite animal at the time. Today, she works as an artist in her home studio in downtown Leesburg. 
After high school, Nicki attended the International Fine Arts College in Miami to pursue her dream of becoming an illustrator of children's books, but chose to go into graphic art for a steadier paycheck. 
Nicki spent about 25 years as a graphic artist before realizing she again needed the creative outlet she had in college. The realization came while she was designing invitations for her wedding. 
Nicki now does commissioned portraits of pets and people and has completed several outdoor murals. One of her first murals was on the side of a barn in Dunnellon, where she painted a "quirky" scene of flying pigs, a chicken in a hot air balloon, horses, and dogs. 
Most of her customers find her through her Instagram and Facebook pages, where she posts her works of art. Currently, she is working on a two-feet by three-feet painting of the "Peaceable Kingdom," originally done by Edward Hicks around 1833. "It's a take on the Bible story of the lion and the lamb; just little critters happily getting along together in the landscape," Nicki says. "I want the art I make to make connections for people, to put smiles on faces, to lift moods."
Her art definitely does just that; particularly with one of her most recent murals, created at the request of her yoga teacher, Michele LaFever, of Fruitland Park. Nicki painted a colorful floral mural on Michele's garage door. "Michele said it's her way to spread some cheer and give back to her neighborhood." 
Michele recently lost a friend to COVID-19, and the garage door has become a tribute to him, and to everyone affected by the virus. It is one of Nicki's favorite and most meaningful pieces. "I feel so blessed to be able to help spread this kind of love, because kindness is what gets us all through," Nicki adds.
Nicki's mission is making art that spreads love and inspires kindness. "I put it on hold for so long because I had a hard time believing in myself, and when it came time to study for a career, I chose a safer path. Now I wake up and it feels like I'm a kid and it's Christmas morning," Nicki says. While commissions take up the bulk of her time, she still does some graphic art on the side, and says that if the opportunity came her way, she would still love to be a children's illustrator. 
Nicki has been a regular at the Leesburg Night Market and looks forward to setting up this year when it is back up and running. You can also find her artwork at facebook.com/DrawingOnMyHeart, drawingonmyheart.com, etsy.com/shop/DrawingOnMyHeart, and on Instagram @nickiforde. 
Originally from Buffalo, NY, Victoria graduated from Canisius College in 2018 with a bachelor's degree in English and Writing. In August of 2019, she relocated to Eustis, Florida, and soon began at Akers Media Group assisting with social media projects. Later that year, she was promoted to a full-time writing position at the company and has since found her niche telling the stories of so many of Lake and Sumter County's awesome people.
Share This Story!