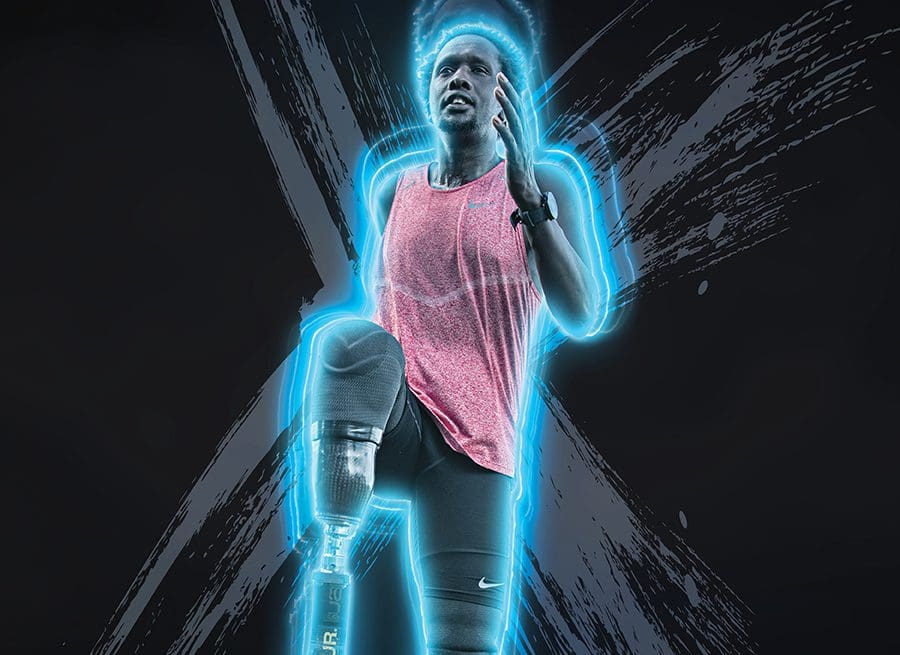 The power within
Record-breaking All-American marathoner Marko Cheseto has it all.
It just took some twists and turns for the Kenyan-born athlete, who has been running since seventh grade, to realize it.
In his 20s, while running for a teaching college he attended in Kenya, Marko was recruited to Texas Tech by a visiting coach.
A few changes to the original plan later, in 2008, Marko became a member of the University of Alaska-Anchorage's cross-country team. Two years later, Marko persuaded his cousin William Ritekwiang to join him.
Fast forward to Feb. 2011, and everything changed.
"My cousin called me one afternoon wanting to talk, but I was working and studying, so I told him, 'Ok, but we'll talk later. It's Friday, anyway, we can talk tomorrow,'" Marko recalls.
The conversation never happened. That night, William took his life.
"I didn't get to talk with him and know what he really wanted. Before I knew it, the guilt I was feeling and the constant replaying in my head of what I could have done differently threw me into a major depression," Marko says. 
Over the next few months, Marko grappled with despair and lingering guilt. He eventually sought professional help, but on Nov. 6, he took a handful of anti-depressants and went out for a night run, not dressed for freezing cold temperatures.
Marko was missing for three days, then someone spotted him in a hotel lobby; dazed, confused, and with no recollection of how he got there or where he'd been.
Marko, with excruciating pain in his hands, and unable to feel his feet, was taken to a nearby hospital. 
Less than a week later, with gangrene setting in, doctors told Marko that both legs would have to be amputated, up to his knees, due to frostbite.
"The news was so heavy I couldn't even process it," Marko says. "Then, after the amputation, I was sitting at the hospital by myself, wondering how I ended up where I was. I thought, 'Sometimes in life there are things you can control, and some that you have absolutely no control over.'"
Marko suddenly felt like living. 
"That moment gave me the sense of, 'You know what? I think I'll attempt to build myself up,'" he adds, explaining that while recovering and going through the process of being fitted for prosthetics, people began talking to him about the Paralympics. 
He was put in contact with the Challenged Athletes Foundation, and in 2013, he was presented with his first set of running feet—prostheses equipped with special flexible blades for that.
He began training and tried sprinting, but went back to long-distance running, his passion.
In 2019, Marko ran marathons in New York, Chicago and Boston, and has been running them ever since.
Since his amputation, Marko has seen many blessings.
He met, fell in love, and married Amanda. Today, the two live in Groveland with their children Aspen, 10, Kaamilah, 7, and Jaelyen, 6.
Marko also works at Prosthetics and Orthotic Associates in Orlando, the same company that fitted him for prosthetics, and who with Nike and Ossur, now sponsor him. And after partnering with Spartan Race Founder/CEO Joe De Sena, they opened Alaskana, a school in Kenya that educates thousands of children.
"I wanted to give kids back home in my village an opportunity that they wouldn't otherwise get," Marko says, adding that donations are always accepted at www.markocheseto.com. 
Looking forward to his next chapter, Marko, 39, wants to travel the world and share his story. He hopes to motivate and inspire others into overcoming whatever challenges they may be facing. He will also advocate for mental health awareness.
"I want people to realize that the power they need to get through hard times is within them. I want to be the concrete example that makes them think, 'Hey, if a guy without feet can run, I've got this.'"
Personally, when reflecting back on the first 28 years of his life before losing his feet, he wonders whether life was happier then or now. 
"I see now that there were times, even when I had my feet that life was hard, but what I've realized is that overall, life is a hustle in itself and the only people who cannot change their destiny are the dead people," Marko continues. 
"If you're still alive, regardless of what state you are in or how challenging life seems, you can change anything. You just have to fight for it."
Originally from Nogales, Arizona, Roxanne worked in the customer service industry while writing independently for years. After moving to Florida in 1999, Roxanne eventually switched her career path to focus more on writing and went on to become an award-winning reporter for The Daily Commercial/South Lake Press newspapers for 16 years prior to coming on board with Akers Media as a staff writer in July 2020 – her dream job come true.
Share This Story!