Mary McLeod Bethune statue unveiled in Lake County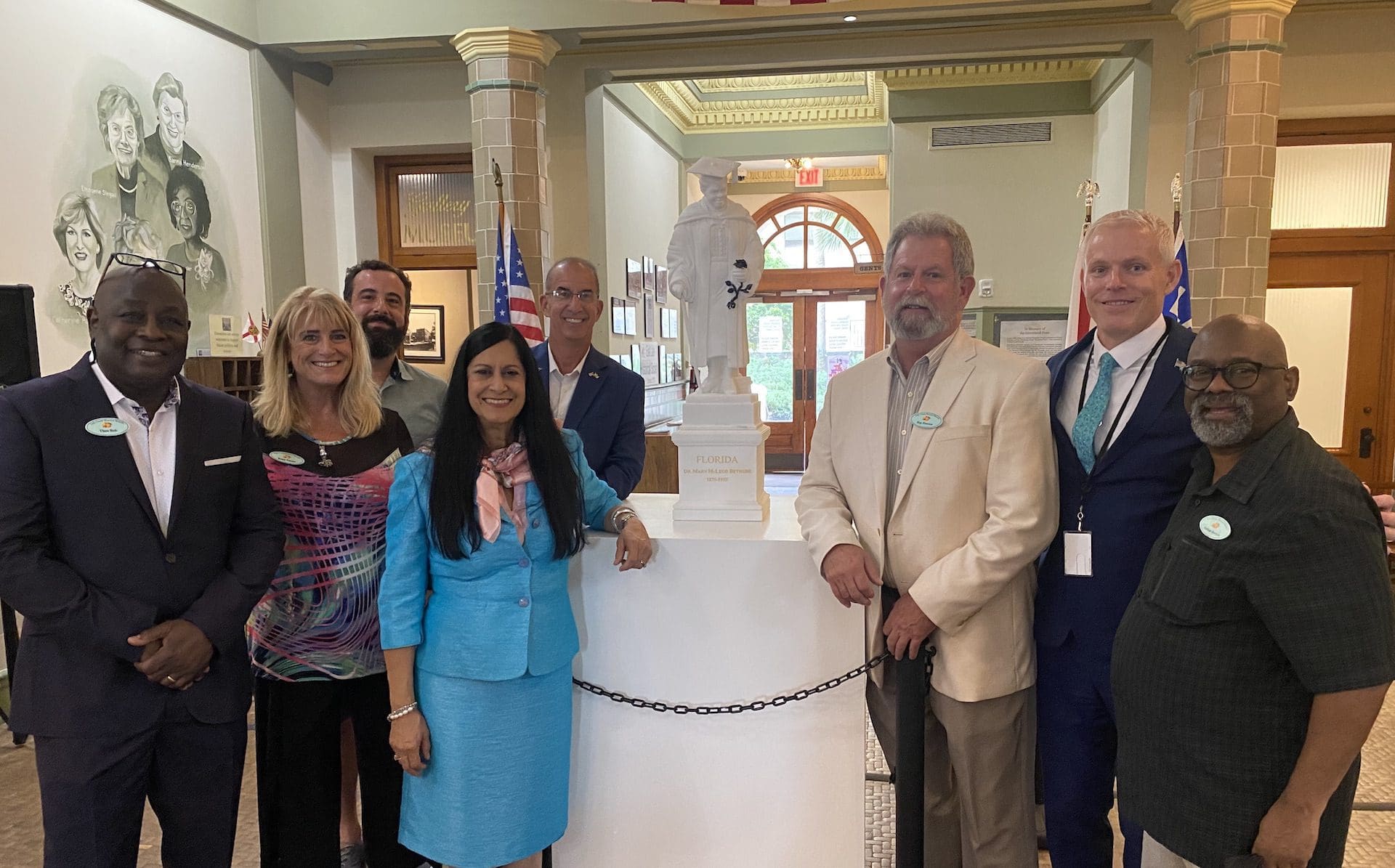 More than 100 people gathered at the Lake County Historical Museum Tuesday to be the first to welcome a one-of-a-kind statue of Dr. Mary McLeod Bethune to Tavares.
"Dr, Mary McLeod Bethune is a true patriot and is an American hero, we can all agree on that…She's one of our greatest citizens, and she is also a hero to Lake County, as well," Lake County Commission Chair Sean Parks says.
People in the crowd applauded, cheered, and stood after Lake County Historical Society board members, city and county officials, along with Nilda Comas, the artist who hand-sculpted it, unveiled the new addition together.
"This woman (Dr. Bethune) has such a legacy. I'm proud to be a part of this honor as we bring her statue here. Thank God for Nilda and that God graced her to be able to do this statue, and thank God for all of you here," Pastor and Board Member Theo Bob says to those in attendance. "This is a huge day in Lake County."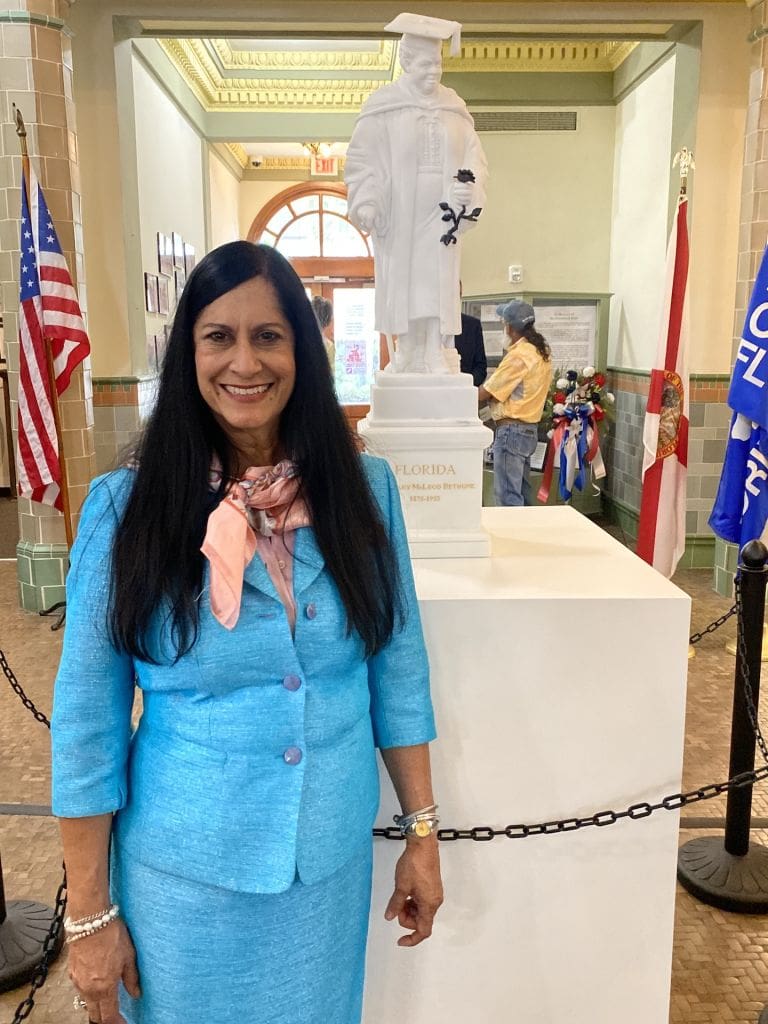 The two-foot tall statue, which sits atop of solid square block of marble, will be displayed in Gallery III of the museum. People may also notice that the statue was made to very closely resemble its 11-foot sister statue, unveiled in July, at Statuary Hall at the U.S. Capitol in Washington, D.C., where a statue of Confederate General Edmund Kirby Smith once stood.
Nilda says the smaller statute was sculpted from the same block of marble she used for the larger statue. The marble, she says, also came from the same marble mine as that of the marble Michelangelo used to sculpt his David.
"What an opportunity to show Dr. Bethune to the world. She had such an incredible life and so much achieved for just one person," says Nilda.
Dr. Bethune was known across the nation as an American educator, philanthropist, humanitarian, womanist, and a passionate civil rights activist.
Besides founding Bethune-Cookman University, and Daytona's first black hospital in 1911, Dr. Bethune founded the National Council of Negro Women in 1935 with Florida's headquarters in Clermont. She also established the journal, "Aframerican Women's Journal," and presided as president for a myriad of African American women's organizations including the National Association for Colored Women and the National Youth Administration's Negro Division. Dr. Bethune was also appointed as a national advisory to President Franklin D. Roosevelt, whom she worked with to create the Federal Council on Colored Affairs, also known as the Black Cabinet and more.
Commissioner Parks also tells how in 1965, Dr. Bethune wrote a letter to the Florida Gov. Leroy Collins, on behalf to the Groveland Four, and advocated against the injustice of a death sentence of Walter Irvin.
"I couldn't do what she did if I had four lifetimes," Theo Bob says.
Nilda says while sculpting the statue, she focused on Dr. Bethune's words from her last will and testament, which say: "I leave you love," which is what she hopes her statue brings locally.
Nilda also says Dr. Bethune's arrival in the U.S. from Italy, where she sculpted both pieces, has been a long time coming.
"This project of love has been at a stop several times. We had COVID, we had some delays in the legislature, and then when we were ready to unveil, we had the insurrection," Nilda says. "Then, when she was shipped (from Italy), we had her waiting in the ocean before she could be brought in because there was a strike."
Now that she's in place, however, Lake County Historical Society Board Member Carey Baker says he hopes the statue will serve to bring the entire community together, and that it will inspire young generations to strive for greatness.
"We feel this Dr. Bethune statue is a unifying presence in this county. We believe it recognizes someone that has made an incredible contribution to Central Florida and to our nation," Carey says. "With her emphasis on education, her emphasis on just making a community better than when she arrived, we think that she is an extraordinary, important example for our children."
"In learning about Dr. Bethune, we hope the takeaway will be that they are inspired to achieve great things in their educations, that they give back to their communities, that they are involved, and regarding personal qualities, that they remain focused on loving one another, sharing experiences, and looking forward to the future,"  he adds.
Originally from Nogales, Arizona, Roxanne worked in the customer service industry while writing independently for years. After moving to Florida in 1999, Roxanne eventually switched her career path to focus more on writing and went on to become an award-winning reporter for The Daily Commercial/South Lake Press newspapers for 16 years prior to coming on board with Akers Media as a staff writer in July 2020 – her dream job come true.
Share This Story!