Massive Sports Mecca Underway in Clermont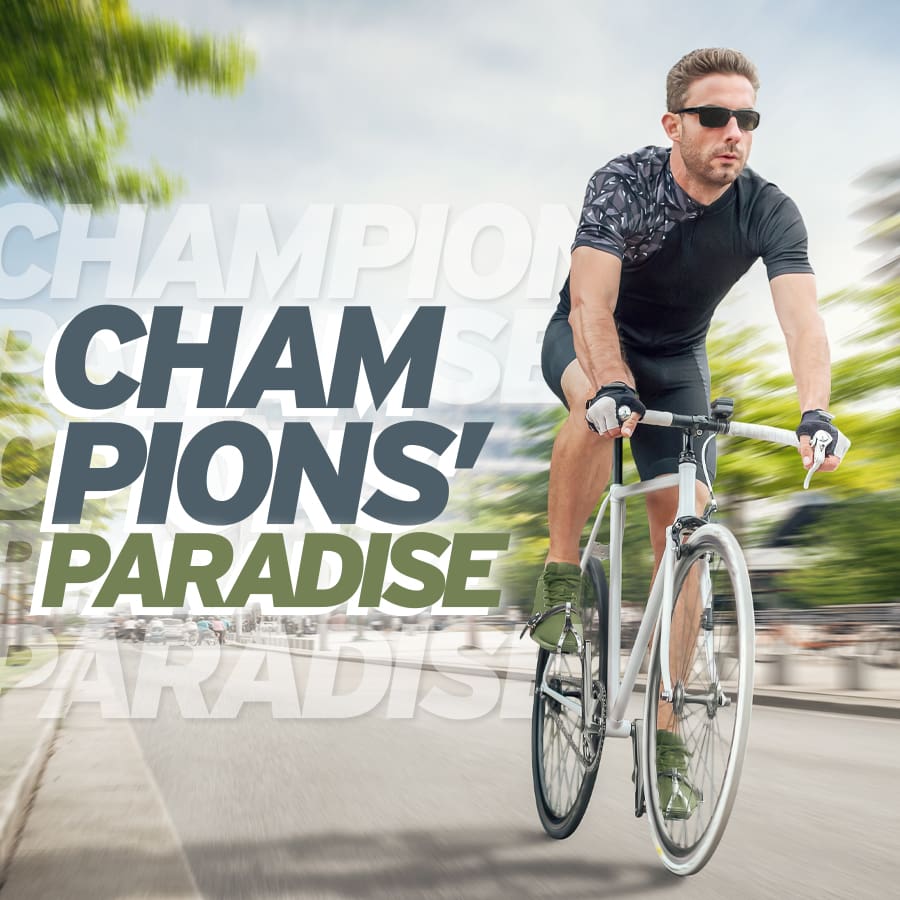 A massive development underway in Clermont expected to put Lake County on the map as a sports mecca.
What's in a name?
In the case of Clermont, which rebranded itself the "Choice of Champions" in 2014, the moniker is much more than just a phrase; it's part of the city's DNA.
Elite Olympians and athletes from around the globe have trained in the city which frequently hosts popular sporting events and is home to renowned athletic and training facilities. 
And athletes in pursuit of gold aren't the only champs. Most importantly, South Lake residents have enthusiastically embraced a culture of health, wellness, and fitness.
Soon, a massive 16,000-acre state-of-the-art planned development located between US 27 and SR 429 (the Orlando Beltway) called Wellness Way will bolster Clermont's reputation as the Choice of Champions. 
Leading the way as the first of many projects to call Wellness Way home is Olympus, a 260-acre sports and health/wellness-related campus sure to put Clermont on the map for more athletes, medical professionals, sporting event coordinators, fans and so many others.
City, county, and regional leaders predict that upon Wellness Way's build out, the phrase 'game changer' will all but scratch the surface in regard to the impact it will have on Lake County and beyond.
Wellness Underway
If you've lived in Lake County for a while, you've probably heard of Wellness Way, a massive 16,000-acre planned development in southeast Clermont born more than 10 years ago in the minds of property owners and county officials with the foresight to look ahead.
The question was how the largest tract of undeveloped land left in Central Florida at the time would be developed, so in 2013, officials turned to the public for thoughts about what they'd like to see happen.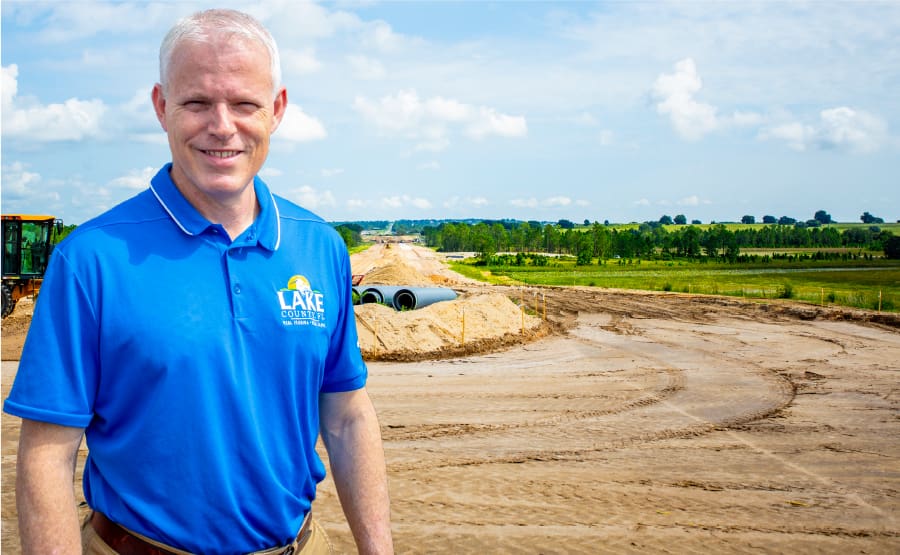 Their Vision?
Transforming the area into a hub for high-tech and high-wage industries, and for it to be done in an organized, well planned-out manner.
Lake County Commissioner Sean Parks, who's supported and been involved in the project since day one, says the concept involves the planning of large areas and all its components at one time, rather than in small parts and pieces.
According to Sean, that's why construction, roadwork, and other moving parts are taking shape concurrently. 
"Wellness Way aims to consider people, places, environment and the economy," Sean says. "It counters the piecemeal development pattern we see throughout Lake County, Florida and other parts of the country … It's a lot better to plan for a large area at one time than to do it in piecemeal fashion, because then the roads aren't addressed, the schools aren't addressed, the environment isn't addressed, it's essentially a death by 1,000 cuts. With Wellness Way, however, we've addressed all those concerns up front, and that includes trails, wildlife corridors and water conservation."
In all, Wellness Way will encompass various types of neighborhoods to the tune of about 16,000 housing units (single family, apartments, town homes, etc.) and incorporate commercial, institutional, agricultural, industrial, and green spaces. There will also be schools, parks, and an interconnected wellness/green corridor network with a bicycle/pedestrian trail system—including a clay trail local athletes said was important to them—to reach destinations within the development.
Additionally, a variety of new roads and road improvements throughout Lake County are being built in conjunction with Wellness Way that includes several new connector roads, and the 429-US 27 toll road connector that will provide high-speed access to and from nearby communities.
Sean says when the new roads are built, you'll have three or four major east-west connectors that will serve to significantly reduce traffic on Highway 50 and Hartwood Marsh Road.
"I believe if there was no leadership in the planning of Wellness Way, we would have ended up another suburb of Orlando. Now we have a unique brand, a unique identity, that includes walkability, job centers, housing, conservation and more. It's going to be a great place to live, work and play," Sean says. "I'm also very proud to point out that the maintenance costs for the roads, sidewalks, trails, and infrastructure is on the people that live there. They bear that cost, so it is not placed on the rest of the county or its taxpayers. It's a very encouraging project fiscally."
Recently, Clermont City Manager Brian Bulthuis and Wellness Way Consultant Richard Levey gave an update to officials and residents about the development.
Despite early controversies and hurdles, most now agree that when Wellness Way is complete, it will be beneficial and known as a great place to live, work and play.
"Wellness Way is poised to bring over 2 billion dollars of economic value to Lake County. This is the place that Gen Z, the kids graduating high school and college today, are going to work and live in the future. There will be a lot of opportunities there for them," Sean adds. "It's walkable, environmentally conservation-minded, and technologically friendly. It's the kind of place the small innovator and small businessperson would like to be located."
"In my heart, I feel very good that this is the best plan long term for Lake County. We believe the area around the proposed State Road 516 and 455 within Wellness Way will be the most valuable industrial/commercial real estate in all of Central Florida."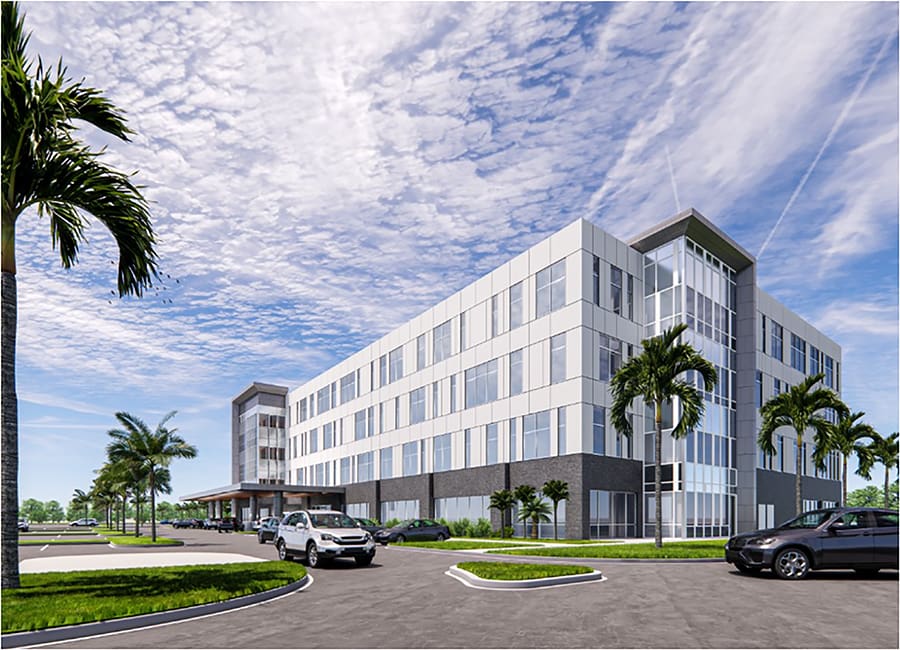 A Community of Epic Proportions
With a tagline of "Epic Every Day," Olympus—a 260-acre health-and-wellness-focused community/campus being developed by Mike Carroll, CEO of Olympus Sports & Entertainment Group, LLC—is already creating major buzz.
Sean says Olympus is designed as a platform for business innovation and economic growth and is something to be very proud of.
"Olympus, as big as it is, is actually a small, but very exciting part of Wellness Way," Sean says. "We're very happy that Olympus chose Wellness Way and feel they are emblematic of what we intended it to be."
"Olympus is a great way to kick off the planned development," he adds.
In all, Olympus is a vast community with sports, wellness, fitness, entertainment and residential rolled into one.
Officials have deemed it one of the biggest and most exciting privately owned businesses to come to Clermont. They recognize it as a smart, connected wellness community and global sports and entertainment destination set to change the face of Lake County forever. 
Information on the South Lake Chamber of Commerce's website says, "The Olympus development is estimated to create over 5,000 jobs and generate over $1.4 billion in local economic impact during a 10-year period."
The community will include an array of healthcare, wellness, fitness, sports training and competition venues/facilities, plus hotels and residential areas, all centered in and around a vibrant Town Center to serve as the heart of Wellness Way.
Construction has begun on the first two phases, which includes preliminary infrastructure by way of an apartment complex, single-family units, and town homes. 
Major partnerships have been announced and include EDGE Sports Group, who will facilitate development, design, and management of a 60-acre Sports Campus at Olympus.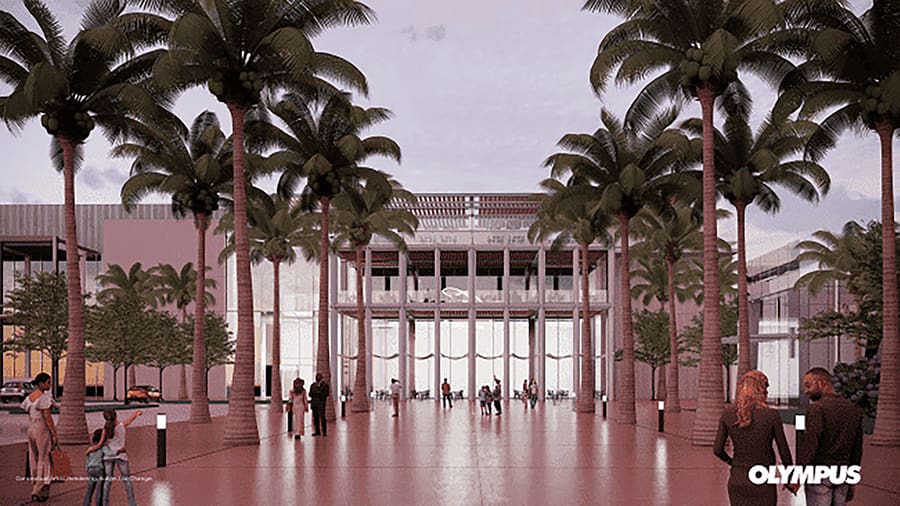 CLASH Endurance, a sports media and endurance company, will serve as Olympus' exclusive sports and triathlon promoter and organizer, and The Florida Regional District of the Amateur Athletic Union has plans for a 100,000-square-foot Event Center.
The event center, expected to be built by late 2025, will feature basketball, volleyball, martial arts, cheer, pickleball, climbing, futsal (indoor soccer), baseball and softball. Other area will include office space, retail pavilions, cafés, and multi-sport indoor and outdoor training and competition venues.
On top of that, there is a 5,800 seat, multipurpose arena planned for the community, plus an international soccer center to feature a 3,500-seat soccer stadium and a 4.5-mile trail system for triathlon and special events. Other amenities include a beach volleyball pavilion, an Ice Center for ice hockey and figure skating, the largest red-clay tennis center in the United States, hotels, and a variety of entertainment venues.
Olympus will also house an Athlete Center and Performance Institute to offer sports training and conditioning, nutrition services and broadcast/media technology. If that's not enough, a $100 million, 175,000-square-foot state-of-the-art facility by Healthcare Trust of America, Inc., is expected to generate approximately 325 direct, onsite medical jobs.
In a press release announcing HTA's plans, Brian Bulthuis says, "The City of Clermont could not be more excited about this landmark health campus. Both the construction phase and the permanent operations of Olympus will provide a very significant economic stimulus for the local economy and beyond."
In all, and according to economist, Hank Fishkind, Ph.D., Olympus is projected to create 2,800 direct, onsite jobs and have a taxable value of $1.5 billion at buildout, according to information released by Olympus.
Other Developments
Hickory Groves, a community just north of Schofield Road (soon to become Wellness Way Parkway) and west of the Orange County line, will include 1,176 homes, offices, and retail establishments.
Pulte Homes is also bringing in a community to be located between Schofield Road and the much-anticipated Lake-Orange Connector Road that will incorporate about 1,600 homes, more than 350,000 square feet of office/retail space, green and wellness space and more.
Clonts Grove, a 49-acre section northwest of Olympus, was sold to Advent Health. Officials say there are no immediate plans for the parcel, although the possibility of a hospital is rumored.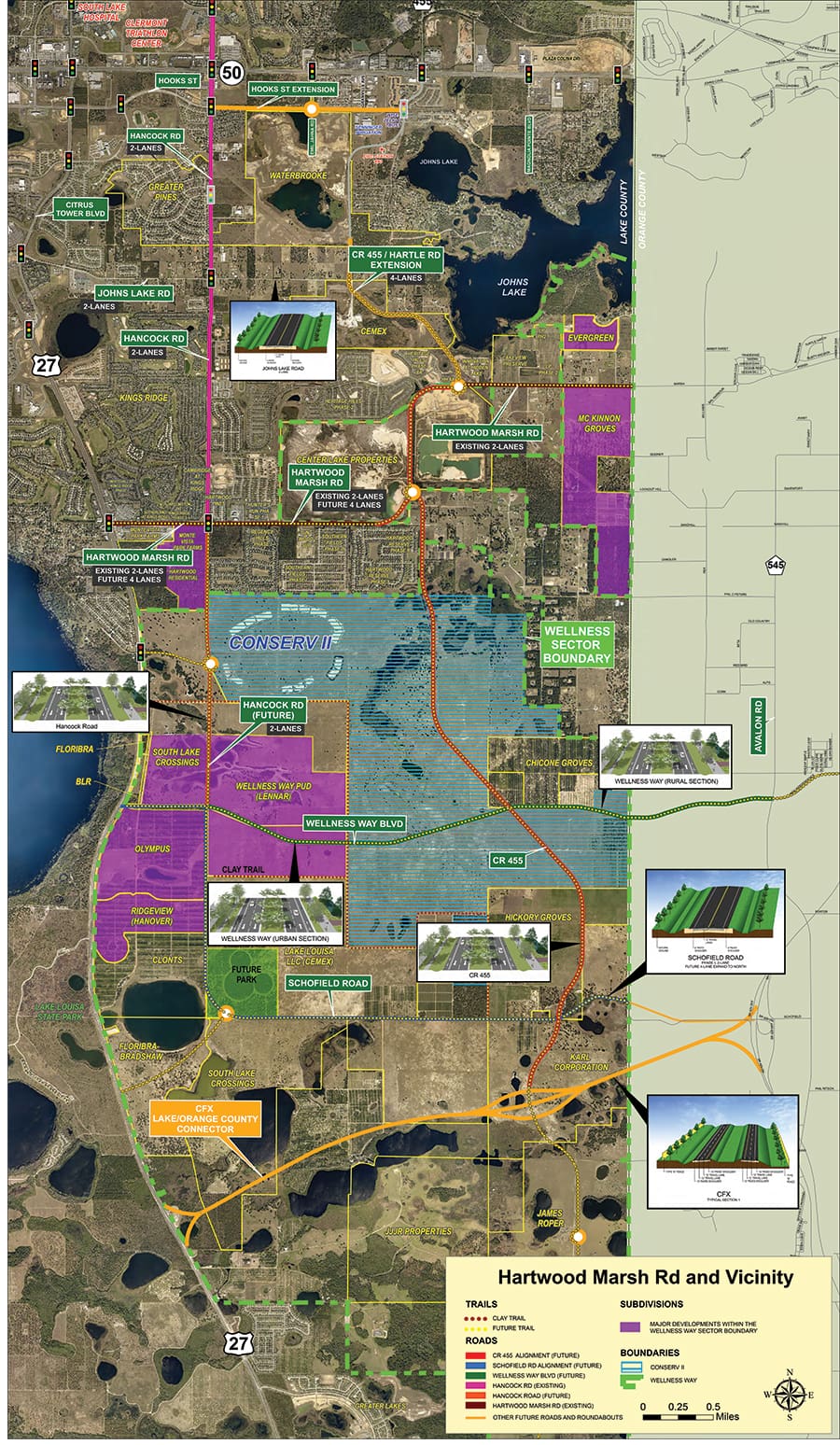 Related Innovations
For those worried about what may happen to the critters who call the area around Wellness Way home, there is no need for concern. 
Sean says officials and developers have been working with the Florida Wildlife Corridor Foundation, DOT, Florida Fish and Wildlife and the Division of State Parks to ensure that any wildlife in the area is taken care of, as well.
To do that, a wildlife corridor—an underpass extending between Hwy. 27 and SR 516—is being built and is a top priority for all involved.
"The wildlife will be able to cross underneath the road, through a tunnel to be located under Highway 27, so they won't be hit," Sean says.
Technologically speaking, a cool part of what's ahead regarding the roadway network being built to enhance the Wellness Way development is the Central Florida Expressway's (CFX) near $700 million Lake-Orange Expressway to link US 27 with CR 429. The expressway is set to open in 2025, but what people may not know is that when completed, it will be one of two roads in the world equipped with dynamic charging.
"If you have an electric vehicle, you will literally be able to drive on that road and as you are driving, the road will actually charge your car without you having to stop and plug it in," Sean says, explaining that Lake County officials are looking to partner with a local college to create educational programs centered around that industry. 
"Literally, we are going to be internationally known for this road. It really is a big deal," Sean adds.  
Originally from Nogales, Arizona, Roxanne worked in the customer service industry while writing independently for years. After moving to Florida in 1999, Roxanne eventually switched her career path to focus more on writing and went on to become an award-winning reporter for The Daily Commercial/South Lake Press newspapers for 16 years prior to coming on board with Akers Media as a staff writer in July 2020 – her dream job come true.
Share This Story!