MDCA Athletes Sign For Collegiate Success!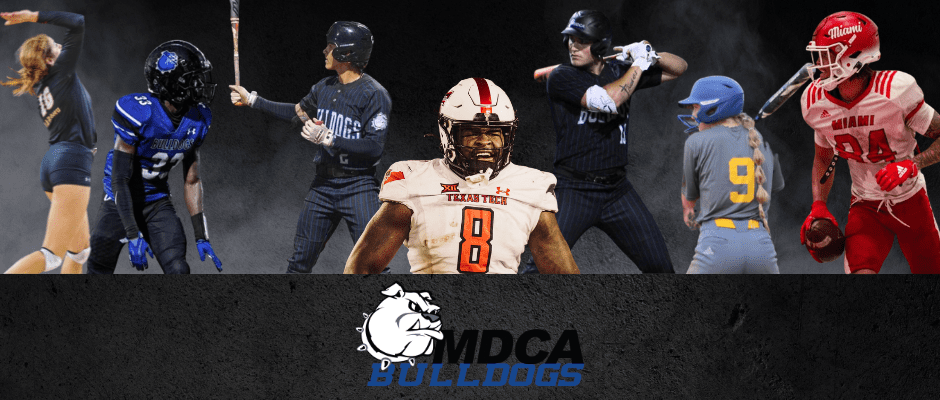 Game on: MDCA athletes sign for collegiate success 
Athletics at Mount Dora Christian Academy continues to defy expectations 
Mount Dora, Florida: By the time graduation rolled around last May, 18 of 53 Mount Dora Christian Academy seniors had committed to a college sports team. 
Of those 18 student-athletes, 11 had signed to compete for NCAA schools, four joining Division 1 programs. Those numbers aren't an anomaly. Rather, they are becoming the trend at MDCA. 
The Academy lies on 70 acres in Mount Dora, Florida, a suburb 45 minutes northwest of Orlando. It boasts an enrollment of nearly 800 students, 235 in grades 9-12. The average graduating class is about half the size of the typical senior class in an American high school. 
Yet since 2018, 69 Academy students have signed to compete at the collegiate level, 12 with D-1 teams. MDCA alumni are playing for Marshall University, Louisiana State University, University of Michigan, Texas Tech University, Florida State University, Miami University, the United States Naval Academy, and more. 
"The Academy has an athletics program second to none for a school its size," says Dr. James W. Carr, interim president of MDCA. "Our students are recruited by an array of national D-1 programs. Very few institutions similar in size — if any — have placed 69 athletes on college teams in the last five years." 
According to the NCAA, approximately 2 percent of high school athletes are awarded a scholarship to compete in college. So how does a private Christian school sign 33 percent of its latest graduating class? The answer lies in an intentionally holistic culture that seeks to develop the heart, mind, soul, and strength of its athletes. 
The heart of MDCA Athletics 
At MDCA, there is a sport for almost everyone. The Academy boasts 33 teams, with nearly 83 percent of students in grades 9-12 competing on at least one of them. Teams compete in the
Florida High School Athletic Association Class 2A, except football, which plays in the Sunshine State Athletic Association. 
The Academy's close-knit community plays a significant role in nurturing the potential of each student. Director of Athletics Megan Ziegelhofer and her staff focus on more than developing physical skills; they instill values of teamwork, dedication, and perseverance in every athlete who walks through their doors. 
"The vision of our program is to develop the whole student-athlete — spiritually, mentally, emotionally, physically, and socially — through athletics," she says. 
Faith comes first. 
"We strive to have well-rounded student-athletes who are fulfilling their God-given potential," says Ziegelhofer. "We encourage their spiritual development through participation in team-oriented spiritual growth opportunities. We teach them to honor God every day, in everything they do." 
For head football coach Kolby Tackett, that means building a program with love as the overall focus. 
"When it comes to football, we don't have a yearly theme," he says. "But the philosophy of our entire program is based on John 15:13: 'Greater love has no one than this: to lay down one's life for one's friends." 
Second, coaches encourage scholarship. They expect dedication to both the team and education. 
"We are committed to excellence in academics," says Ziegelhofer. "We assist in the academic development of our student-athletes by supporting our classroom teachers and school administration. Our department runs grade reports twice weekly on all student-athletes year round to ensure that no one falls through the cracks. If we have student-athletes who are struggling, we partner with our Academic Support team to ensure they receive the help they need to be successful." 
Finally, they explore athletic potential, examining each student's unique talents and abilities. 
"Our coaches understand the cultural demand for collegiate placement in athletics," says Ziegelhofer. "We work hard to place our student-athletes in situations that fit them both academically and athletically. We equip and prepare them with the expectations of the college-bound athlete by taking an active role in each one of their recruiting processes. We are committed to supporting them during their time at MDCA as well as throughout their next journey."
These values create individuals who are focused on boosting their athletic abilities, committed to academic pursuits, and driven by their faith to lead. In short, it creates winners — or as the Academy's vision states, "faith-driven world changers." 
Game changers 
The journeys of former MDCA student-athletes testify to the power of a small school with a strong sense of community, where athletes are not just statistics but young men and women encouraged to become the best versions of themselves. Meet eight former Bulldogs whose time at the Academy prepared them to find success at the next level. 
Isaiah Bryant (2023), football, United States Naval Academy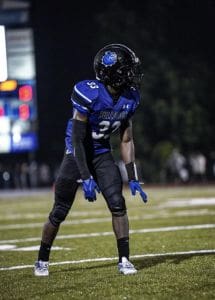 Before joining the United States Naval Academy, Bryant was a leader at MDCA both on the field and court. The three-sport athlete guided the football team to three consecutive state championship appearances; varsity basketball to three-straight district titles; and the track and field team to district, regional, and state championships his sophomore year. As a football player, he garnered first-team all-state honors as a safety, first-team honors as punt returner, and second-team recognition as a wide receiver. He served as captain for all three sports and is the school record holder in the 400-meter dash. To cap his senior year, he was selected the North Lake County Fellowship of Christian Athletes MVP, demonstrating his leadership and character in addition to his athletic prowess. 
"There is one word that comes to mind when I think of MDCA Athletics and the people there, and that is 'family,'" says Bryant. "The way that everybody there is invested in your success is not something that you will experience with every school and athletics program. Resiliency and adapting to change are what I gained from MDCA, and these have aided me in being successful at the next level." 
Dallas Dale (2023), baseball, Louisiana State University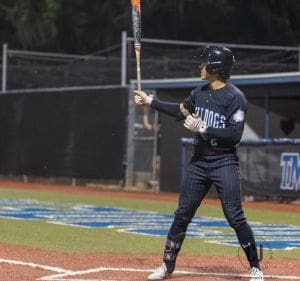 Dale, an outfielder and offensive powerhouse, finished his senior season with a .400 batting average, 32 hits, 29 RBIs, and 9 home runs for the Bulldogs. He was ranked No. 9 outfielder and No. 54 overall player in Florida by Perfect Game for Class of 2023. He is currently gearing up for his first season with defending National College Baseball World Series champions LSU Tigers. 
"MDCA Athletics and the people there just mean more," says Dale. "You know it is truly a special place when every person around you wants you and themselves to be better. Having a program like that — filled with love and accountability — really helped me get to where I am now." 
Collin Priest (2023), baseball, University of Michigan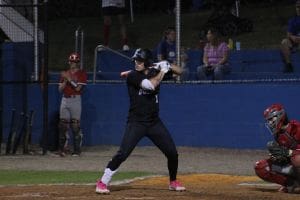 Priest's performances as a Bulldog, whether at the plate or alternating between first and third, can be summed up with one word: solid. He concluded his senior year with a .417 batting average, 26 RBIs, and 11 home runs. He is a three-time all-state selection and three-time all-district selection.
He led the Bulldogs to three district championships and one regional championship and holds the single-season home run record and career home run record. Now a Michigan Wolverine, Priest has already made a name for himself in the University's summer league and is considered an MLB prospect. 
"MDCA Athletics has brought me countless opportunities to grow and succeed," he says. "The coaches and staff have created an environment that allowed me to achieve my goals and dreams." 
Emily Allen (2022),softball, Lander University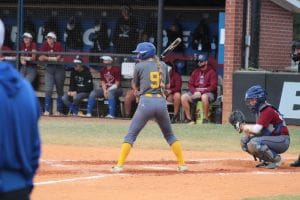 Allen had an outstanding first season as an outfielder for Lander University, following in the path she set during her time at MDCA. She was named Peach Belt Conference Freshman of the Year and first-team all-conference for her impressive performances at the plate. She was also named Freshman of the Week in both March and April and finished her freshman season with a .377 batting average, 43 hits, 35 RBIs, and 5 home runs. 
"The coaches and teams did whatever they could to help me get where I wanted to be," she says. "None of this would have been possible without MDCA's love and support during my entire high school career. They prepared me with a godly mindset and the athletic skills I needed to compete in college." 
Reggie Virgil (2022), football, Miami Ohio University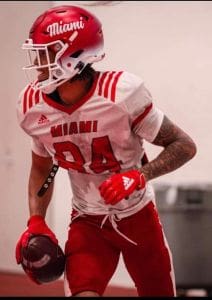 The former three-sport athlete at the Academy saw action in 11 games during his freshman season with Miami University. A wide receiver, Virgil made most of his appearances on special teams, recording 8 tackles. He made his first career catch in a win over Robert Morris. As a junior at MDCA, he made 46 catches for 946 yards and 10 touchdowns. 
"MDCA Athletics means a lot to me," says Virgil. "Making the transition from public school to MDCA in seventh grade changed my life forever. Although I had to leave my friends and adapt to a new atmosphere, moving schools was the best decision for me and my future. It's paying dividends." 
Gabe Curtis(2019), cross country/track and field, Florida State University 
Before a successful academic and athletic career at FSU, Curtis was a cross country and track standout at MDCA. He earned two individual state titles while leading the cross country team to back-to-back state championships in 2017 and 2018. He then finished his senior year with a state title in the 3,200-meter run. During his time at FSU, Curtis began his own media production company, and he uses the skills learned as an athlete to lead and motivate his own employees. 
"For me, MDCA Athletics is a program of excellence," says Curtis. "We (former teammates) are constantly looking for ways to get better, doing what needs to be done to get to the next level and getting the most out of ourselves. That isn't always the case when students leave their sport, and
that tells me what we had was special. The people you surround yourself with … that is probably the most important thing in life." 
Jesiah Pierre (2019), football, Texas Tech University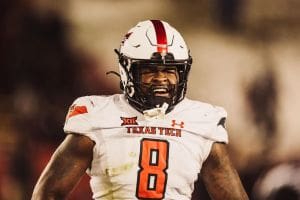 Outside linebacker Pierre is entering his senior season with Texas Tech poised to make an impact. He emerged as one of last season's standouts, appearing in all 13 games with 10 starts. During the 2022 season, he recorded 40 tackles (24 solo), including 7.0 for a loss and 4.5 sacks, one pass breakup, a forced fumble, and three quarterback hurries. He was also recognized as first-team Academic All-Big 12 honoree for his work in the classroom. 
"Playing with heart is one of the main things I learned," he says. "We were not always the fastest nor the strongest, but our heart and will made us successful no matter what sport we were playing. The little things and attention to detail matter even when you think they don't. It's about aiming to be elite in all that you do — on and off the field. 'It's not about the size of the Bulldog; it's about the heart of the Bulldog.'" 
Cooper Monn (2018), track and field/volleyball, Harding University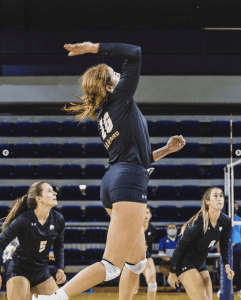 Monn, the 2017 high school state champion in both discus and shotput, took her throwing talents to Harding University. She garnered multiple first- and second-team All-GAC honors for shot put, discus, javelin, and hammer. She earned Academic All-GAC four-straight years. Monn also played 
middle blocker for the Harding women's volleyball team and is the Academy's record holder for kills, blocks, and points per set. 
"It was during my time at MDCA, thanks to the support of my teammates, coaches, and even my opponents, that I acquired and honed the virtues of resilience, discipline, and teamwork," says Monn. These invaluable lessons not only aided in my success as a dual-sport athlete at the collegiate level but also played a fundamental role in my education, the development of my character, and my overall perspective on life. In my seven years at MDCA, I had the blessing of having a multitude of exceptional coaches and wonderful teammates." 
The next generation 
As the Academy looks to the future, its reputation for producing exceptional student-athletes remains strong. As of August, two students have already signed with D-1 programs, and more are expected to commit as the year progresses. The legacy of its alumni will continue to inspire new generations to pursue both academic and athletic excellence. And as MDCA continues to uphold and cherish the values of teamwork, determination, and heart, its greatest impact in collegiate athletics is still to come. 
About Mount Dora Christian Academy
Established in 1945, MDCA currently serves nearly 800 students from preschool through grade 12. We believe in the power of a Christ-centered community to cultivate faith-driven world changers. Building on our legacy of faith and service, we educate, equip, and empower our community to love God and others, pursue excellence, and
impact our world. The fulfillment of our mission can be seen in our 2023 graduates, who earned $4.8 million worth of scholarships and logged more than 8,500 hours of community service. 
Article By: Jenn Marcussen, Coordinator of Strategic Communications, Mount Dora Christian Academy
Kyle Coppola was born in Newton, Massachusetts and received his Bachelor of Fine Arts in Communications from Curry College in 2016. After traveling to Florida on a family vacation, he decided he could not get enough of the warm weather and made the move from snowy Massachusetts to central Florida 8 years ago.
For the last decade Kyle has gained valuable experience in social media content creation, marketing and sales, writing, video production, sports announcing and even broadcasting for local radio stations, such as FM 102.9 in The Villages and FM 91.5 in Massachusetts. Every year he volunteers at The Villages Charter High School as a play-by-play sports announcer for the football games as well as a public address announcer for the basketball games, including the annual Battle at The Villages Tournament.
Outside the office Kyle is a husband and father to two beautiful girls along with their cat. In his spare time he likes to spend time with his family, travel, play golf and swim. He is also a huge sports junkie and even bigger motorsports fan and loves to attend racing events when he can.
Share This Story!