MDCA Eddie Tooke Commits To Faulkner University!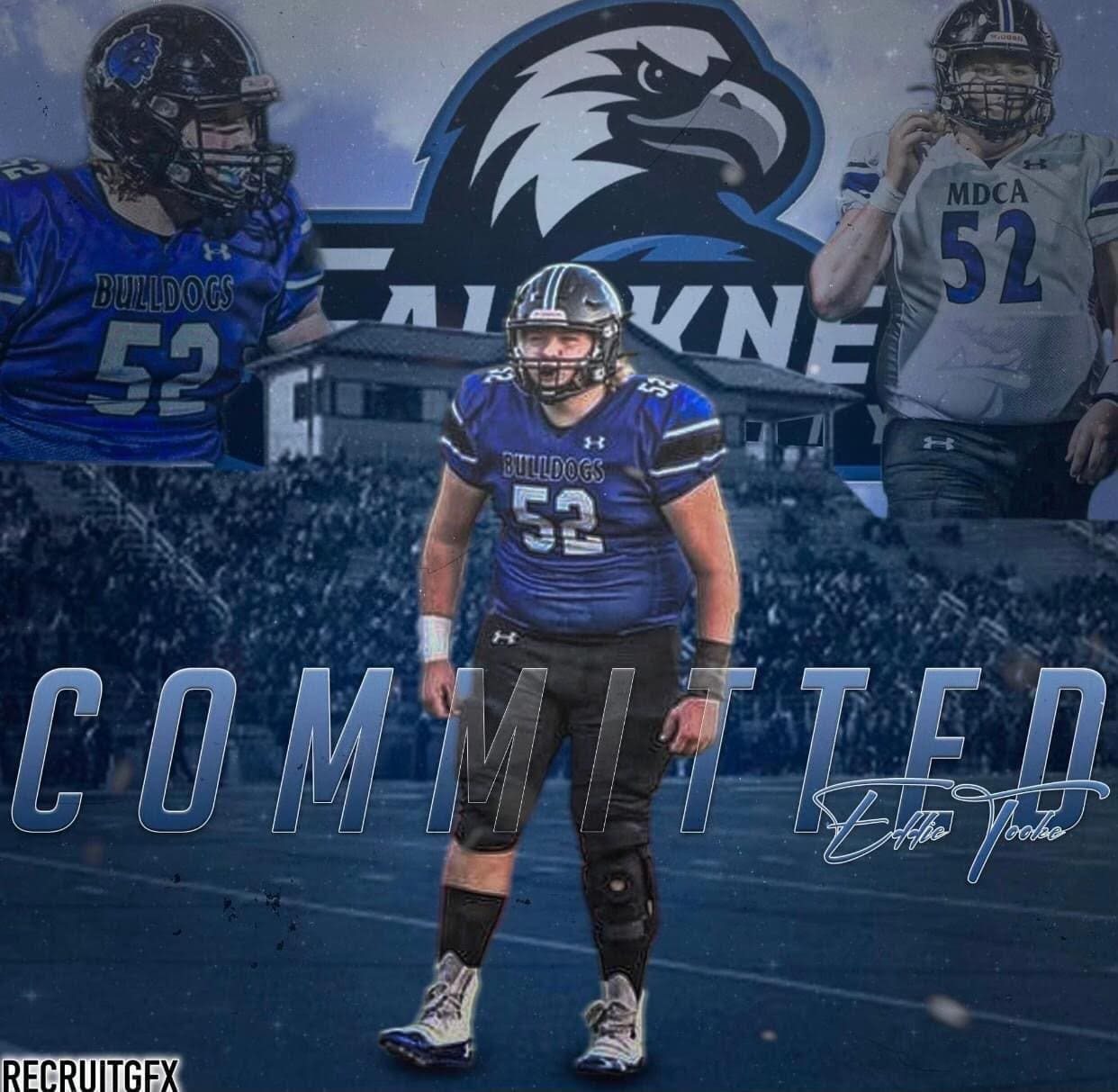 Congratulations to Eddie Tooke, who has committed to play football at Faulkner University!
Eddie Tooke is a 6"3 285lb lineman and was a standout offensively and and defensive lineman for Mount Dora Christian Academy. He was always a force especially on the defensive side of the ball! Opposing offenses had big trouble running the ball up the middle as Tooke was always there to make the stop. He reminds us of vintage lineman like Keith Traylor or Vince Wilfork. Both those guys were big bodies and it was very difficult to run the ball.
Such is the case with Tooke, he is exactly what Faulkner University is looking for. He is a big body that is going to clog up the middle of the field and force opposing teams to either run sweeps or throw the ball. Tooke is especially good when backed up inside the redzone. He was one of the best defensive lineman in the county this season especially in the redzone. Tooke is 6"3 so he's able to utilize that size staying low which enables him to get leverage on other players. He's nearly 300lbs and Faulkner has always had some great athletic trainers that put more muscle on their players. It's not out of the realm of possibility that Tooke could put on 15 pounds of Muscle and become and even stronger foe for opposing teams.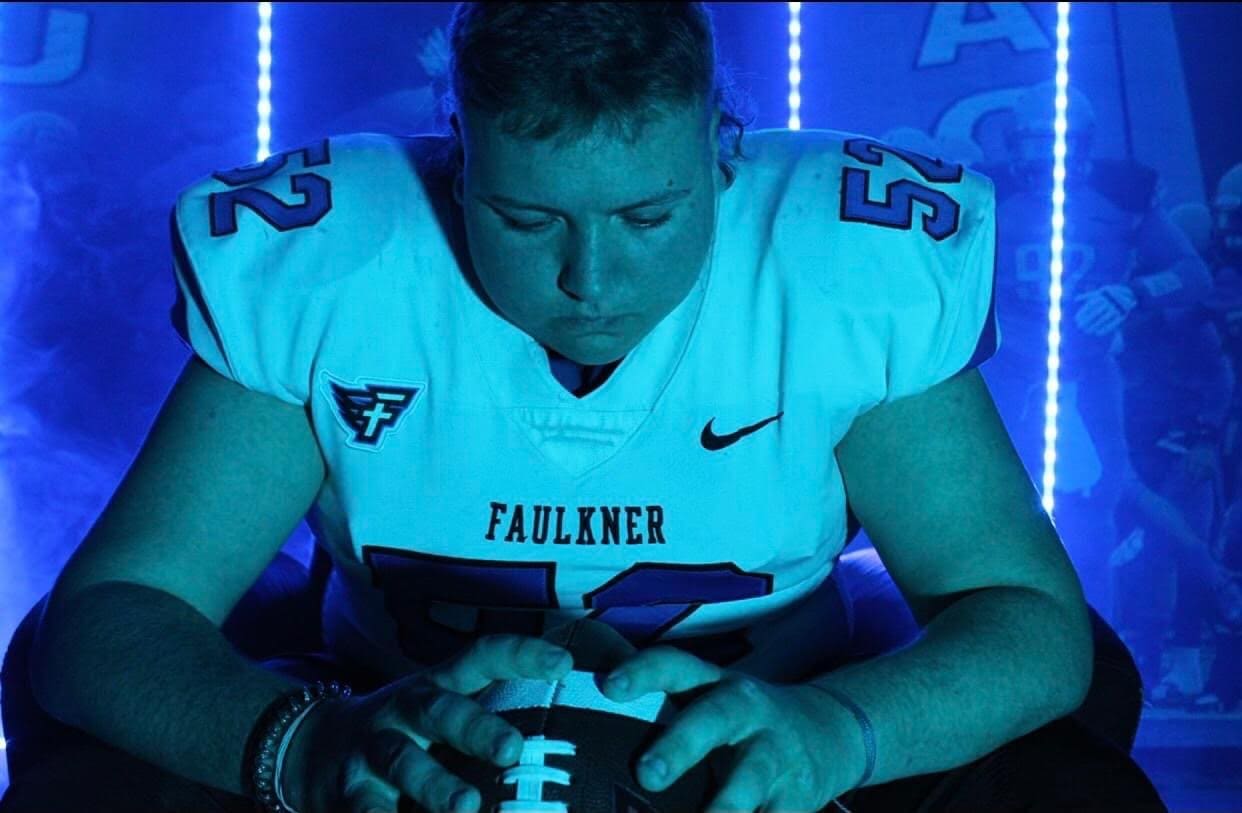 Faulkner University is a Christian University. They are affiliated with the NAIA conference. Don't let that fool you, there have been some great player who have played in the NAIA. Some notables include Walter Payton who needs no introduction Jackie Slater who played for the Rams, Damon Harrison who plays for the New York Giants, and many more! People shouldn't overlook the NAIA because there's a lot of talent that come through those programs!
Faulkner University is really getting a great incoming freshman player. Although not always common for Freshman to start right away, Tooke could potentially start right off the bat because he is a two way player who can also play on the offensive line. He's a man of many talents and Faulkner will find ways to utilize him whether that be on the offense or defensive side of the ball. He has plenty of time to grow and mature as a player with a program that is looking for big things in 2023.
We want to congratulate the Tooke family on Eddie's next big Endeavor. We also want to congratulate Mount Dora Christian Academy on sending another player to college! We hope Eddie has a great rest of his Senior year and we can't wait to watch this player excel at the next level!
Photos Provided By
Mount Dora Christian Academy
Kyle Coppola was born in Newton, Massachusetts and received his Bachelor of Fine Arts in Communications from Curry College in 2016. After traveling to Florida on a family vacation, he decided he could not get enough of the warm weather and made the move from snowy Massachusetts to central Florida 8 years ago.
For the last decade Kyle has gained valuable experience in social media content creation, marketing and sales, writing, video production, sports announcing and even broadcasting for local radio stations, such as FM 102.9 in The Villages and FM 91.5 in Massachusetts. Every year he volunteers at The Villages Charter High School as a play-by-play sports announcer for the football games as well as a public address announcer for the basketball games, including the annual Battle at The Villages Tournament.
Outside the office Kyle is a husband and father to two beautiful girls along with their cat. In his spare time he likes to spend time with his family, travel, play golf and swim. He is also a huge sports junkie and even bigger motorsports fan and loves to attend racing events when he can.
Share This Story!