MDCA Girls Soccer Wins First Playoff Game In School History!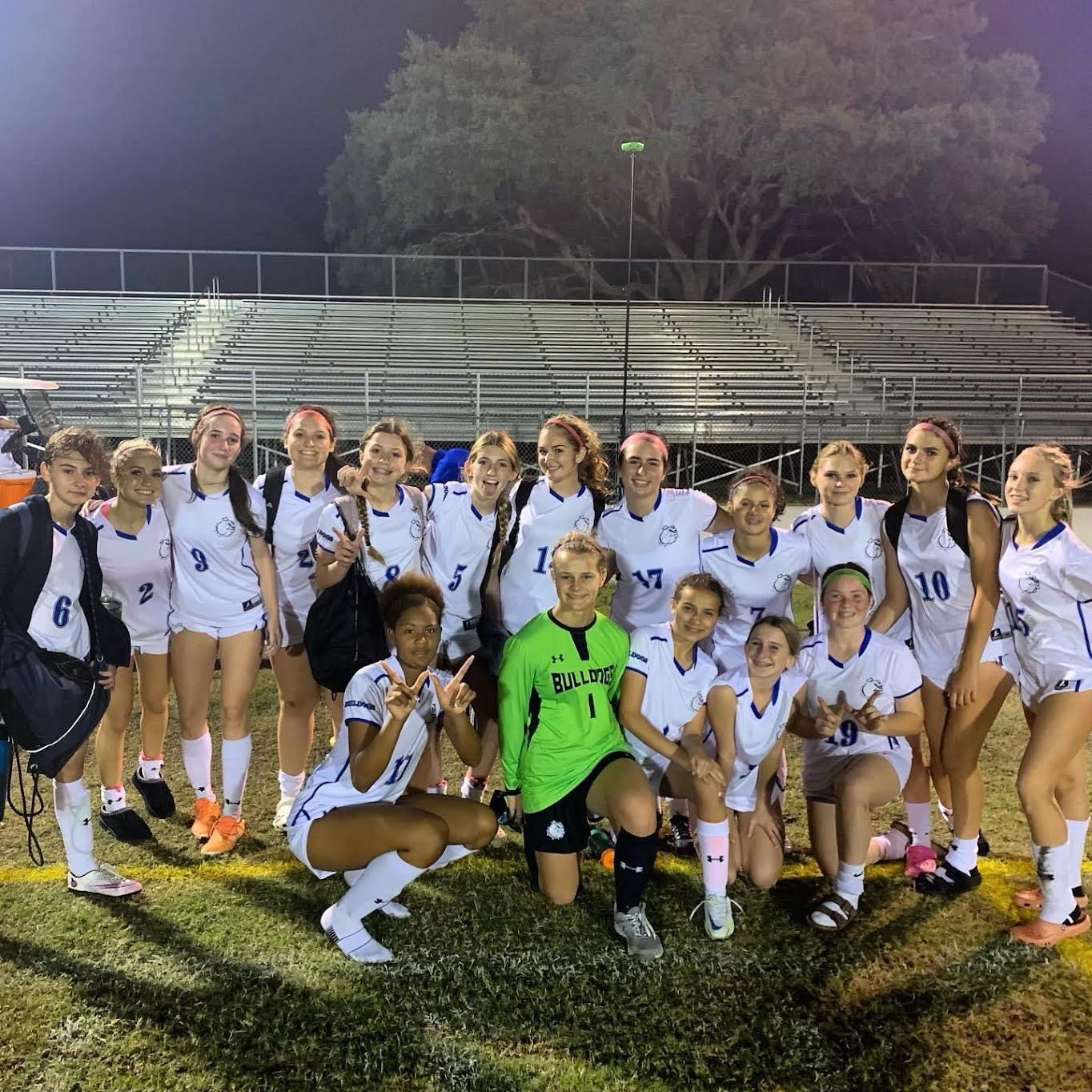 First Time For Everything
The Mount Dora Christian Academy Bulldogs pulled off a major win a few nights ago in a regional quarterfinal matchup against the Seven Rivers Christian Warriors! The game was close but the Lady Bulldogs were able to pull off the first playoff win for girls varsity soccer in school history by a slim margin of 1-0.
The Bulldogs were led by Sophomore #1 Hallie Edwards who has 15 goals this season which leads the team. She was assisted offensively by freshman #6 Riley Conlan and #10 Sophia Vamvakitis. All three attackers put pressure on The Warriors the entire night ending up with a goal which would ultimately be the game winner.
Goaltender Emmi Bowman put fourth her best effort of the year and blanking Seven Rivers. The Warriors didn't find much penetration in the backfield and when they did Bowman was there to keep the ball out of the net. Bowman has 15 saves this season and she is 9-0 on the season. She's one of the best goaltenders in Lake & Sumter County and that's thanks to the defenders that help her.
Overall the Bulldogs move to 16-2-1 on the year. This is the best season ever for the Lady Bulldogs and now they will host another home game on Friday night at 7pm against Rocky Bayou Christian academy who are coming off a major upset win against University Christian. The Knights will prove to be a difficult matchup against a powerful Bulldog team that is looking to make it to what would be their first Regional Final in school history!
MDCA Head Coach Clayton McDaniel has done an impressive job of getting these girls ready for every game this season. Last night was perhaps one of Coach McDaniels biggest wins for a program that has struggled historically on the football pitch. This is monumental for this team comprised of mostly young players. The future looks extremely bright for this program!
MDCA Boys Soccer Also Wins First District Championship!
Just like the girls team who won their first district championship in school history the boys followed suit. The boys claimed their first district championship last week and it has set in motion a standard for the boys soccer teams going forward. Although the boys lost in the first round of the playoffs 7-0 against John Paul II, the fact that this team won the first district championship and made the playoffs is a massive accomplishment. The boys team will look towards the future and hopefully next year the goal may be to win their first ever playoff game in school history. Congratulations to the MDCA boys soccer team on a great season!
Come Out and Support Friday Night l!
The Lady Bulldogs get another home game Friday, against the Rocky Bayou Christian Knights! The game 7:00pm! We would love to see the community of Mount Dora come out to support these great athletes as they try to go where no MDCA Lady soccer team has gone, to a Regional Final! We wish The Bulldogs the best of luck this weekend!
Photos Provided By –
Mount Dora Christian Academy
Kyle Coppola was born in Newton, Massachusetts and received his Bachelor of Fine Arts in Communications from Curry College in 2016. After traveling to Florida on a family vacation, he decided he could not get enough of the warm weather and made the move from snowy Massachusetts to central Florida 8 years ago.
For the last decade Kyle has gained valuable experience in social media content creation, marketing and sales, writing, video production, sports announcing and even broadcasting for local radio stations, such as FM 102.9 in The Villages and FM 91.5 in Massachusetts. Every year he volunteers at The Villages Charter High School as a play-by-play sports announcer for the football games as well as a public address announcer for the basketball games, including the annual Battle at The Villages Tournament.
Outside the office Kyle is a husband and father to two beautiful girls along with their cat. In his spare time he likes to spend time with his family, travel, play golf and swim. He is also a huge sports junkie and even bigger motorsports fan and loves to attend racing events when he can.
Share This Story!