MDCA's Dallas Dale II Joins National Championship Winning LSU Baseball in 2023!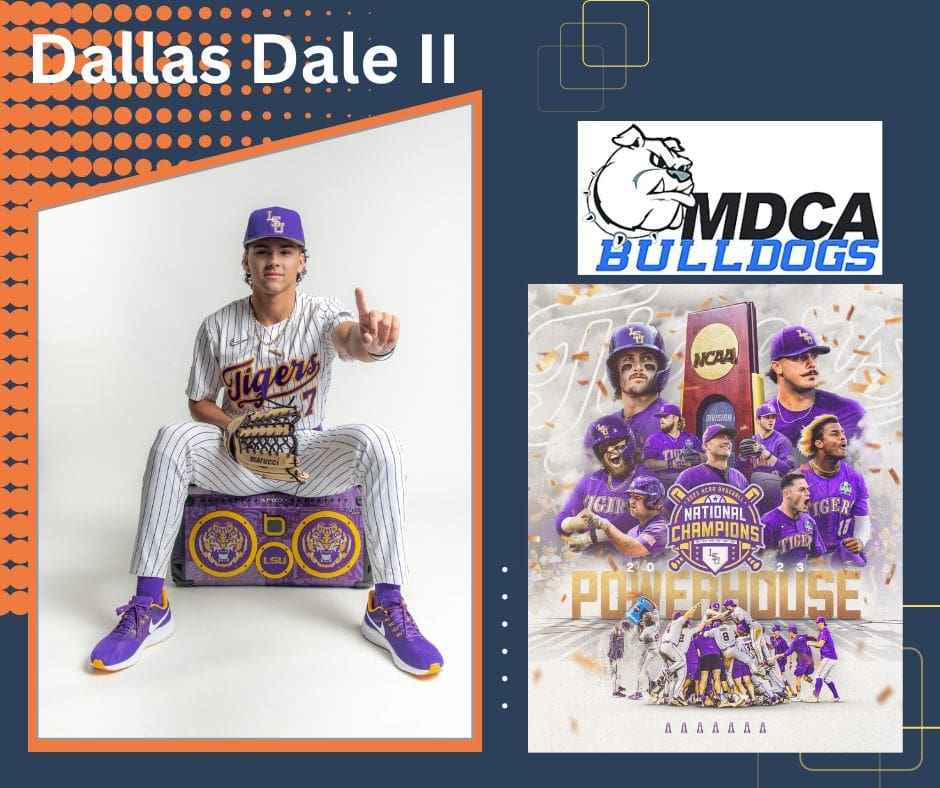 MDCA's Dallas Dale II Joins National Championship Winning LSU Baseball in 2023!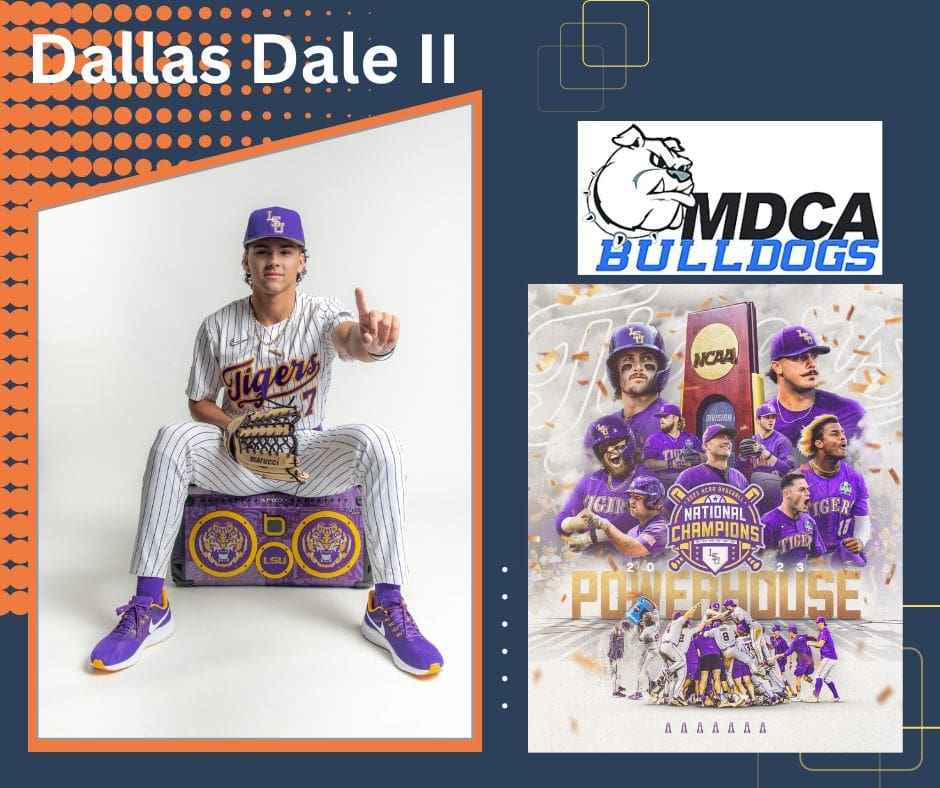 Dallas Dale II had one of the best seasons any MDCA player has ever had. He and Collin Priest, who is headed to Michigan to play for the Wolverines had one of the most dominant seasons in MDCA baseball history. Dale is an amazing athlete and it's no wonder he will be attending LSU next year.
The Tigers just won the College Baseball World Series. LSU looked dominant against Florida. The Gators just couldn't contend with the pitching and batting that LSU has. Next year the Tigers will get even stronger when they add Dallas Dale II to the lineup.
Dale II will fit right in with The National Champion LSU Tigers. That team was built solid as a rock and will likely deliver the MLB its projected number 1 draft pick in Dylan Crews who was LSU's center fielder this year. Crews was recently awarded the Golden Spikes Award which honors the top amateur baseball player in the country.
Dale II offers much of the same. As he continues to grow in the coming years, Dale II will become a powerhouse. He already is as he showed this year finishing his Senior season with a .400 Batting Average. Dale II scored 33 runs for the Bulldogs while amassing 32 hits and 29 RBIs. He also had 9 home runs which was right up there with the most in the country.
Only Colin Priest had more than Dallas Dale II and Priest should also be in the MLB one day. LSU is getting one stellar outfielder next year. They already have plenty of good players in the pipeline. Dallas Dale II will continue to add onto that.
Who knows? Next year at this time we might be talking about Collin Priest or Dallas Dale as National Champions. The future of baseball for LSU, Michigan and Mount Dora Christian Academy has never been brighter!
Photos Provided By:
Twitter
Kyle Coppola was born in Newton, Massachusetts and received his Bachelor of Fine Arts in Communications from Curry College in 2016. After traveling to Florida on a family vacation, he decided he could not get enough of the warm weather and made the move from snowy Massachusetts to central Florida 8 years ago.
For the last decade Kyle has gained valuable experience in social media content creation, marketing and sales, writing, video production, sports announcing and even broadcasting for local radio stations, such as FM 102.9 in The Villages and FM 91.5 in Massachusetts. Every year he volunteers at The Villages Charter High School as a play-by-play sports announcer for the football games as well as a public address announcer for the basketball games, including the annual Battle at The Villages Tournament.
Outside the office Kyle is a husband and father to two beautiful girls along with their cat. In his spare time he likes to spend time with his family, travel, play golf and swim. He is also a huge sports junkie and even bigger motorsports fan and loves to attend racing events when he can.
Share This Story!