Meet 15-Year-Old Singer Emma Broome from First Academy-Leesburg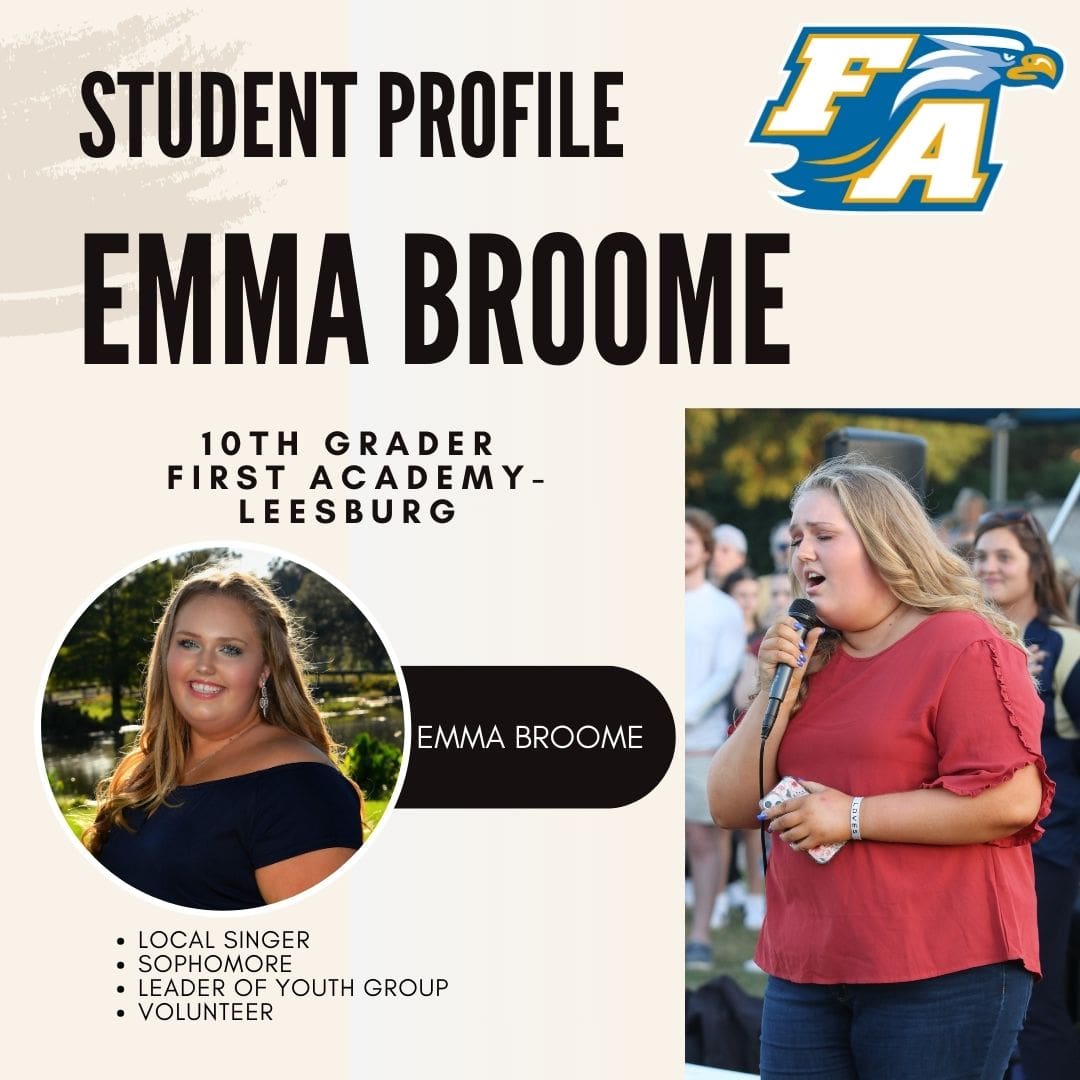 At just 15 years old, Emma Broome, a sophomore at First Academy-Leesburg, possesses some of the most exquisite vocal talents in Lake County, a gift she has nurtured from a tender age. Born into a household steeped in music, Emma's father, Brian Broome, serves as a pastor at Heritage Community Church in Fruitland Park.
What sets Emma apart is not only her remarkable voice but also her innate ability to connect with people. During our interview, she exuded warmth and enthusiasm, particularly when discussing her passion for singing. "Singing makes me feel at home. I believe that the good Lord has blessed me with the gift of song, and I want to honor and glorify Him every chance I get," she shared.
Emma's journey began when she joined the choir in second grade at the age of 7. Recalling her first performance in front of a crowd, she remarked, "It was during a second-grade choir performance. It was intimidating at first, but I knew God would help me through it. Once I began to sing, everything just flowed, and ever since then, I have felt right at home."
Beyond her academic commitments, Emma dedicates her time to her church, where she leads the youth worship group and works in the nursery, caring for young children. However, her most cherished moments occur on Sunday mornings when she sings alongside her father and fellow congregants during worship services. Emma enthusiastically shared, "It gives me great joy to follow in my father's footsteps. He inspires me every day to be the person I am, and it's a privilege to sing with him every Sunday morning."
Emma's mother, Leslie Broome, is a dental hygienist at The Villages at Oaks Dental Care. Emma also has a younger brother, Ethan, who attends The Villages Elementary School. The Broomes have deep roots in Leesburg, Umatilla, and Georgia, but now proudly call Lake County, Florida, their home.
Emma's vocal talents extend to the Lake County community, where she recently performed the National Anthem at The Villages Youth Football games. Her captivating rendition caught the attention of Michelle Morman, The Villages Varsity Volleyball coach, who offered Emma the opportunity to sing at their games.
In October of this year, Emma had the privilege of singing at The Villages Charter High School during a game against FA-Leesburg. The performance left a lasting impression, earning praise from the parents, coaches and spectators alike.
Regarding her relentless pursuit of her passion, Emma stated, "I am practicing all the time. I basically sing or hum 24/7. There is always a song I am thinking about." She also mentioned her admiration for Contemporary Christian Music artists like Elevation Worship and Phil Wickham.
This year marks Emma's first at FA-Leesburg, having transferred into the program earlier. She expressed gratitude to her teachers, Mrs. Martin, Mrs. Berry, and Mr. Wise, for their impactful guidance. "I really have to thank Mrs. Martin, Mrs. Berry, and Mr. Wise for everything they have taught to me this year. They have made me a better person and student because of who they are. I am very thankful for their welcoming, genuine, and relational teachings that have been a breath of fresh air."
While many sophomores are still searching for their life's direction, Emma has a clear plan. "I want to graduate from high school and then attend Lake-Sumter State College to earn my associate's degree. After that, I plan to enroll in Abraham Baldwin Agricultural College in Georgia to pursue a BA in education with a minor in music."
The community is fortunate to have Emma, a sophomore who possesses wisdom and talents well beyond her years. Her beautiful voice can be heard at Heritage Community Church in Fruitland Park on Sundays, and her future holds the promise of sharing her gift throughout the community in the years to come.
Kyle Coppola was born in Newton, Massachusetts and received his Bachelor of Fine Arts in Communications from Curry College in 2016. After traveling to Florida on a family vacation, he decided he could not get enough of the warm weather and made the move from snowy Massachusetts to central Florida 8 years ago.
For the last decade Kyle has gained valuable experience in social media content creation, marketing and sales, writing, video production, sports announcing and even broadcasting for local radio stations, such as FM 102.9 in The Villages and FM 91.5 in Massachusetts. Every year he volunteers at The Villages Charter High School as a play-by-play sports announcer for the football games as well as a public address announcer for the basketball games, including the annual Battle at The Villages Tournament.
Outside the office Kyle is a husband and father to two beautiful girls along with their cat. In his spare time he likes to spend time with his family, travel, play golf and swim. He is also a huge sports junkie and even bigger motorsports fan and loves to attend racing events when he can.
Share This Story!