Meet 91 Year Old Former Umatilla Race Car Driver Truman Cook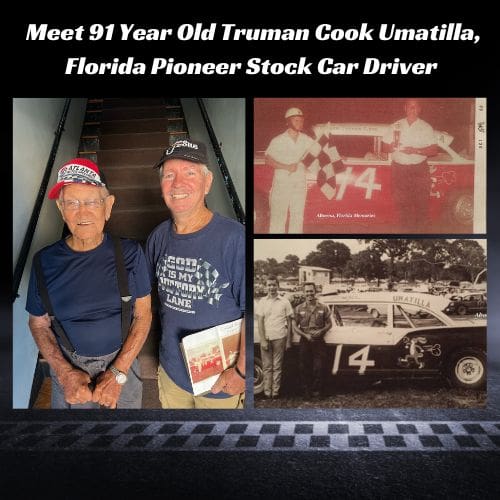 Back in the 1940s, 50s and 60s racing was at its most dangerous. It was not until the late 1950s when NASCAR was created, that Stock Car racing really began to take off in popularity. What if I told you that Truman Cook Sr. A native of Umatilla, Cook raced with some of the best drivers of this era. Back then Stock Car racing was a sport that Bootleggers founded. Over the years the cars have become safer and the sport has grown wildly since this era. But to talk to someone who was there at the beginning, especially someone who was a native of Umatilla at this time in history, was fascinating.
Truman Cook is 91 years old. But don't let his age fool you. Truman is as sharp as the day he retired from driving in 1971. Born in 1932, Truman Cook is one of the few drivers remaining who raced on the original Daytona Beach Speedway & Road Course which was closed in 1958 in favor of the 2.5 Mile Daytona Superspeedway which has been in operation ever since.
Cook was a dirt track racer. Born in Georgia he moved down with his family in his early years and moved to Umatilla. His father worked on the Canal that was going to cut through Florida including much of the Ocala region allowing for ship traffic to navigate right through the state. His father did much of the blasting that took place for the ultimately doomed project. Portions of that project still can be seen today with concrete and rectangular water ways that would have made up the canal.
During his time in Umatilla, Cook decided to start a racing career. He raced in various cars over the years including a 1957 Ford Fairlane which was one of his favorites. Cook raced at DeLand Speedway which closed in 1973 but it was one of the best dirt tracks in Central Florida at the time.
Cook raced with names like Tiny Lund and Darrell Dake, but he also got the chance to race with some of the best stock car drivers in the world at Daytona Beach Speedway. Cook always raced with his hometown of "UMATILLA" written on the roof of the car. Cook was proud that his little team from a relatively unheard Florida hometown of Umatilla. He could go out and compete with some of the best dirt track racers of the era. Sometimes he was even offered money to just fill a field at a local event as well. We call that Start and Parking in racing which is often frowned upon these days but back then, you had to do what you had to do to make money.
Although Cook would never race in NASCAR, he raced with most of the names that would make NASCAR famous when it would be introduced in 1959. He won multiple races at DeLand Speedway in the Dirt Late Model division, culminating with a spectacular wreck in 1971 that would ultimately end his driving career.
It was a sunny afternoon in 1971 and Cook was battling up front with a few other cars when all of a sudden his left rear wheel came off his car. The car began barrel rolling down into turn 1, eventually coming to a stop. Many people there in attendance thought he might be dead. As the car tumbled to a stop, Truman had been knocked unconscious. By the time he came to, his son was inside the overturned car helping him out.
Cook ended up breaking his back in the accident and unfortunately would end his driving career. He tried to come back in 1972 but the effects of the crash simply wouldn't let him be competitive and he hung up his helmet and driving gloves by around late 1972. Sounds like a very familiar story in the Disney Pixar Cars movie with Doc Hudson. If you don't know that story I suggest checking it out.
By 1973 DeLand Speedway was deteriorating and eventually shut down. Volusia Speedway took much of the business over when it opened up in 1968. DeLand just could not compete with this speedway that continues to flourish with the World of Outlaws to this very day. Many attempts were made to save DeLand Speedway, but ultimately none ever happened. DeLand Speedway was sold and made into a housing development.
Any signs of the track are completely gone but there is a house located where turn 1 used to be. Right inside these unsuspecting home dwellers living room, would have been an overturned dirt late model in 1971 which was one of the most famous wrecks at the track.
Today Truman Cook lives with his son Truman Cook Jr. in Mount Dora. The family is involved with the famous Fruitland Park Speedway which has been in operation for 65 years. The Cook Jr. is one of the Directors at the track. He loves watching and helping youth racers climb the ladder and the first race back at the track will be Saturday September, 2nd.
Cook could go on and on about the memories he shared in the early days of Central Florida. He raced at New Smyrna Raceway and Bubba Raceway Park in Ocala. This man drove some of the coolest cars to ever grace the surface of a race track. He survived the wrecks and he continues to tell tales of the glory days of Stock Car racing.
We loved hearing Truman Cook's story. Hopefully this small piece of Florida history can live at least digitally forever. The physical cars and tracks of that era may be gone, but the stories and memories will last forever.
Photos Provided By:
Truman Cook Jr.
Kyle Coppola was born in Newton, Massachusetts and received his Bachelor of Fine Arts in Communications from Curry College in 2016. After traveling to Florida on a family vacation, he decided he could not get enough of the warm weather and made the move from snowy Massachusetts to central Florida 8 years ago.
For the last decade Kyle has gained valuable experience in social media content creation, marketing and sales, writing, video production, sports announcing and even broadcasting for local radio stations, such as FM 102.9 in The Villages and FM 91.5 in Massachusetts. Every year he volunteers at The Villages Charter High School as a play-by-play sports announcer for the football games as well as a public address announcer for the basketball games, including the annual Battle at The Villages Tournament.
Outside the office Kyle is a husband and father to two beautiful girls along with their cat. In his spare time he likes to spend time with his family, travel, play golf and swim. He is also a huge sports junkie and even bigger motorsports fan and loves to attend racing events when he can.
Share This Story!