MEET A VILLAGER: 'Hone'ing His Craft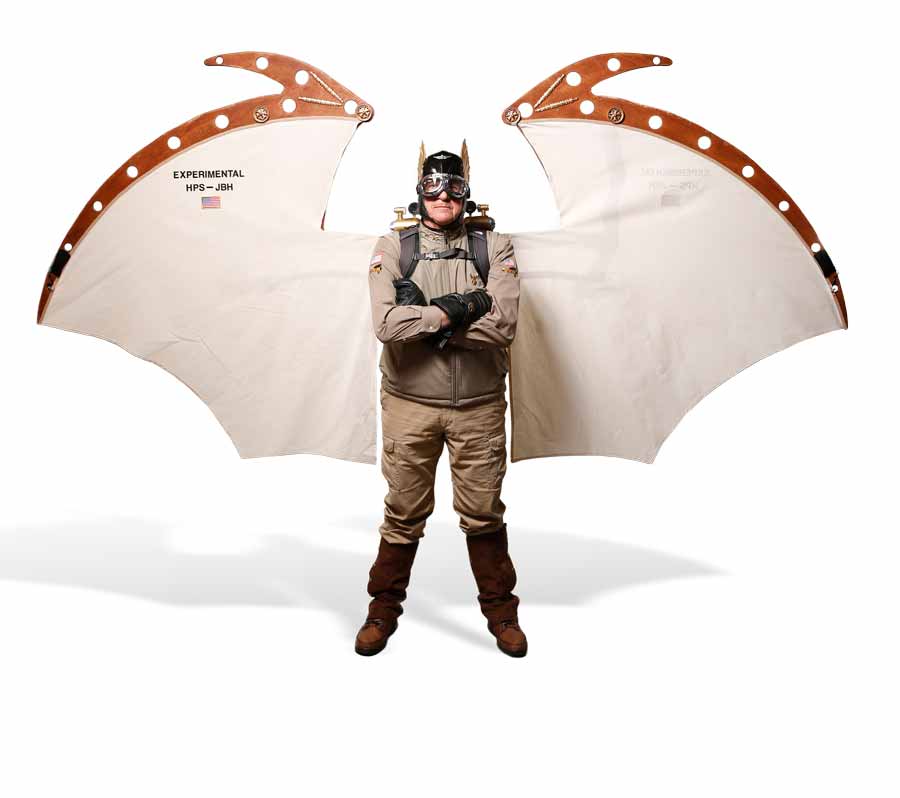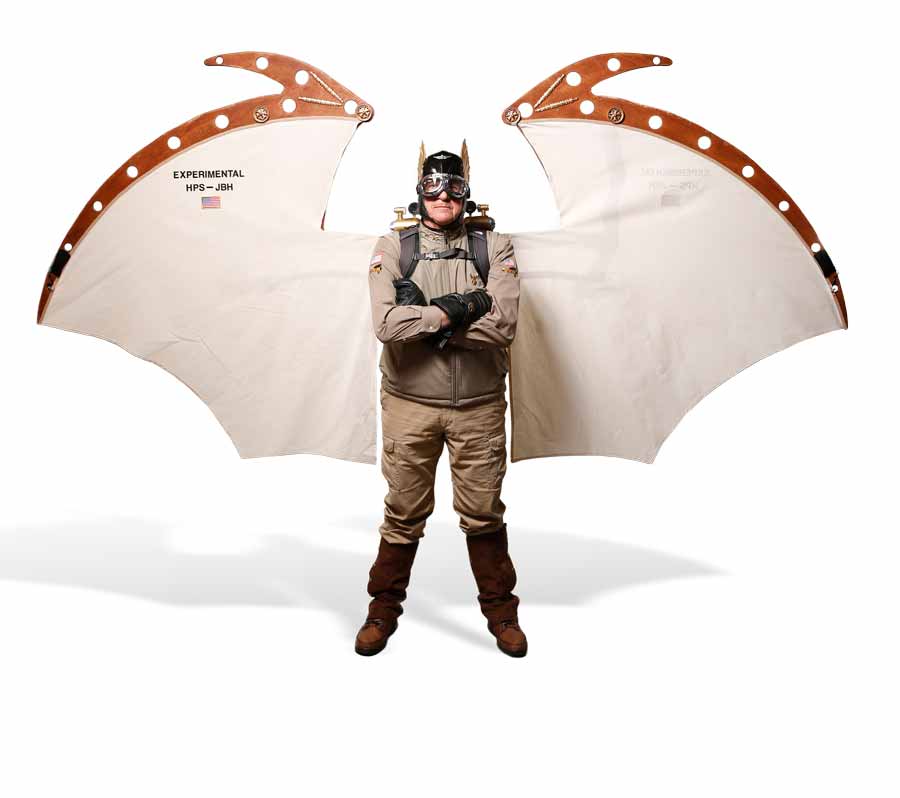 Jerry Hone can't think of a time he wasn't building something. Since he was a small boy, he has always had an interest in creating extraordinary items people have never seen before. His latest undertaking—the Flying Man Backpack—is no exception.
With a wingspan of 11 feet 6 inches, the winged backpack is most certainly a show-stopping conversation piece. He built it after seeing a similar backpack at Renninger's Flea Market in Mount Dora.
The special event for the day was Renninger's Steampunk Industrial Show. Hone and his wife Joyce didn't know what Steampunk was, and Hone admits he was apprehensive about delving into it. But soon he found himself intrigued by the whimsical, Victorian-industrial facets of Steampunk.
According to the Ministry of Peculiar Occurrences' website: "Steampunk is modern technology—iPads, computers, robotics, air travel—powered by steam and set in the 1800's."
"It's taking technology from the 1850s to the 1890s and predicting what it would be like in 100 years," Hone explains. "Think H.G. Wells and Jules Verne. We're acting out the Victorian era."
For most Steampunk enthusiasts, the clothing is the highlight of the genre, which features Victorian-inspired fashions such as corsets, petticoats, and top hats,. Although he's a member of the Central Florida Steampunk Association, Hone only dabbles in it.
Nevertheless, the amount of time—300 hours—and detail that went into the backpack shows Hone is a part-time aficionado of the genre and clever with his hands.
For his design, Hone drew inspiration from the photos he took at Renninger's show. He threw in many of his own elements while sketching, and then decided what would work and what wouldn't.
He says, "For example, I added fake steam that comes out as the wings open up and blue flashing lights on the wingtips. I upgraded it some."
The backpack debuted Halloween during a costume contest. Out of 150 contestants, Hone took first place.
"People were surprised," he says. "Then when I walked around and opened the wings, people were really surprised. They wanted to know if it could fly and I would say, 'In a tornado.'"
It wasn't the first time Hone was recognized for his ingenuity. For 20 years, he's built mechanical musical attractions that are on display in amusement parks, stores, and museums around the world. He's made animated music-playing monkeys, a life-size ape that releases bubbles, and a homemade train whistle that sounds like the real thing.
His love for creating something out of nothing came from working as a tool and die maker for General Motors for 14 years and then becoming a video producer before retiring and completing 30 years with the company.
Outside of making unique gadgets, Hone belongs to various clubs in The Villages—the Castaway High Speed RC Boat Club, the Mini Cooper Club, and Hanger Flyers. He was in the U.S. Air Force, and is a licensed pilot. However, his most satisfying work is as a Stephen minister through Community United Methodist Church in Fruitland Park.
"To me that is really important and a rewarding part of my life," he says before adding, "but, for pure fun, designing and creating mechanical devices like the Flying Man Backpack is hard to beat."
---