Mellow Mushroom returns with new menu, stunning renovations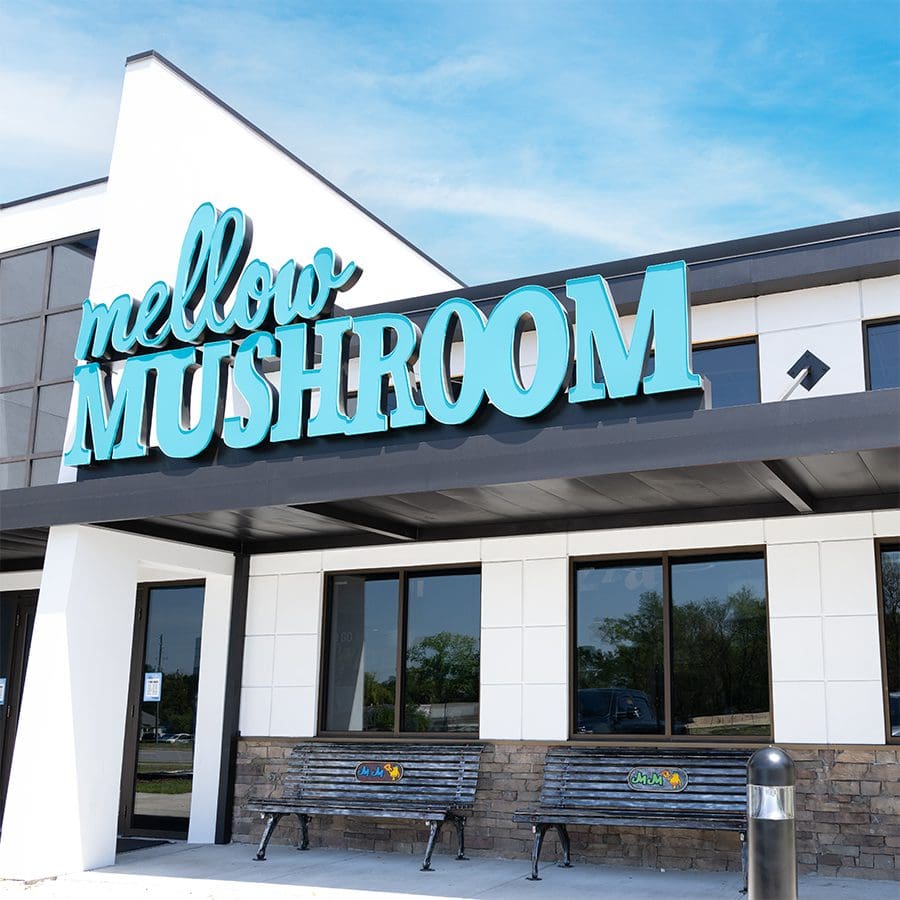 Whimsical wonderland of flavor
Pizza lovers in Mount Dora have a delicious reason to celebrate after the iconic Mellow Mushroom restaurant reopened in April following extensive renovations and new ownership. 
As a vegetarian, this was the perfect stop for me since Mellow Mushroom caters to many dietary restrictions, including vegan and gluten-free. However, to get a well-rounded experience of all the establishment has to offer, I brought along my two best omnivorous companions, Style photographer Nicole Hamel and writer Roxanne Brown.
Now let's talk restaurant.
The exterior is completely repainted with a new color scheme, and an industrial-style horse statue takes the place of the mushroom man that was previously there. 
Inside, a new whimsical design was the first thing that struck me upon stepping through the doors. 
We were immediately immersed in a psychedelic wonderland reminiscent of "Alice in Wonderland," with bird cages around some of the seating, mushrooms and butterflies lining the walls, and a Victorian clock hanging from the ceiling at the entrance. I was secretly waiting for the Cheshire Cat to appear. 
I also noticed that the interior walls were torn down to create an open floor plan. Diners now can see from one end of the building to the other, with a clear view of the kitchen, as well. 
Greeted by the manager on duty, we learned that the renovations that brought this popular restaurant back to life were commissioned by new owners Chuck and Stacey Votey, who also own three Mellow Mushrooms in Orlando. 
We were seated immediately at the height of the Monday lunch rush. The dining area is quite large and seats around 130 guests, with an additional indoor/outdoor bar that seats 26 and an outdoor patio that seats around 50. Needless to say, there is plenty of space. 
Shout out to our waiter Jason Fechtenburg, who was very knowledgeable about the menu. He was especially well-versed in the venue's dietary restrictions, and even offered suggestions of dishes for us to try. 
We started with the spinach artichoke dip for the table. If this was any indicator on the rest of the meal, we were going to leave stuffed. The dip was super creamy and flavorful. It was served with garlic toast points (garlic toast cut into triangle pieces) to scoop up all the yumminess.
Nicole decided to venture into fungi territory by ordering the magic mushroom soup. Although she doesn't typically like mushroom soup, she was pleasantly surprised by the flavors. Topped with Wisconsin aged white cheddar, grilled shiitake, button, and portobello mushrooms, and finished with fresh chives, it proved to be a remarkable choice.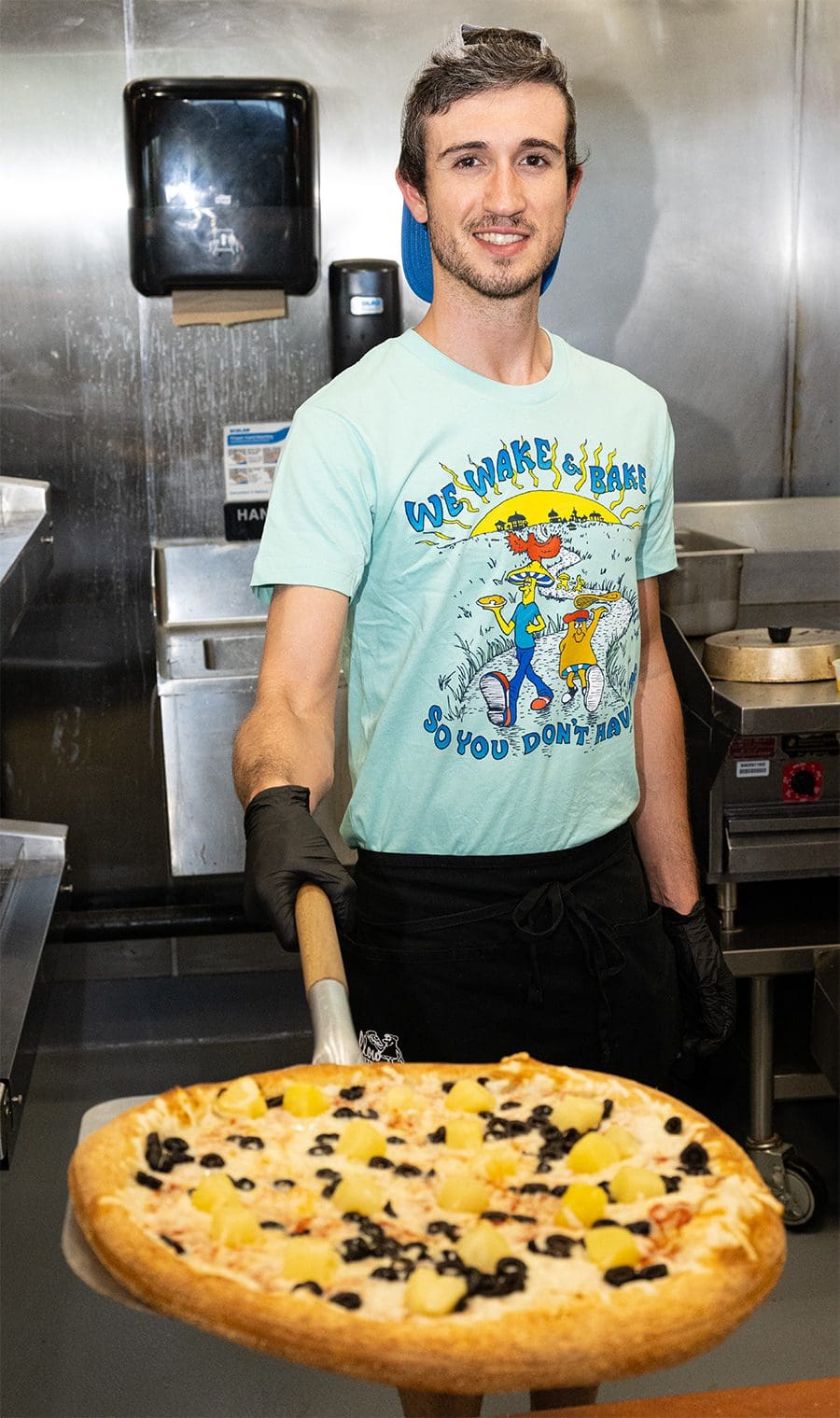 As far as entrees go, Roxanne and Nicole split the Italian hoagie and a small Maui Wowie pizza.
"The extra creamy and very rich spinach artichoke dip with the garlic toast points to dip into it, was my favorite bite, that is, until the pizza I ordered came to the table," Roxanne says. "Topped with ham, pineapple, jerk chicken, banana peppers, applewood smoked bacon, and a pesto sauce, the stone-baked pie, with a unique blend of sweet and savory, was flavorful and satisfying."
Jason suggested I try the Magical Mystery Tour Pizza. It's a local favorite from the previous menu that's not available at many other Mellow Mushrooms. This pesto-based pizza is topped with portobellos mushrooms, sheep's milk feta, mozzarella cheese, spinach, and light jalapeños. The caption says, "The only mystery is whether one is enough." I concur. It was delicious, even though I had to pick off a few of the jalapeños because I am such a chicken when it comes to spices. 
Next, in checking out the bar area, I noticed guests can choose from 24 mellow beer taps of local brews from nearby Florida microbreweries. They also serve up liquid karma hand-crafted cocktails, simple sippers, magic mocktails and cult classics. 
Additionally, other items on the food menu include wings, meatballs, pretzels, and bruschetta for appetizers, and salads, burgers, calzones, build your pizza choices, and a variety of hoagies for entrees. 
Raise a glass to the new Mellow Mushroom and be sure to check out this culinary adventure! 
Originally from the small town of Berryville, Arkansas, Cindy has become a multimedia specialist in journalism, photography, videography and video editing.
She has a B.S. in Communications from the University of Central Arkansas and is a correspondent for The Daily Commercial, LakeFront TV and Beacon College's PBS talk show, "A World of Difference," where she received an Anthem Award and Telly Award.
When she isn't working, Cindy spends time with her husband, Ryan, and son, David, traveling and taking photos of landscapes and wildlife.
Share This Story!