Millers Ale House in Mount Dora looking at Early 2024 Opening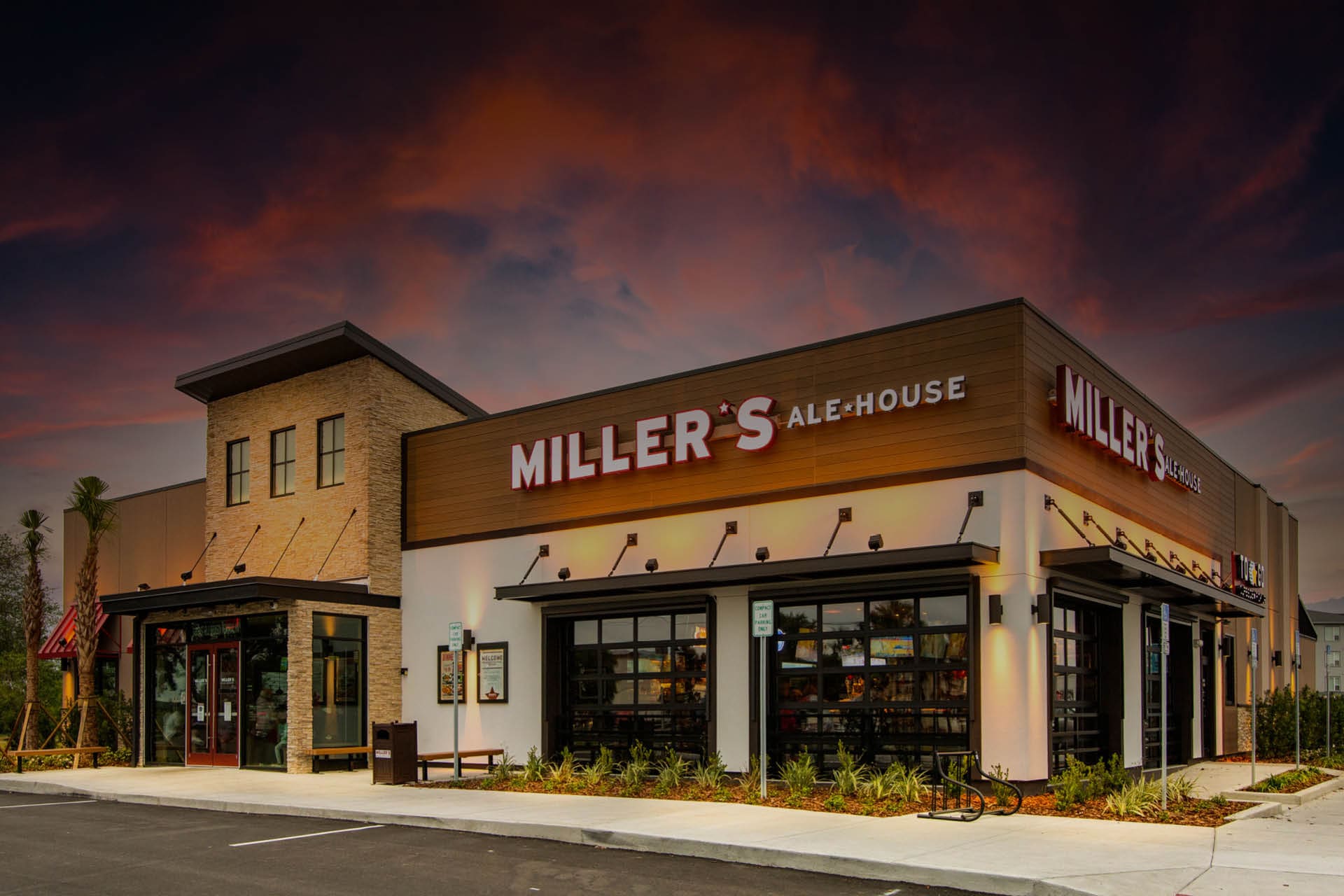 With the constant growth of rooftop developments around the picturesque Mount Dora, it's no surprise that the main thoroughfares are becoming increasingly attractive to restaurants and retailers. The latest addition to the city's burgeoning dining scene is Miller's Ale House, set to make its mark in front of the local Target store, adjacent to Panda Express, on U.S. Highway 441.
We reached out to Millers Ale House for further comment as to when exactly the opening date might be but they have not returned our calls. Rumors have the building possibly having an early 2024 opening but the exact month and date have not been confirmed. Construction is ongoing currently.
The Florida-based sports bar and restaurant chain, known for its classic American cuisine featuring burgers, chicken, steaks, salads, and a well-stocked bar, has chosen Mount Dora as its next destination. Miller's Ale House offers a relaxed and welcoming ambiance, making it a perfect spot to catch your favorite sporting events, enjoy a laid-back lunch or dinner, or savor cocktails at the bar.
The journey of Miller's Ale House dates back to 1988 when it first opened its doors in the coastal town of Jupiter, Florida. Since its inception, the chain has steadily expanded and now boasts over 50 locations in the Sunshine State and an impressive total of 94 restaurants spanning across ten different states.
Notably, the restaurant chain used to incorporate location-specific names, such as Sanford Ale House for their Sanford branch and Orlando Ale House for their Orlando establishment. However, in a strategic move, the company decided to drop location references and unify all its restaurants under the "Miller's" brand, giving each establishment a consistent identity.
Miller's Ale House now joins other prominent restaurant chains eager to tap into Mount Dora's thriving market. Longhorn Steakhouse, known for its delectable steaks, is set to establish a location at 17020 U.S. Highway 441, conveniently located near the local Walmart. Additionally, Culver's, famous for its butterburgers and frozen custard, recently opened at 18996 U.S. Highway 441, near the prestigious Country Club of Mount Dora.
As Mount Dora continues to evolve into a vibrant hub for dining and retail, residents and visitors alike can anticipate an even broader array of culinary experiences and shopping options in the near future.
Kyle Coppola was born in Newton, Massachusetts and received his Bachelor of Fine Arts in Communications from Curry College in 2016. After traveling to Florida on a family vacation, he decided he could not get enough of the warm weather and made the move from snowy Massachusetts to central Florida 8 years ago.
For the last decade Kyle has gained valuable experience in social media content creation, marketing and sales, writing, video production, sports announcing and even broadcasting for local radio stations, such as FM 102.9 in The Villages and FM 91.5 in Massachusetts. Every year he volunteers at The Villages Charter High School as a play-by-play sports announcer for the football games as well as a public address announcer for the basketball games, including the annual Battle at The Villages Tournament.
Outside the office Kyle is a husband and father to two beautiful girls along with their cat. In his spare time he likes to spend time with his family, travel, play golf and swim. He is also a huge sports junkie and even bigger motorsports fan and loves to attend racing events when he can.
Share This Story!