Mount Dora High School Football Preview 2023
The Mount Dora Hurricanes had one stellar season last year. The best in over a decade for the program led to a 6-4 record. Even though the team didn't make the playoffs, that 6-4 record represented the first winning record the Hurricanes had in nearly a decade. The new coaching staff had a huge impact last year with coch Hutchinson and Offensive Coordinator Sean Markham taking the helm of the team.
That crew was able to get the most out of their players last year including an almost 2,000 yard rushing season from former Hurricane Running Back Dante Johnson-Turner. The Hurricanes have lost their entire offensive line for this upcoming season including quarterback Matthew Butler who had 1,165 yards passing with an average of 16.6 yards per throw last year.
Meet New Starting QB Jake Sepe
Jake Sepe is perhaps the most exciting new change to happen to the Mount Dora Offense. The Junior played in a handful of games his Sophomore season and was the backup to then starter Matthew Butler. Sepe comes into 2023 looking bigger physically and mentally. He has been attending off season camps that have aided in his throwing abilities and strength.
The entire coaching staff is excited about the prospects of Sepe. He brings the ability to throw the ball deep down the field. Much like Butler was able to do with his group of talented wide receivers. Sepe will now get that same chance as the majority of wide outs have returned for 2023. Hopefully the young offensive line will be able to give Sepe enough time to go to work. Sepe can scramble out of the pocket but he is at his best when given the time to find open receivers downfield.
Can 2nd Year Head Coach Luke Hutchinson Put Together A Playoff Caliber Team in 2023?
Luke Hutchinson was able to get the Canes to their best statistical season in over a decade, but the Hurricanes are coming up on 10 years since their last playoff appearance. Can Hutchinson take this team and make them playoff caliber in 2023? That is the big underlying question. The good news for Mount Dora is that they have all of their receivers returning next season as well as their entire defense returning which should bode well for The Hurricanes. Returning at the wide receiver position includes one of the best WR in Lake & Sumter County last season Tanner Waring. During just his Sophomore season Waring a 6"0 165lb wide out had 600 yards recieving while accumulating 7 touchdowns on the year.
That dominance will be backed up by Junior wide receiver Zyshonne Perry who returns this season as well. The combination of Perry and Waring will be on full display this season as the Hurricanes turn to Jake Seppee this year as quarterback. We got the chance to talk to coach Hutchinson about the new quarterback this year and coach Hutch said that Seppe is more of a pocket passer. He can scramble if he has to but should rely on his wide receivers a lot this year.
The Running Back position which was dominated by Dante Johnson-Turner last year will be up for grabs this season. We could see a running back by committee approach to the 2023 season. We don't yet know what that will be like but Isaac Slegers should share duties with a few other backs.
Mount Dora has picked up a nice new Outside Linebacker who stands at 6"4 Tommie Wheeler Jr. He should be a force out there along with Russell Fickett who returns to the Hurricanes after a terrific Junior year which saw the linebacker net 83 total tackles and 16 total for losses. Joshua Collins is also back. Collins is the best safety Mount Dora has had in years and recorded a few interceptions last season.
Russell Fickett Will Be Dominant in 2023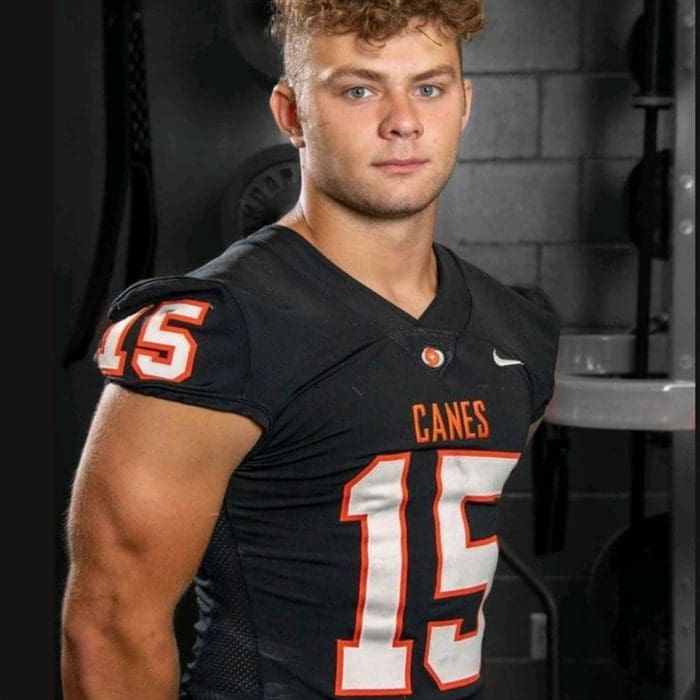 With Russell Fickett coming back for his Senior season, the defense will have a reason to celebrate. Fickett was just dominant last year. The Linebacker had 83 tackles of which over 40 of them were solo tackles. Fickett also led the team in sacks. The 6'1 220 lb Senior is just a hard nosed old school type of defensive player. This kid is in on almost every play. We expect the 2023 season to be his best year and we hope that he gets an opportunity to play at the next level. Fickett continues to get college offers that he posts on his twitter page.
Former Umatilla Head Coach Charlie Cerney becomes Mount Dora's New Defensive Coordinator
The coaching staff has been bolstered this season. Umatilla's Head Football Coach Charlie Cerney heads to the Mount Dora Hurricanes this season as the teams Defensive Coordinator. Cerney and coach Hutchinson have a lot of history and chemistry together. Coach Hutchinson says he has already seen excellent changes made by Cerney since coming onboard in February.
Meanwhile Mount Dora also has a former NFL player as its wide receiver coach, Casper Strong who played for the Miami Dolphins and Houston Oilers and played his college football at University of Illinois continues to be a father figure amongst the wide receiving group. This group should be amongst Lake & Sumter Counties best wide receiving groups so we look forward to seeing what the Hurricanes can get together this year.
We have seen greatness out of Mount Dora. The program was fledgling for years and now is on the brink of coming back from the dark ages. Last year was a step in the right direction. Will this year offer more of the same and more? That remains to be seen. I would be worried about the quarterback, running back and offensive line situation. I am sure coach Hutchinson is thinking the same thing.
Cole O'Reilly Lake & Sumter County's #1 Kicker for 2023
Finally Mount Dora comes into 2023 with one of the best kickers in Lake & Sumter County. Cole O'Reilly has a cannon for a leg. The Senior has often showed that he is capable of hitting 35 plus yard field goals easily. His range extends at or around 45 yards. That makes him one of the greatest assets to Mount Dora especially when the game is on the line. This guy has been excellent and 2023 should be his best year to date. It will be interesting how he is utilized during 4th downs. Would Mount Dora like to kick field goals and get almost guaranteed points? Or do what most teams do and go for it on 4th downs inside the 30?
We think Mount Dora will utilize O'Reilly a ton in 2023. He may actually be one of the best kickers in the state of Florida. Not only is he a good place kicker but an excellent punter. He averaged 44 yards per punt last season, often times pinning the opposing offense deep within their own end inside the 10 yard line. Although you would prefer to keep O'Reilly off the field and score touchdowns he is a great special teams player and will be there when they need him most.
Big Shoes To Fill In 2023!
This new group of incoming players are going to have huge shoes to fill. The question is can the offense be as dominant as they were last year? If they can be, the defense is one of the best in Lake County this year hands down. The defense is mature, it's seasoned with guys who are likely playing football at the next level in college. We just hope the offense is able to get cooking this year. If all of that falls into place, Mount Dora could contend for a District title for the first time since 2014. That year the Hurricanes went 9-3 and made the playoffs.
That was the last time the Hurricanes made the playoffs and it was a loss against Merritt Island. Obviously that was a long time ago and Mount Dora is looking to change that this year. They will have to contend with a rejuvenated Villages program along with the always dangerous Eustis Panthers who are coming into the season as defending District Champions. We hope the Hurricanes can make some magic happen on the field this year!
Photography Provided By:
Joe Ott Photography "Fan Zone"
Kyle Coppola was born in Newton, Massachusetts and received his Bachelor of Fine Arts in Communications from Curry College in 2016. After traveling to Florida on a family vacation, he decided he could not get enough of the warm weather and made the move from snowy Massachusetts to central Florida 8 years ago.
For the last decade Kyle has gained valuable experience in social media content creation, marketing and sales, writing, video production, sports announcing and even broadcasting for local radio stations, such as FM 102.9 in The Villages and FM 91.5 in Massachusetts. Every year he volunteers at The Villages Charter High School as a play-by-play sports announcer for the football games as well as a public address announcer for the basketball games, including the annual Battle at The Villages Tournament.
Outside the office Kyle is a husband and father to two beautiful girls along with their cat. In his spare time he likes to spend time with his family, travel, play golf and swim. He is also a huge sports junkie and even bigger motorsports fan and loves to attend racing events when he can.
Share This Story!