Mount Dora High School Cross-Country Season Preview!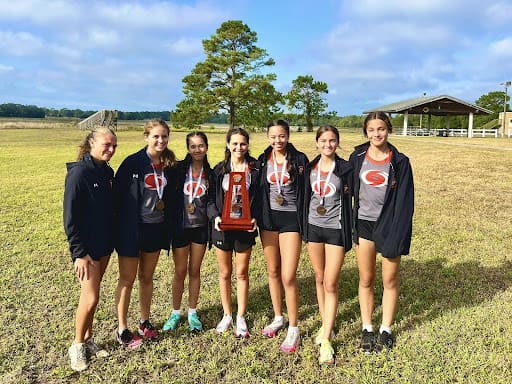 Mount Dora High School is coming off one of its best seasons ever for Track & Field and Cross Country. It's all thanks to a man with a vision. Coach Cody Adkinson has worked hard to produce the best possible opportunities for his boys and girls. Adkinson is a busy coach. Not only does he coach Cross Country for the boys and girls' teams but also coaches the boys and girls Track & Field teams!
It's safe to say that Adkinson has a ton on his plate. But he prefers it that way. The runners have looked up to Adkinson who himself has worked incredibly hard to get these runners into good shape to compete at district, regional and state levels.
Senior Noelle Vu Going for School Record in Cross-Country!
This year Mount Dora is hoping that they can have their best season ever! Some of the highlight athletes coming into the 2023 and 2024 seasons include senior Noelle Vu who is the Girls Team Captain! Vu holds four school records in the 3,200 meter-race with a time of 11:18.89, 1,600 meter-race with a time of 5:13.72. She also holds the record in the 800 meter-race with a time of 2:20.89 and the 4X800 meter-relay race.
Vu has big ambitions this upcoming year. Mount Dora has a wall with personal best times of athletes. There is a school record that has stood since 2011 by Ashley Heitlings in the Cross-Country 5K race which stands at 18:10. Vu wants to break that record this upcoming year! From what we have seen out of her anything is possible for this season. She is about as strong of an athlete you can get for public school. We hope to see her break that record!
Traditionally Mount Dora High School has had to compete in the same district as Montverde Academy, Lake Highland Prep and The Villages. That is one of the toughest districts in all of Central Florida and a victory coming out of the district is something that the school really likes to celebrate considering the huge difference in resources available to the Mount Dora High group of kids.
Mount Dora High Has Been #1 Public School at States The Last Few Years
The girl's team was District Champions in 2021 and 2022. They were also Regional Champions in 2022. We want to make note that The Boys were District Champions in 2010. It is not always easy for public schools to compete with private and charter programs. The difference in equipment is vast and I can attest to that when looking at what Mount Dora has compared to a private program. When I say it's vast… it is night and day.
Having said that, we should celebrate the fact that Mount Dora High has been the top public school in our area as a team. The Hurricanes finished 4th place as a team at the 2021 Girls State Championships for 2A and 5th place in 2022. But they did finish as the top public school in 2A which is something to be proud about. These kids don't have personal trainers, new equipment, the latest in technology etc. What they do have are hills!
It's All About The Hills!
Yes that's right! Mount Dora High has some of the best success due to the hills that the team runs. Coach Adkinson told me that unlike other schools who run flat areas in Florida, when his cross-country team competes they usually do well on hills and long distances due to the stamina their athletes build up because of the hills they run in Mount Dora.
There are some stellar athletes on the team this year besides Noelle Vu. They include Senior Cecilia Zagorini, a four-year veteran of the Mount Dora Cross-Country and Track & Field team. She has reduced her 5K run time from over a half hour all the way down to 23:03. Zagorini has a goal this year to beat her sister Fiona Zagorinis time who graduated in 2020 with a time of 21:48.
Junior Hannah Douglas Looking For Another Big Year
Meanwhile Junior Hannah Douglas is a leader on the team and a great runner in her own right. Coach Adkinson says "She has the accolades to back it up too. Her Freshman year she placed 12th in the states and is looking to do big things again this year. She has a great group of teammates that push her to be better and brings a positive attitude to every practice."
Senior Marc Florexil is a second-year Cross-Country runner with a time of 18:40. He is already producing times that show that he is ready to have a breakout season. Florexil is focused on getting prepared for his Senior season of soccer. He knows every run and workout counts.
Sophomore Donovan Spears Will Have A Huge Impact
We also want to give a shout out to sophomore Donovan Spears who is coming off a phenomenal freshman campaign and already cracked the top 10 fastest runners in Mount Dora High School history for Cross-Country. He sets his eyes on qualifying for states with his team and we are very excited to see what this sophomore can do this upcoming season!
Well what a year we are in for. We are excited to see what the Mount Dora High School Cross-Country team produces this upcoming season and we have a good feeling about their chances for the 2024 Track & Field season. We will post updates during the year following the team's progress.
If you are interested in helping the team out please consider donating to their team fundraiser which is provided in the link below along with team schedules. You can also follow their journey of the season on instagram.
XC fundraiser link:
https://verticalraise.com/fundraiser/2023-mount-dora-hurricanes-cross-country-team-fundraiser/c/463369/
Team Schedule:
https://docs.google.com/document/d/1IPpAJ_xRTiCKBd1SS7rSRuY2y7M_ey3-C3UqfBHzdjA/edit
Follow our journey here:
Kyle Coppola was born in Newton, Massachusetts and received his Bachelor of Fine Arts in Communications from Curry College in 2016. After traveling to Florida on a family vacation, he decided he could not get enough of the warm weather and made the move from snowy Massachusetts to central Florida 8 years ago.
For the last decade Kyle has gained valuable experience in social media content creation, marketing and sales, writing, video production, sports announcing and even broadcasting for local radio stations, such as FM 102.9 in The Villages and FM 91.5 in Massachusetts. Every year he volunteers at The Villages Charter High School as a play-by-play sports announcer for the football games as well as a public address announcer for the basketball games, including the annual Battle at The Villages Tournament.
Outside the office Kyle is a husband and father to two beautiful girls along with their cat. In his spare time he likes to spend time with his family, travel, play golf and swim. He is also a huge sports junkie and even bigger motorsports fan and loves to attend racing events when he can.
Share This Story!