Mount Dora High Volleyball Team Best Start In Nearly A Decade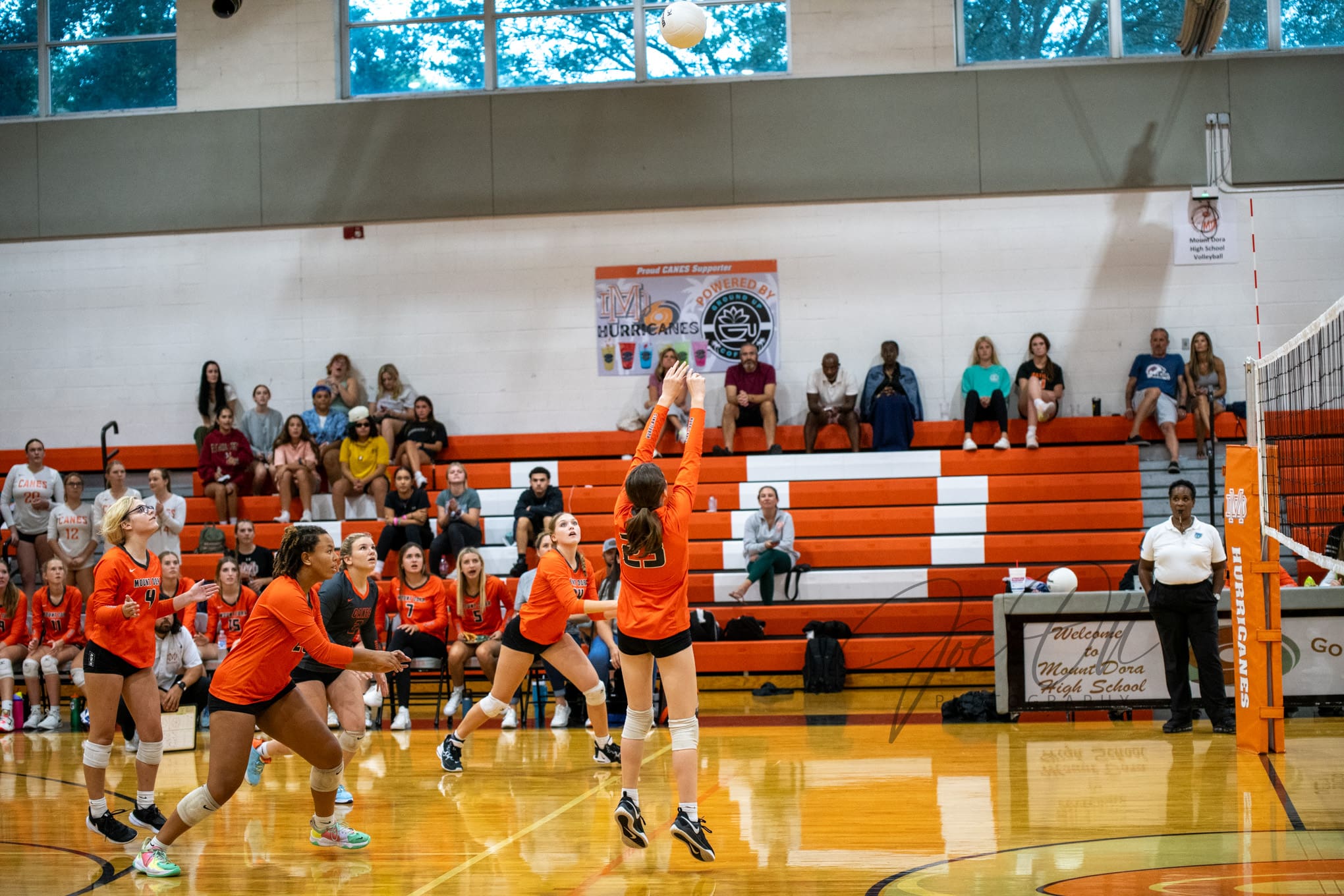 The Mount Dora Lady Hurricanes are off to their best start since the 2015 season, which saw the Lady Canes end up 20-6 on the season and make a run in the playoffs. The 2015 season was the last time a Mount Dora Lady Hurricane volleyball team ever had a winning record. Since then it has been 9 straight seasons of having either a losing record or a .500 record at even par.
Junior #24 Sydney Guthrie Leads Team In Kill Shots
This year, the Hurricanes have started the year 7-3. The Hurricanes look better than they have in years. Head coach Kevin Gifford has worked hard this off-season with assistant coaches Denise Long and Traci Martin, and those results are paying off. The team has been led in kill shots by junior #24 Sydney Guthrie, who has been amazing this year.
Guthrie has 70 kill shots this season and that has helped the team score much needed points at the front of the net. The Canes have 7 wins this year as of this writing. She is second on the team in aces this year with 11 and second on the team in points with 56 so far.
Junior #16 Olivia Francis and senior #10 Kylie Clements have also been heavily involved in the offensive part of the court. Both ladies have 24 kill shots this season. #8 Alexis Herb leads the team in aces, with 15 of them so far and aces her serves 17.6% of the time.
Coach Gifford Impressed With Young Players
We got the chance to talk with head coach Kevin Gifford and he said, "The majority of these girls have played together for the last few years including last year when many of them were just sophomores. Now most of them are junior players and it's the camaraderie that the team has developed. We have a great feeder program from Roundlake Charter School which is a K-8 program. Coach Angel Foster has done a tremendous job at getting the girls ready to play when they reach the high school level."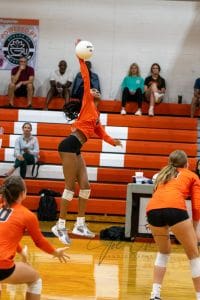 Gifford also went on to say they had over 95 girls try out for the volleyball team this year and had to cut over 50 girls. It's great to see the interest around the Mount Dora Volleyball program.
That is good news about the future and Roundlake has done a good job getting athletes ready for high school. There is a buzz surrounding the Mount Dora Hurricane volleyball team this year and we are all for it!
Freshman #3 Skye Douglass Making An Impact
One of the most impressive players on the team this season has been freshman #3 Skye Douglass, who has really had an impact. Douglass actually leads the team in points for serves with 58. She has 8 aces to begin the year and leads the team with a 99% serve rate. She rarely ever misses her serves and that has paid huge dividends for the Hurricanes this year. Douglass leads the team in assists with 91 and has helped Guthrie, Fancis and Clements immensely in the front court.
Sophomore #8 Alexis Herb Leads Team In Aces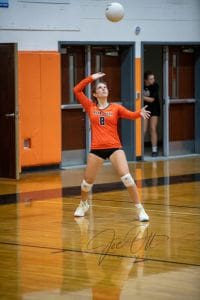 Another player who has helped out is Sophomore #8 Alexis Herb, who leads the team in aces. She has had a great start to the year and currently has a 99% serve percentage which is also team leading in that category. Senior #19 Hailey Lowry leads the team in blocks. Coach Gifford had nothing but good things to say about her and has been very impressed with her play this season. Junior #3 Blakely Kite, who plays libero and takes most of the serves for Mount Dora, has enjoyed success. She has returned 146 serves this season. Kite leads the team in digs with 67 digs on the year.
The team looks impressive. While the statistics may not rival some of the top teams in the state, Mount Dora High finally has a winning team it would appear this year. For years, Mount Dora was circled as an easy win on the schedule by opposing teams. Not this year. The Lady Canes have the best group of players they have had in years.
We are so happy to see this group starting to come together nicely. We hope that Mount Dora can continue to win games this year and maybe contend for a district championship this season! Go Hurricanes!
Photo Credit:
Joe Ott Photography "Fan Zone"
Kyle Coppola was born in Newton, Massachusetts and received his Bachelor of Fine Arts in Communications from Curry College in 2016. After traveling to Florida on a family vacation, he decided he could not get enough of the warm weather and made the move from snowy Massachusetts to central Florida 8 years ago.
For the last decade Kyle has gained valuable experience in social media content creation, marketing and sales, writing, video production, sports announcing and even broadcasting for local radio stations, such as FM 102.9 in The Villages and FM 91.5 in Massachusetts. Every year he volunteers at The Villages Charter High School as a play-by-play sports announcer for the football games as well as a public address announcer for the basketball games, including the annual Battle at The Villages Tournament.
Outside the office Kyle is a husband and father to two beautiful girls along with their cat. In his spare time he likes to spend time with his family, travel, play golf and swim. He is also a huge sports junkie and even bigger motorsports fan and loves to attend racing events when he can.
Share This Story!