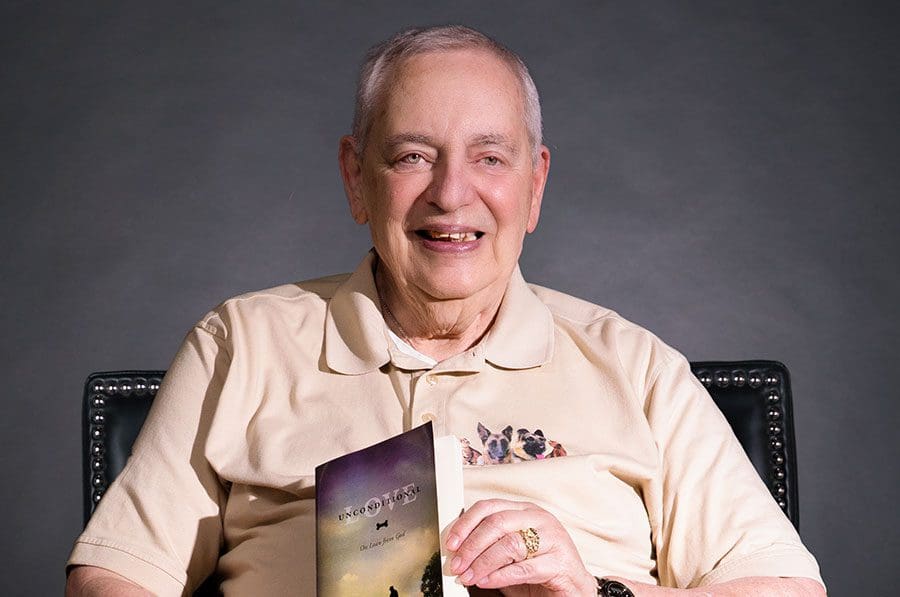 A big, roly-poly ball of fur turned his world upside down.
Photo: Anthony Rao
In Tennessee, German Shepherds are not a very popular breed and it took us several months until we finally found a breeder that had two puppies left. One of them was Sabrina. She was not exactly best-of-show as far as breed was concerned, she was a big roly poly ball of fur. But she was the most lovable little thing you'd ever want to meet. 
We brought her home and she promptly got carsick and threw up all over my wife's new car which made her a big hit in the family. But she had the ability to give you this look, 'did I do that?' She'd give you this look and tilt her head and you'd just laugh and fall in love with her. 
We brought her home and for 11 years she was absolutely the love of our life. Unfortunately she was the dumbest German Shepherd ever created. I'd always understood that German Shepherds were the closest things to human beings when it came to being smart. We put her through a series of classes and the minute we'd bring her home she would forget everything she'd learned. All she wanted to do was be a lovable, huggable, playful puppy.
I found a shitsen school about 50 miles away that trained German Shepherds for the police, FBI and military, and they use the German method of training. The head of the school, who I affectionately call sergeant Debbie, took the leash and proceeded to turn our little girl into an obedient German Shepherd. I couldn't believe it. It was a complete transformation. 
Sabrina ultimately was diagnosed with inoperable cancer just shy of her 11th birthday. I'd told myself when I first got her and I promised her that I'd never allow her to be in pain, so that night we called our vet and I said I wanna be the last person of the day so you can put her to sleep. I sat on the floor of the vet's office and Sabrina went to sleep in my arms and it just totally destroyed me.
I came home that night, sat down and I wrote a letter to myself about everything she had meant to me; the ways that she changed my life for the better. I came across it a couple years later, read the letter, started crying, thought to myself 'I think I'm gonna write a book and tell people everything I've learned about dogs and grief and grieving, because the loss of Sabrina just literally tore us apart. I had written this book called 'Unconditional Love on Loan From God' about Sabrina and I and everything she had been through and we had been through together. She was the most amazing little girl. Never having had a dog, I'd have turned the world upside down for her.
Originally from Buffalo, NY, Victoria graduated from Canisius College in 2018 with a bachelor's degree in English and Writing. In August of 2019, she relocated to Eustis, Florida, and soon began at Akers Media Group assisting with social media projects. Later that year, she was promoted to a full-time writing position at the company and has since found her niche telling the stories of so many of Lake and Sumter County's awesome people.
Share This Story!