New PGA Tour Golf Superstore coming to Lady Lake!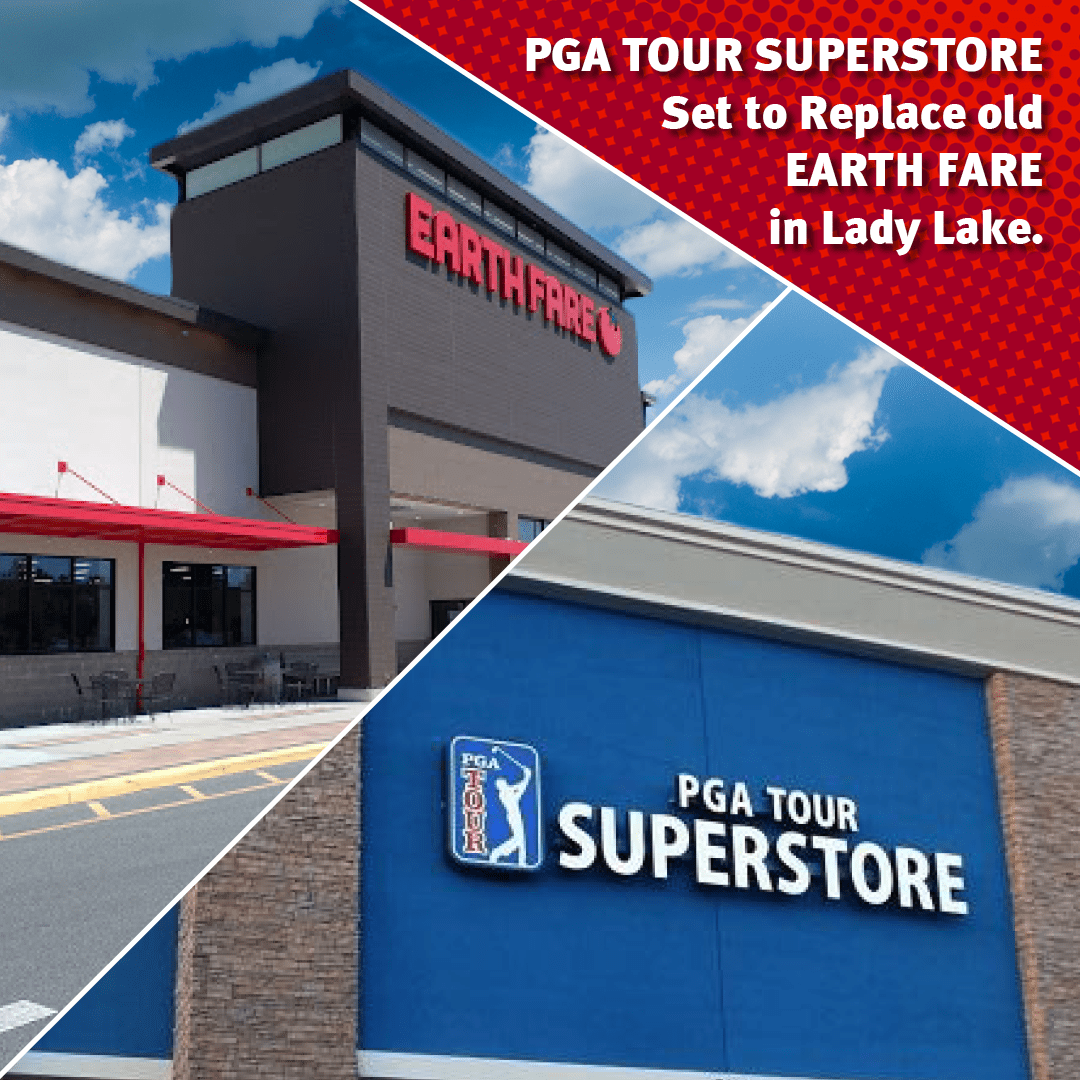 A brand new PGA Golf Superstore will open in Lady Lake. The site of the recently failed experiment Earth Fare will soon become a brand new PGA Golf Superstore. Of course permitting still needs to be approved but the new location has many people excited to see this facility get some use. The property has been built for about 3 or 4 years now but has only been occupied for 1 year. The former Earth Fare Lady Lake location opened to much fanfare in 2021 but the building did not even last 1 year before shuttering its doors and closing permanently last year.
The PGA tour recently merged with the LIV tour. This massive deal will bring back players to the tour like Phil Mickelson, Dustin Johnson, Brooks Koepka & Bryson DeChambeau back to the tour. With it will come their line of apparel they wear. As we all know golf is massive in this section of Florida. Particularly in The Villages where there are countless Championship Courses and tons of Executive Courses. But the surrounding areas of Clermont, Leesburg, Wildwood, Mount Dora and Tavares also provide for some excellent golf opportunities.
This store will look to capitalize on this market. There are a few golf stores around the area but there is no superstore devoted to PGA Tour type equipment. This should be a welcomed business to our are. Skechers just opened across the way and has had massive success so far with full parking lots almost daily. However Skechers is golf car accessible. What remains to be seen is how this location will survive when this is not the case.
This location is located right off 441 but is not accessible to golf car traffic. Earth Fare lost a good chunk of business not being golf car accessible. But will this store encounter the same fate? Here is the good news. The PGA tour seems to be in a lot better shape than Earth Fare. The organic food market is a tough sell and Earth Fare fell victim to not only Covid but a bankruptcy and poor management that ultimately doomed this location. The only bad news for this location is that it's still unproven and we can only hope this business the best of success with this location. Better marketing and promotion also goes a long way. The PGA Tour is good at that.
Fortunately a new entity has decided to take a chance on this area. We welcome the PGA Tour Superstore with open arms in our community. Any business is good business especially with a store of this size! With the 441 project now beginning to enter the 3rd and hopefully the final phase of construction in the coming months, the business will be much more accessible and user friendly to those traveling the 441 route. C25 will also reopen at some point making access even easier when the at grade intersection opens up.
Hopefully the PGA Tour Superstore will have a long life ahead of it. We are still uncertain as to many details of its opening and construction but if this truly happens we can only wish them the best success. Many have been calling for a Trader Joes in this area but those plans appear to have not happened. With Hobby Lobby opening on the other side of The Villages it's just a matter of time until a Trader Joes likely pops up somewhere. However patrons in the area will have to wait.
Kyle Coppola was born in Newton, Massachusetts and received his Bachelor of Fine Arts in Communications from Curry College in 2016. After traveling to Florida on a family vacation, he decided he could not get enough of the warm weather and made the move from snowy Massachusetts to central Florida 8 years ago.
For the last decade Kyle has gained valuable experience in social media content creation, marketing and sales, writing, video production, sports announcing and even broadcasting for local radio stations, such as FM 102.9 in The Villages and FM 91.5 in Massachusetts. Every year he volunteers at The Villages Charter High School as a play-by-play sports announcer for the football games as well as a public address announcer for the basketball games, including the annual Battle at The Villages Tournament.
Outside the office Kyle is a husband and father to two beautiful girls along with their cat. In his spare time he likes to spend time with his family, travel, play golf and swim. He is also a huge sports junkie and even bigger motorsports fan and loves to attend racing events when he can.
Share This Story!