Offensive Player of The Week Eustis High Quarterback Troy Saladin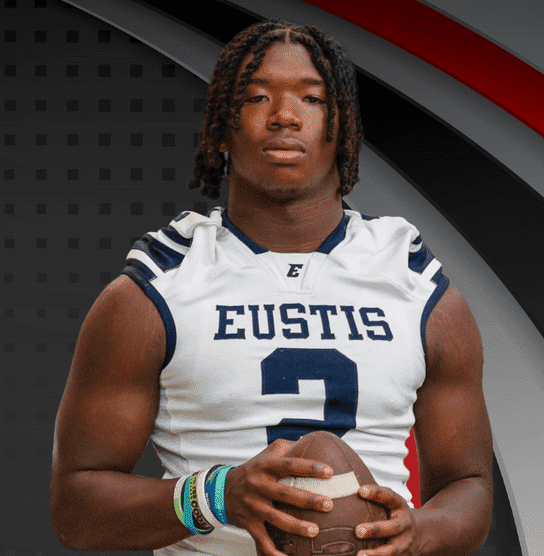 In what can only be described as a Miami Dolphins type performance, Troy Saladin absolutely went off this week in a 63-45 win against Foundation Academy! The game saw a Lake & Sumter County season high 108 total points scored. This was a total team effort and while Saladin may have all the statistics, he could not have done it without his teammates who we will touch on.
Saladin was 18-31. He had 368 passing yards and 6 touchdowns, leading the way for Eustis in an offensive showdown. Saladin also had 32 rushing yards to complete a 400 yard night! One of the most electrifying performances at the QB position we have seen this season.
Say what you want about the division, the strength of schedule, one thing is for certain, Troy Saladin is the real deal. It is no question that Leesburg and South Sumter lead the way as far as strength of players, but we need to give credit where credit is due. This kid had a monster performance and it needs to be celebrated!
It happens at least once per year where an offensive player from some school in Lake & Sumter County goes off for about 5 or 6 touchdowns in a game. Saladin became that player this past Friday night! He has been the Panthers best offensive weapon all season long. But he could not do it without his teammates.
Also having an incredible night was running back Tymir Gaines who rushed the ball 13 times for 73 yards. He scored 2 touchdowns on the ground and a 48 yard reception from Saladin which gave him a hat-trick of 3 on the evening.
Meanwhile LaShawn Williams had 7 catches for 133 yards including a touchdown reception. Williams ended up rushing down near the goal line 2 times for 8 yards and one of those was a run into the endzone. Williams would end up with 2 touchdowns that evening.
Erik Vega was targeted a few times. Maybe not as much as LaShawn Williams but the wideout made the most of his opportunities. He caught 2 touchdown passes which proved to be his only catches of the night. Those catches mattered though as Eustis was in an offensive battle all night long.
Lastly Zavien Bryant had 2 catches for 72 yards including a touchdown. We have to give a huge shout out to the offensive line of Eustis who opened holes all night for Tymir Gaines and Troy Saladin. They gave Saladin plenty of time to throw the ball. That group certainly had a positive impact on the game. So when we say this was a total team effort, we mean it.
Saladin now has over 1,000 yards on the season. He joined Leesburg High Quarterback Salomon Georges as members of the 1,000 club this past weekend. This was a monumental effort by the offense to keep up with a decent Foundation Academy team that never relented.
Defensively it was difficult on both teams. With high flying offenses like these, both defenses had challenges that they simply could not overcome although Eustis outlasted Foundation Academy. Hopefully Eustis can make some adjustments against The Villages Charter School next week. Eustis will need to contend with a Villages Defense who have been keeping the team in games this year.
While The Villages has struggled to score points offensively, the Eustis offense will have to find ways to score early on in what should be a fun competitive matchup during the first District game of the year.
Best of luck to the Panthers and again congratulations to Troy Saladin for winning offensive player of the week and an even bigger congratulations to the entire team for a heck of a performance last Friday Night!
Kyle Coppola was born in Newton, Massachusetts and received his Bachelor of Fine Arts in Communications from Curry College in 2016. After traveling to Florida on a family vacation, he decided he could not get enough of the warm weather and made the move from snowy Massachusetts to central Florida 8 years ago.
For the last decade Kyle has gained valuable experience in social media content creation, marketing and sales, writing, video production, sports announcing and even broadcasting for local radio stations, such as FM 102.9 in The Villages and FM 91.5 in Massachusetts. Every year he volunteers at The Villages Charter High School as a play-by-play sports announcer for the football games as well as a public address announcer for the basketball games, including the annual Battle at The Villages Tournament.
Outside the office Kyle is a husband and father to two beautiful girls along with their cat. In his spare time he likes to spend time with his family, travel, play golf and swim. He is also a huge sports junkie and even bigger motorsports fan and loves to attend racing events when he can.
Share This Story!