Offensive Player of the Week is Dane Thompkins Lake Minnola High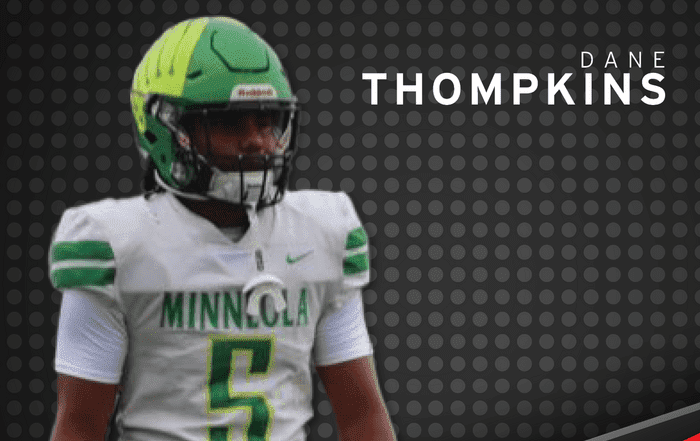 Lake Minneola High's Dane Thompkins earns Offensive Player of the Week honors after delivering a standout performance. The 5'9″, 180lb junior showcased his prowess as one of Lake County, Florida's premier running backs.
In the game last Friday, Thompkins accumulated an impressive 233 rushing yards on 21 attempts, securing four touchdowns. His remarkable contributions powered his team to a remarkable night, amassing 607 total offensive yards and an impressive tally of 8 touchdowns.
Throughout this season, Thompkins has displayed his exceptional talent, amassing a total of 1,150 rushing yards and an additional 115 yards through the air, resulting in a grand total of 1,265 yards of offense. His numbers undeniably establish him as one of Lake County's most outstanding pure runners.
With a total of 17 touchdowns this season, Thompkins trails only senior quarterback Jackson Hughers, who has recorded 24 touchdowns. Both these athletes have been invaluable assets to the Lake Minneola Hawks throughout the year. Thompkins maintains an impressive average of 8 yards per carry, a testament to the dominant offensive line that paves the way for him.
The offensive line's ability to create opportunities for Thompkins is evident in his remarkable 144 total carries this season, showcasing a significant yards-per-rush average. Excelling in such a challenging role is a testament to Thompkins' skill and determination.
Considering that he started the previous year behind senior John Celestin, who accrued 1,522 total yards and an astounding 34 touchdowns, Thompkins has undoubtedly had a remarkable coming-out season. While it may be a challenge to match those numbers in 2023, his yardage performance is on par.
This season, the Hawks have adopted a slightly altered strategy, incorporating a more pass-oriented approach. Seniors Braylon Knauth, D'nari Adams, and Jacob Kania, the wide receivers, have seized this opportunity to shine. Special recognition goes to Jacob Kania, who had a standout Friday with 8 receptions for 114 yards and 2 touchdowns.
Dane Thompkins' exceptional athletic abilities and consistent performance have garnered well-deserved attention. His potential at the collegiate level is evident, and with another year to develop, his future looks promising. Congratulations to Dane Thompkins for his outstanding season! Go Hawks!
Kyle Coppola was born in Newton, Massachusetts and received his Bachelor of Fine Arts in Communications from Curry College in 2016. After traveling to Florida on a family vacation, he decided he could not get enough of the warm weather and made the move from snowy Massachusetts to central Florida 8 years ago.
For the last decade Kyle has gained valuable experience in social media content creation, marketing and sales, writing, video production, sports announcing and even broadcasting for local radio stations, such as FM 102.9 in The Villages and FM 91.5 in Massachusetts. Every year he volunteers at The Villages Charter High School as a play-by-play sports announcer for the football games as well as a public address announcer for the basketball games, including the annual Battle at The Villages Tournament.
Outside the office Kyle is a husband and father to two beautiful girls along with their cat. In his spare time he likes to spend time with his family, travel, play golf and swim. He is also a huge sports junkie and even bigger motorsports fan and loves to attend racing events when he can.
Share This Story!