Offensive Player of the Week: Luke Watts Liberty Christian Prep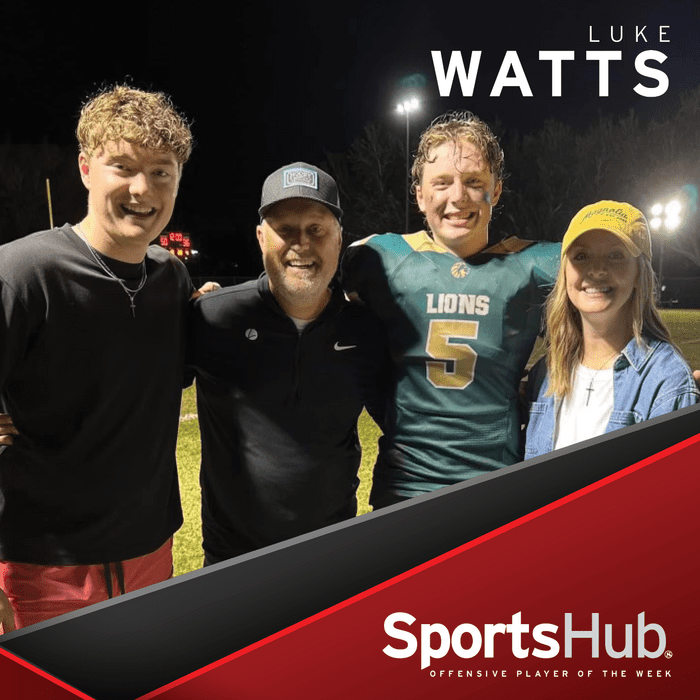 Liberty Christian Prep quarterback, Luke Watts, is our offensive player of the week. Watts, a newcomer to organized tackle football, has emerged as a beacon of resilience, guiding his team to an unprecedented playoff victory and securing the Offensive Player of the Week title.
Watts, at the helm of the Liberty Christian Prep offense, demonstrated his prowess in the SSAA 1A semi-final 8-Man football playoff game last Friday night, a historic moment for the team as they navigated their first-ever 8-Man Tackle football seaso and first ever playoff victory. In a league characterized by its unique format—played on a truncated field with only eight players for each school, Watts rose to the occasion with remarkable poise.
Watts carried the ball 19 times, amassing an impressive 242 yards of total offense. Watts showcased his versatility by notching an extraordinary five rushing touchdowns and contributing an additional touchdown through the air with 75 passing yards. What's more, Watts displayed exceptional ball control, avoiding any interceptions during a second half epic comeback for the Lions.
In a thrilling contest against Foundation Christian Academy, Liberty Christian Prep emerged victorious with a final score of 50-36, securing their place in the championship game. This achievement marks a turning point for a team that faced considerable challenges earlier in the season.
The journey for Watts and Liberty Christian Prep wasn't without its setbacks. Initial struggles, such as a 60-6 loss to TCAS, a 40-6 defeat against Countryside Christian, and a daunting 50-0 setback versus Lake Mary Prep, tested the team's resolve. However, a pivotal moment occurred when they clinched their first-ever win, a resounding 30-16 victory against Oasis Christian earlier in September.
This triumph ignited a spark within Liberty Christian Prep, transforming the team's outlook. While they may not have secured another regular-season victory, the offense gradually found its rhythm, putting points on the board and instilling a newfound belief in their ability to compete.
The culmination of these efforts led to the historic playoff game last Friday, where Luke Watts, with an extraordinary six-touchdown performance, became the first quarterback in Liberty Christian Prep history to secure a playoff win and lead the Lions to their first ever championship game.
Congratulations to Luke Watts for his stellar performance and for steering Liberty Christian Prep to uncharted territories in their inaugural 8-Man Tackle football season. This remarkable accomplishment serves as a testament to Watts' tenacity and the team's collective determination to overcome adversity. Cudos indeed.
Kyle Coppola was born in Newton, Massachusetts and received his Bachelor of Fine Arts in Communications from Curry College in 2016. After traveling to Florida on a family vacation, he decided he could not get enough of the warm weather and made the move from snowy Massachusetts to central Florida 8 years ago.
For the last decade Kyle has gained valuable experience in social media content creation, marketing and sales, writing, video production, sports announcing and even broadcasting for local radio stations, such as FM 102.9 in The Villages and FM 91.5 in Massachusetts. Every year he volunteers at The Villages Charter High School as a play-by-play sports announcer for the football games as well as a public address announcer for the basketball games, including the annual Battle at The Villages Tournament.
Outside the office Kyle is a husband and father to two beautiful girls along with their cat. In his spare time he likes to spend time with his family, travel, play golf and swim. He is also a huge sports junkie and even bigger motorsports fan and loves to attend racing events when he can.
Share This Story!