Offensive Player Of The Week Troy Saladin Eustis High Quarterback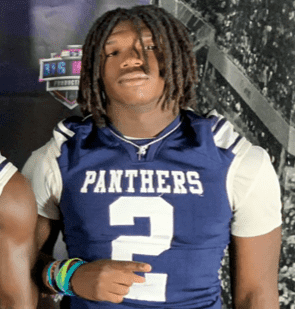 Troy Saladin is our week 3 offensive player of the week. Saladin led the Panthers to a 41-20 victory against the Tavares Bulldogs. He threw for 219 yards while racking up 4 touchdowns in the process. Saladin had 3 passing touchdowns and also had a rushing touchdown. Tavares kept Saladin in check for most of the night but he made the most of his opportunities.
Saladin is a 5'11 205 lb senior. He and Frank Scott had a challenge the previous week with a Leesburg team that looks like it could be a serious contender for not only a district championship but a state championship in 2023. The duo got back on track with a much more competitive contest against Tavares.
The Bulldogs held their own in this game but Saladin led the offense well in the second half. Saladin got plenty of help from his wide receivers. Saladin threw two of his three touchdown passes to #3 Damarian Hagins who had 4 receptions for 86 yards and two touchdowns on the evening.
#1 Leshawn Williams also had a terrific night. He had 4 receptions totaling 104 yards of total offense and a touchdown. He has had a nice start to the season and the Panthers will rely on Williams and Hagins later on in the season.
Meanwhile Saladin just plugged away all night long. Tavares High School has a new coach this year in Gavin Jones who has been a huge reason Tavares is contending for wins again this year.
Saladin had one of his best performances of the year so far. Although he has 3 interceptions on the season he has amassed nearly 600 yards of total offense this year through just 3 games. He has 7 touchdowns and is averaging 16 yards per throw. We hope Saladin continues his excellent start to the 2023 season!
Honorable Mentions
South Sumter – #26 RB – Tyrese Keiler 12 Rushes 132 Yards 3 TDs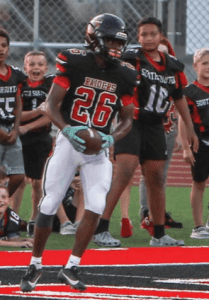 South Sumter High School has been truly amazing with what they have produced so far this year. The Raiders had another stellar performance by #26 Tyrese Keiler, the 6'1 175 lb Junior. Keiler rushed 12 times for 132 yards and 3 touchdowns. Excellent job by this young man who shares a committee approach with #3 Jamare Dorsey who is a senior. Both running backs had fantastic nights.
South Sumter – #3 RB – Jamare Dorsey 14 Rushes 127 Yards 3 TDs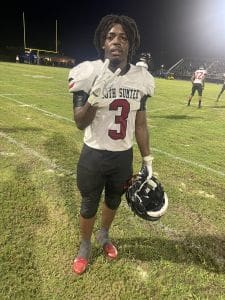 Jamare Dorsey rushed 14 times racking up 127 yards of total offense and 3 touchdowns. A dominating performance for Dorsey as we have seen time after time. Dorsey is one of the fastest players on the field and he is averaging close to 9 yards per carry to begin the year. He and Keiler are neck and neck as far as statistics go. Keiler has 6 touchdowns compared to Dorsey who has 3. But these two ram the ball down the opposing defense throats. A huge shoutout to the offensive line of South Sumter High they have opened up holes all year long for the running backs. Dorsey now has 2 games of 100+ yards so far only 3 games into the season. Look out for this duo!
Photo Credit:
Chris Gauntlett
Eustis Panthers Twitter
Troy Saladin Twitter
Reaching Athetes With Education Twitter
Kyle Coppola was born in Newton, Massachusetts and received his Bachelor of Fine Arts in Communications from Curry College in 2016. After traveling to Florida on a family vacation, he decided he could not get enough of the warm weather and made the move from snowy Massachusetts to central Florida 8 years ago.
For the last decade Kyle has gained valuable experience in social media content creation, marketing and sales, writing, video production, sports announcing and even broadcasting for local radio stations, such as FM 102.9 in The Villages and FM 91.5 in Massachusetts. Every year he volunteers at The Villages Charter High School as a play-by-play sports announcer for the football games as well as a public address announcer for the basketball games, including the annual Battle at The Villages Tournament.
Outside the office Kyle is a husband and father to two beautiful girls along with their cat. In his spare time he likes to spend time with his family, travel, play golf and swim. He is also a huge sports junkie and even bigger motorsports fan and loves to attend racing events when he can.
Share This Story!