OMG Coffee in Leesburg Hosts Soft Opening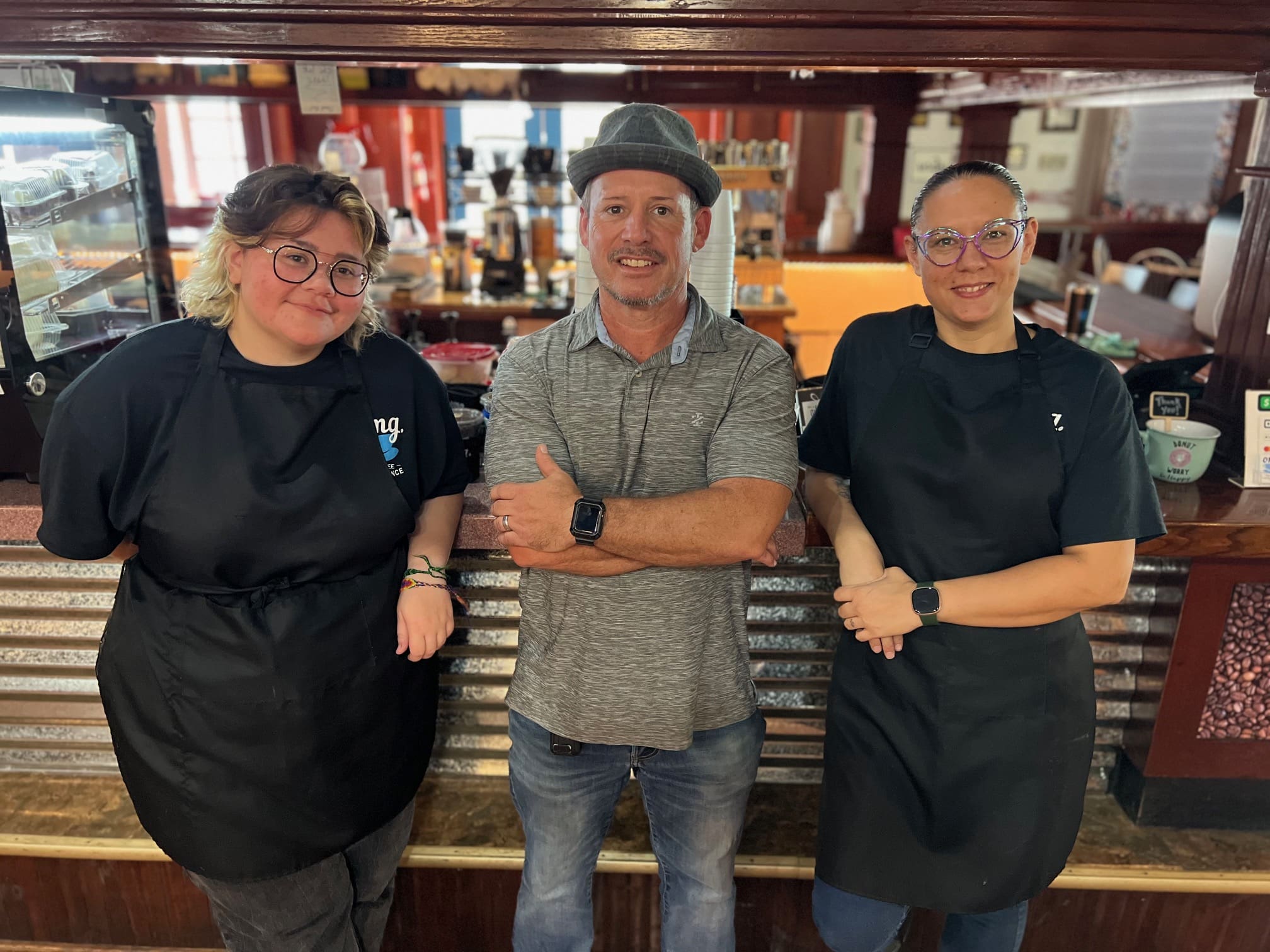 OMG Coffee Excellence in Leesburg has opened for business. The restaurant had a soft opening last week and the buzz is in the air about how good this coffee shop is! Owned by Philip Brown, the cafe recently relocated from Tavares to their new location at the Lake Square Mall in Leesburg.
The new location is a much larger footprint than the previous location. The old OMG Coffee shop, located in Tavares, only had one or two tables at most for people to sit at. The new location is in the former home of Garfields, which was a popular Leesburg restaurant for many years in the 90s and 2000s. The location was operating as a Cuban restaurant up until 2018. Since then, the location has sat unused.
The team certainly looked ready to go! Barista Atlas Lopez was brewing up some amazing smelling coffee that looked as incredible, as I am sure it tastes. Manager Jean Nardi was making sure people were enjoying their beverages and sweets. The team is fine tuning OMG as they get ready for the grand opening on September 9th at 10am.
OMG Coffee is very excited to be in this location. There are plans for a makeshift drive-thru as well. The actual building is inside the mall, although it has its own entrance. The coffee shop opens at 7am but the mall does not open until 10am, so there are plans to have a drive up tent set up to order your coffee and breakfast items in the morning time.
Philip was very excited about the new location.
"It's been 6 long hard years to get to this point," he says. "I started out at Renninger's at a small little shop. Everyone loved the coffee and eventually I had to branch out. I ended up getting a food concession truck and did that for a while. That led to getting the spot in Tavares and now this is a huge opportunity to open at such a great venue. This will become our flagship location."
The new coffee shop has a full coffee bar. There are plans for coffee and dessert tastings. All the desserts are made in house and there are even plans for a glass see-through room to see how they make all the coffee products in the back of the shop.
There is a free pool table to use upon entering and the entire atmosphere is extremely laid back and chill. It is a wonderful place to sip on a nice warm coffee with friends and family. Currently OMG Coffee is open from 7-3pm. Once OMG has the grand opening, the hours will be 7am-7pm Monday through Saturday and 9am-5pm on Sundays.
If you want to know the full history behind OMG Coffee we have attached a photo that is in the store and runs down all the events in Philip's life that have been leading to this moment.
Philip also told me that there are plans for live entertainment, music, trivia games and more.
Don't forget the grand opening on Saturday, September 9th at 10am. We hope everyone can come out and support this new local business!
Kyle Coppola was born in Newton, Massachusetts and received his Bachelor of Fine Arts in Communications from Curry College in 2016. After traveling to Florida on a family vacation, he decided he could not get enough of the warm weather and made the move from snowy Massachusetts to central Florida 8 years ago.
For the last decade Kyle has gained valuable experience in social media content creation, marketing and sales, writing, video production, sports announcing and even broadcasting for local radio stations, such as FM 102.9 in The Villages and FM 91.5 in Massachusetts. Every year he volunteers at The Villages Charter High School as a play-by-play sports announcer for the football games as well as a public address announcer for the basketball games, including the annual Battle at The Villages Tournament.
Outside the office Kyle is a husband and father to two beautiful girls along with their cat. In his spare time he likes to spend time with his family, travel, play golf and swim. He is also a huge sports junkie and even bigger motorsports fan and loves to attend racing events when he can.
Share This Story!