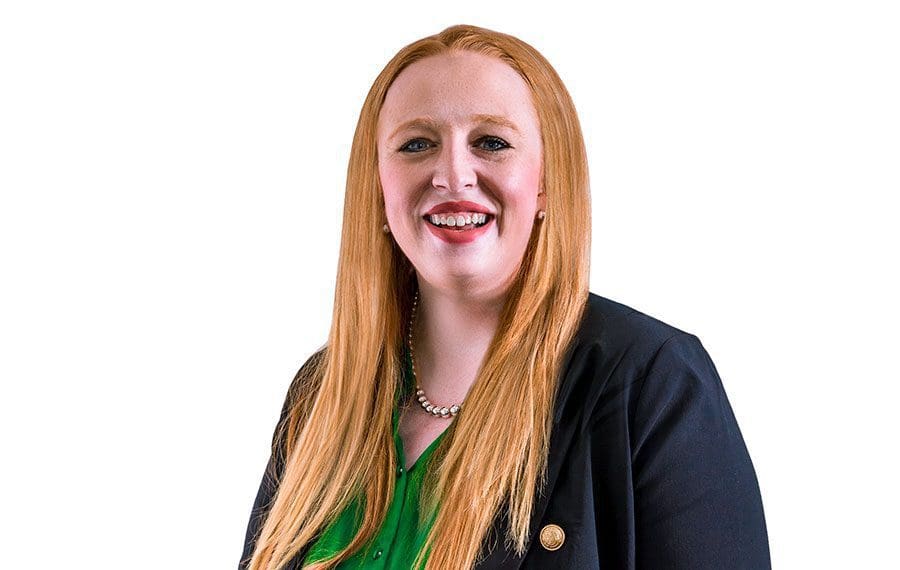 Realtor of the Year brings touch of home to real estate.
Photo: Douglas Tyler
Kara Wisely sweetens real estate transactions.
With each home closing, the executive chef turned real estate agent makes clients a salted honey pie or batch of fresh-baked chocolate chip cookies. During the holidays, she prepared 303 cookie boxes and personally delivered them to customers and friends. 
"I think I baked more than 10,000 cookies this past year," says Kara, an agent with Berkshire Hathaway HomeServices Florida Realty in Mount Dora. "When holiday season comes, people start texting me and asking, 'Am I getting a box of cookies this year?'"
Little deeds can lead to big results. 
Such is the case for Kara, who was named 2020 Realtor of the Year by the Realtors Association of Lake and Sumter Counties. She enjoyed a banner year, closing 32 deals and amassing $8,577,387 in sales. 
For her, the award was served with a slice of humble pie. 
"I'm very honored to win this award, but I don't feel like I deserve it," she says. "I'm relatively new in the industry, and everyone who has won this award has been in the industry for at least 10 to 15 years. I look up to and admire previous winners and don't feel like I'm an equal at this point in my career. I would have never won this award without customers, friends, and other real estate agents."
Such modesty is a breath of fresh air; however, those close to Kara say she is very deserving. 
"Kara is one of the hardest-working agents I know, and it is a pleasure to have her on my team," says Ginger Griffin, managing broker of Berkshire Hathaway HomeServices Florida Realty. "Kara's goal is to earn a reputation of being a constant professional when working with sellers and buyers and in assisting them in achieving their real estate needs. Kara's sellers and buyers are not only business to her but become like an extended family member or friend."
Winning awards is nothing new for Kara, who earned a bachelor's degree in pastry arts from Walnut Hill College in Pennsylvania. She spent 10 years as an executive pastry chef and enjoyed seeing faces of delighted customers peering at goodies inside a display case: cream-filled pies, cakes with buttercream frosting, and doughnuts frosted with vanilla and covered in rainbow sprinkles. 
While that profession was rewarding, her lifelong dream was to become a real estate agent. She moved to Florida in 2016 and decided to pursue her dream. 
"I love people and I love homes. Real estate always seemed like a career I was meant to do," Kara says. 
She earned her real estate license in Oct. 2016 and became a member of the Realtors Association of Lake and Sumter Counties. During her first 12 months of membership, she produced $268,500 in real estate transactions. The association named her as its 2017 Rookie of the Year. 
The secret behind Kara's success is simple. In an era of electronic communication, she prefers face-to-face interaction. She stuck to her philosophy during the coronavirus.
"I don't hide behind a computer or text messages," she says. "I'm an in-person person. We've been hit hard by COVID, and lots of people are missing that personal interaction. I think personal interaction is something people really appreciate."
She also embraces the demands of the job, which often require her to work 60 hours a week. Kara finds herself waking up to numerous emails and managing international clients in a different time zone. She's so dedicated that she drew up contracts on Christmas Eve.
"Not all clients and not all transactions are the same," she says. "Sometimes you've just got to roll with the punches. If you're not willing to roll with the punches, then you're causing more drama than you need to."
That customer-focused approach pleases clients like Tavares residents David and Gina Rigby, who chose Kara as their real estate agent for three home purchases. 
"She is so genuine and really listens to your needs and wants in order to help you find your perfect home," Gina says. "Her warmth, smile, and laughter really light up any room."
Mary Meyers-Arman of Eustis echoes those sentiments. 
"When I first contacted her, she listened to what I wanted and needed and then found houses that might fit my list," Mary says. "Despite being incredibly busy, she always found time to talk to me and walk me through whatever issue I was having in my search for a home."
The excitement of finding the perfect home for clients is one of the most enjoyable aspects of her job. 
"I love showing homes that are unique and not cookie-cutter," Kara says. "In one house the entire kitchen is laid with tiny stones. I also love folky houses with orange shag carpet because they bring me back to the 1970s."
When she's not showing homes, Kara stays busy as a board member for the Eustis Chamber of Commerce. She also graduated in the Leadership Lake County Class of 2020. She feels community service is paramount to being a successful real estate agent because it deepens her knowledge of local issues and helps her connect with members of the community. 
"Giving back to the community is key," she says. "The more you know about your community, the more you can show customers what a wonderful life we enjoy here in Lake County."
No doubt about it, Kara is one smart cookie who understands that presentation is just as important in baking as it is in real estate. 
Akers Media Group's James Combs has been a staff writer for several local publications since August 2000. He has had the privilege of interviewing some of Lake County's many fascinating residents—from innovative business owners to heroic war veterans—and bringing their stories to life. A resident of Lake County since 1986, James recently embarked on a journey to lead a healthier lifestyle. He has lost 60 pounds and walks nearly five miles a day. In his spare time, he enjoys target shooting, skeet shooting and watching his beloved Kentucky Wildcats!
Share This Story!