Outstanding Student: Cerina Rolle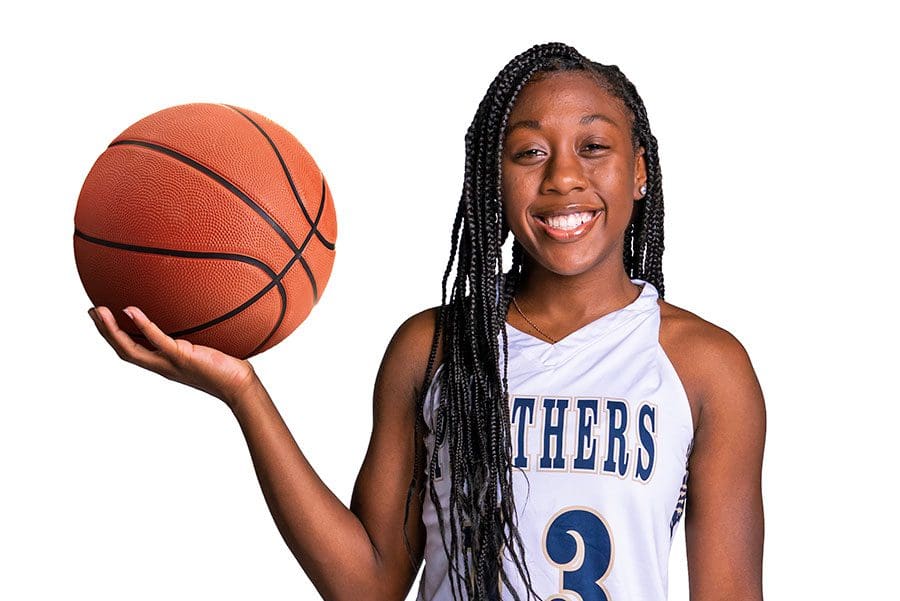 Running toward bright future of world travel and helping others.
Photos: Nicole Hamel
Vital stats:
17 years old.
Junior at Eustis High School.
Member of basketball and track teams.
One older sister in college.

 

Secretary of student council her freshman year.

 

Has taken five AP classes so far.

 

Former FBLA (Future Business Leaders of America) speech participant.

 
---
What is your favorite subject in school? 
Math. I'm actually planning on becoming a nutritionist, which is more in the science field, but I know that science and math go together and they're my two favorite subjects. 
What are your plans for college? 
I want to go to Texas A&M to get a degree in sports medicine, and become a nutritionist. I also want to minor in business so in case I want to start my own business or go into the business field, I'll have that under my belt. 
Where would you like to see yourself in 10 years?
I definitely want to see myself as a nutritionist. I want to travel the world most definitely; I don't want to settle yet with a family or anything. I want to explore, solo if I need to, and just see the world, get to volunteer everywhere, and help whoever I can. 
What did you want to be when you were a kid and how does that compare to now? 
I would always change what I wanted to do with my career. I wanted to become a pediatrician so bad, I've always wanted to see the babies and give them so much love, until I saw a baby getting pricked by a needle. I saw their emotions and I was just like, I could never hurt a baby, and so I kept on changing what I wanted to be. I wanted to be in sports management when I was in middle school; I thought about being an environmental lawyer. And now I'm stuck on having a degree in sports medicine and becoming a nutritionist. 
An accomplishment you're most proud of? 
Probably my job. I work at the Eustis Recreation Department, and I've volunteered there since I was in middle school. Anything I can help the kids with; emotionally, physically, or anything. I'm always there for them as a role model, they always look up to me, and it always makes me happy to see their smiling faces and that they always come to me for anything they need. 
Favorite TV show?
Definitely "Law and Order." I love the mystery. 
Hobbies outside of school? 
Since I was a kid I did not like cooking until I started to learn from my mom like two years ago. She made me cook and since then I've been really interested in it, and my sister also knows how to cook so she teaches me. I follow the basics a bit, then I'll put some spice in it that I wanna add to make it different. 
Happy place? 
When I think back to when my whole family would come together at my great grandmother's house, spend time with her and just laugh and have fun and share love with one another, that's my happiest place I can go. 
Favorite dessert? 
The molten chocolate cake from Chili's. 
What's something you're looking forward to?
Right now, in the short term, I'm looking forward to track team and being able to run. 
Originally from Buffalo, NY, Victoria graduated from Canisius College in 2018 with a bachelor's degree in English and Writing. In August of 2019, she relocated to Eustis, Florida, and soon began at Akers Media Group assisting with social media projects. Later that year, she was promoted to a full-time writing position at the company and has since found her niche telling the stories of so many of Lake and Sumter County's awesome people.
Share This Story!