Outstanding Student: Chad Massey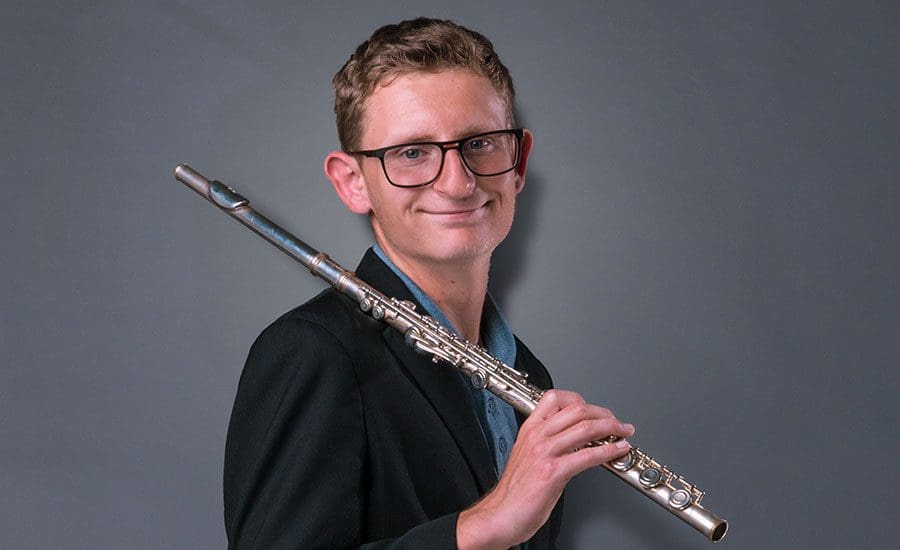 Reborn Christian out to serve others through biblical counseling and Jesus.
Photos: Douglas Tyler
Vital Stats
2021 graduate of Umatilla High School.

 

Has 2 half-sisters, 3 stepbrothers, and 1 stepsister.
Attends Bay Street Baptist Church in Eustis.

 

Became a Christian in January 2020.

 

Will attend Reformation Bible College in Sanford.

 

Plans to earn master's in divinity at Southern Baptist Theological Seminary in Kentucky.

 

Has received recognition for solo and ensemble performances at both district and state level for flute and percussion.

 
---
What got you interested in the career path of divinity?  I've always been interested in helping people in any way, so originally, I wanted to go into nursing thinking I could make good money off of that. I became a Christian last year and realized the money thing shouldn't be much of a matter, so I was going to become a firefighter. But then I realized there's a different way that I could help people, and so I figured I could counsel people biblically, so that's why I chose to go this route. 
What can you do with a master's in divinity? The master's in divinity is a wide range master's degree, and mine is going to be a six-year plan. And the divinity masters is like a basic, generic thing where you can get a lot of different jobs whether you want to get into the ministry field or not. When I go to the Baptist Theological Seminary I want to specialize in biblical counseling. 
Best advice you've been given? From my grandma – "Keep truckin' along." 
Favorite bible verse? It's like a cluster of them, Matthew 11:28-30. Because in the verse, Jesus invites people to come to him, because He says: 'Come to me, all you who labor, and I will give you rest.' So, in that, Jesus is talking to these people under the Pharisees and the Judaizers and the heavy suppressed law, and it's this weight that they have to carry on their backs. But Jesus is saying that that's not the way with Him because with Him you will have rest. 
And he continues in the verse and says: 'Take my yoke upon you and learn from me, for I am gentle and lowly in heart, you will find rest for your souls.' Jesus isn't talking about physical rest but spiritual rest. 
What would you do with $1 million? I probably would donate it to missionaries, but you have to be careful because money can be a trap in many ways, but the first thing I would want to do is try to give it away and not hold on to it because once you die you can't take it with you. 
Who is someone you look up to? My youth pastor, Bryan Totten. 
What do you do just for fun? I like to bowl and to go fishing. 
Originally from Buffalo, NY, Victoria graduated from Canisius College in 2018 with a bachelor's degree in English and Writing. In August of 2019, she relocated to Eustis, Florida, and soon began at Akers Media Group assisting with social media projects. Later that year, she was promoted to a full-time writing position at the company and has since found her niche telling the stories of so many of Lake and Sumter County's awesome people.
Share This Story!