Outstanding Student: Emerald Lewis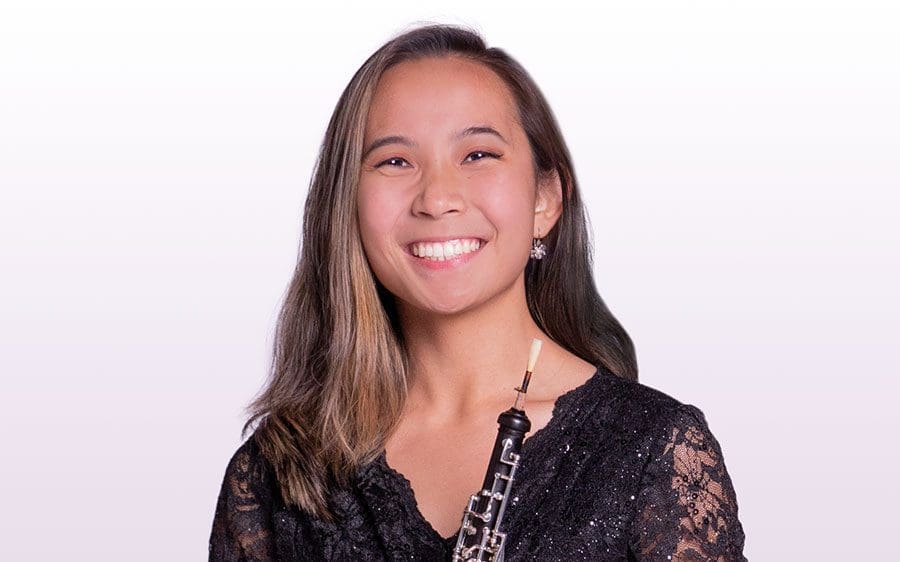 Musical journey carried LMHS jewel home.
Vital stats:
Senior at Lake Minneola High School.
Maintains a weighted 5.0 grade-point average.
Completed seven advanced placement courses and seven dual-enrollment courses.
---
Tell about your journey into music: My grandmother had been in musical theater her entire life and my two older sisters played piano, so I've been surrounded by music my whole life. I started band in sixth grade. I initially chose to play the alto saxophone, but there were too many students playing it, so I got put on oboe. 
Why do you love the oboe? It's very challenging and technical because it has two reeds. Most instruments only have one reed. With a double reed instrument like the oboe, two pieces of cane vibrate against each other when I blow against them. It takes a lot of precision. I spend about eight to ten hours a week playing the oboe. 
Where have you performed? I've performed in numerous honor bands, including the Florida Bandmasters Association (FBA) and the UCF Rising Knights Honor Band. I've also performed solo at several state musical festivals. 
Tell about your favorite performance: I'm also involved with the Florida Symphony Youth Orchestra, and in the summer of 2019, we toured and performed for 12 days in China. We went to Beijing, Xi'an, Hangzhou, and Shanghai. For me, this was very special because I'm from China and was adopted by an American family when I was 10 months old. 
What was it like to return to your native country? It was life changing. I enjoyed seeing the culture, eating the food, and being surrounded by other Chinese people. Since I don't speak Chinese, communicating with others was a little difficult, but it motivated me to start studying the language. 
Colleges applied to: The Peabody Institute of The Johns Hopkins University, Northwestern University, the University of California Los Angeles (UCLA), the University of Florida, and the University of Miami. I've already been accepted into Baylor University's honors program. 
Future plans? I want to do something in the medical profession so I can help people. However, I'd still like to find time to be part of an orchestra and perform in concerts. I'd also like to give private lessons. 
What would you like to do in the medical field? I'm not 100 percent sure. I do like neuroscience. 
What does music do for you? It's great to connect with your own emotions, as well as the emotions of other people. Music is a universal language. You can play a song for everybody around the world and they can understand the emotions, the rhythm, and the beat. When I'm playing at rehearsals or concerts, I always think to myself that there's nowhere else in the world I'd rather be.
What advice would you give younger students interested in music? Work hard and enjoy yourself. Also, enjoy your peers. Being in band and orchestra has allowed me to meet the closest friends I've ever had. You get so close practicing so much together and spending so much time together. 
What are your hobbies outside of music? Because of COVID and quarantining, I have realized how much I enjoy bicycling. There are some good trails here in South Lake County. My longest bike ride was 21 miles. 
Have you ever had a job? Yes. I am currently a recreational gymnastics coach at Brandy Johnson's Global Gymnastics Academy in Clermont. I teach beginners who are between 3 and 5 years old. 
So, you're also involved in gymnastics? I used to be. From third grade through sixth grade I competed at Brandy Johnson's Global Gymnastics Academy. I did pretty good, but I decided to start focusing on music. 
Is there anything you can't do? I need to work on my running!
Favorite soft drink? Ginger ale. 
Favorite candy bar? Heath bars.
Favorite candy? Nerds. 
Favorite television show? Avatar: The Last Airbender. 
Favorite quote? To God be the glory. I say that because even though I've attended many musical events and won awards, God is the one who blessed me with talent and work ethic to achieve everything I have. 
Why is your generation going to be great? I think my generation is very compassionate and accepting. We'll use those qualities to help others and improve the world around us. 
Akers Media Group's James Combs has been a staff writer for several local publications since August 2000. He has had the privilege of interviewing some of Lake County's many fascinating residents—from innovative business owners to heroic war veterans—and bringing their stories to life. A resident of Lake County since 1986, James recently embarked on a journey to lead a healthier lifestyle. He has lost 60 pounds and walks nearly five miles a day. In his spare time, he enjoys target shooting, skeet shooting and watching his beloved Kentucky Wildcats!
Share This Story!