Outstanding Student: Kara Funke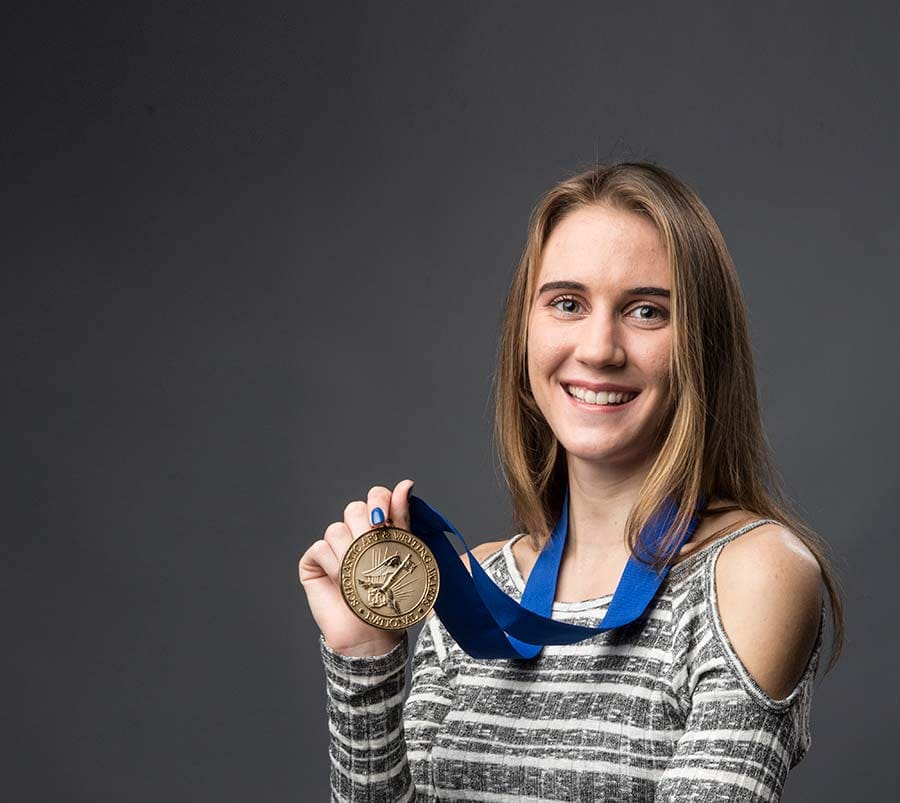 Age 18 // Art major at Mississippi State University
Vital Stats:
Daughter of Marcelle and Todd Funke of Groveland.
2017 Leesburg High School graduate.
Was a regional qualifier for girls' track at LHS.
Won the National Gold Key Award for sculpture from Scholastic Art & Writing Awards, where more than 330,000 works of art and writing were submitted in 2017.
My life since Leesburg High School: I am on the team here at Mississippi State. I have a scholarship to run cross country, the indoor track, and outdoor track teams. I am also currently taking three art classes so I can try to get into the graphic design program.
What I do for fun: I love to run, paint, surf, shoot my bow and arrow, and read books.
Favorite fast food: Chick-Fil-A sandwich.
What I miss from home: My family, friends, cats, and the ocean.
My passions: I have a passion for running and God. And I'm obsessed with dogs and the ocean.
Goals for the future: To make the Olympics. I also want to open a cafe one day, where I feature my own art.
Pet peeve: People who don't cover their mouths when they sneeze. And stepping in a puddle of water while wearing socks.
If I could have dinner with anyone living or dead, it would be: Jenny Simpson because she is an inspiration to all runners, and she is my running idol; she is an Olympian, and she is a Floridian.
Personal philosophy: My personal philosophy for life is to always stay humble. I want to focus on making myself better, and never thinking that I am better.
My inspiration in life: Jesus Christ.
Favorite quote: "Talent is God-given. Be humble. Fame is man-given. Be grateful. Conceit is self-given. Be careful."—former UCLA basketball coach John Wooden.