Outstanding Student: Kendyl Cardwell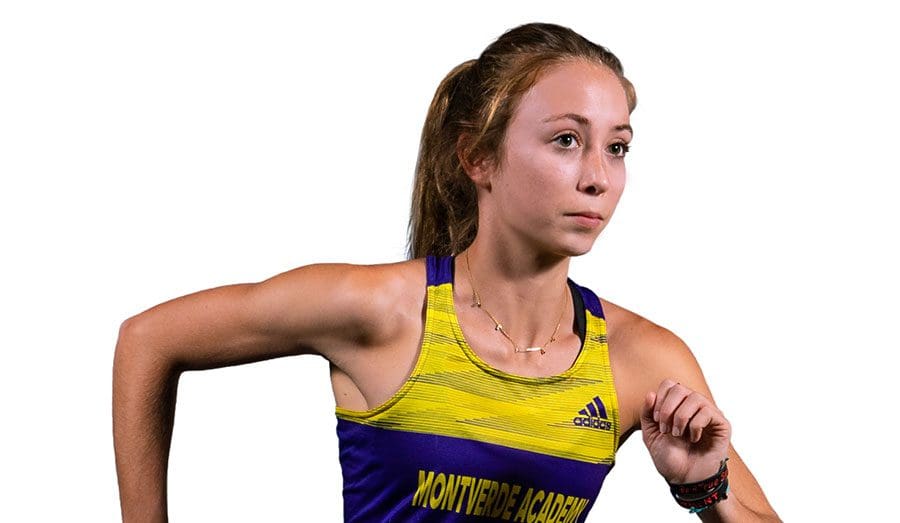 Montverde Academy Senior fuel by oatmeal and molecular engineering.
Photo: Nicole Hamel
Vital stats:
18 years old.

 

Senior at Montverde Academy.

 

National MeritⓇ finalist.

 

Member of Montverde Academy's Distinguished Scholars program.

 

Member of Head of School's Leadership Institute (HLI) as a representative of the Arts and Athletics Leadership Committee.
Runs on state-ranked, nationally recognized varsity cross country team.
---
How did you get involved with Montverde Academy's Distinguished Scholars program? I got accepted to the Distinguished Scholars program after the application process that looked at my academic record and school involvement. 
You got nominated as a National Merit Scholarship finalist, what was that like? I am honestly just super proud to be a National Merit finalist. It's a reflection on the hard work and consistent dedication I've put into my education since middle school. It's a cool way to end high school. My best friend and teammate also received the award, so it was memorable to receive this honor with her too.
As a representative on the Arts and Athletics Leadership Committee (AALC), what are your duties? I act as a representative for the other student athletes. We help to bridge the gap between the adults and the students by communicating any issues, offering our feedback, suggesting new ideas, and planning school events. AALC is one of the branches under the Headmaster Leadership Institute, which is a group of students that have leadership roles in the school. 
How do you feel about continuing with cross country in college? I will be running cross country and track for the University of Chicago next year. I have been on the running team since I came to Montverde in 7th grade, so it has been a key part of my life for the past six years. It is a difficult sport, but I love seeing the effort I put into my training reflected in races. It has brought so many amazing people and experiences into my life, and I am so excited to have the opportunity to continue competing in college.
What is your favorite subject in school? I really like Calculus, but I also enjoy my Science and English classes. Honestly, I have loved all of the courses I have taken in high school, so I am excited to explore even more specific classes in college.
Are you involved in any other extracurriculars? Cross country and track take up most of my time outside of school, but I have also done some writing on the side. I helped out as a run reporter for a local 5K organization called Parkrun, I submit some articles to the South Lake Tablet, and I founded my school's newspaper club. Additionally, I am in Math Club, where we work problems as a group in preparation for a competition at the end of the year.
Why are you interested in molecular engineering and what can you do with a degree in that subject? Molecular engineering really appealed to me because of its interdisciplinary nature and unique application to current topics. It allows me to combine my interest in courses like math, chemistry, and biology with the creativity of problem-solving. UChicago's molecular engineering program has unique and focused themes such as immunoengineering, where I would focus on understanding and manipulating the immune system to help fight health conditions, and others that include everything from environmental sustainability to bioengineering. That really interests me because of their positive applications to society. I will also have a lot of options after college, including a traditional engineering position, graduate school, consulting, or even med school or law school. 
Where would you like to see yourself in 10 years? The most important thing to me is doing something that I genuinely enjoy. I would love to be working with or managing an engineering firm that is doing some interesting work.
What are some things you like doing just for fun? I love trying new restaurants, collecting funky socks, and drinking coffee. I also enjoy going out on the lake with my friends and family.  
Greatest accomplishment? Finishing runner-up with my team at the state championships. It was special because I got to experience it in my senior year alongside my best friends. It had been a goal of ours for many years.
Favorite food? Oatmeal, with way too many toppings.
Who is a role model? I look up to all of the people in my life for different reasons, but especially my parents, my coach, and my teammates.
 What would you do with $5 million? I would take a year to travel and invest the rest into a coffee shop.
Originally from Buffalo, NY, Victoria graduated from Canisius College in 2018 with a bachelor's degree in English and Writing. In August of 2019, she relocated to Eustis, Florida, and soon began at Akers Media Group assisting with social media projects. Later that year, she was promoted to a full-time writing position at the company and has since found her niche telling the stories of so many of Lake and Sumter County's awesome people.
Share This Story!