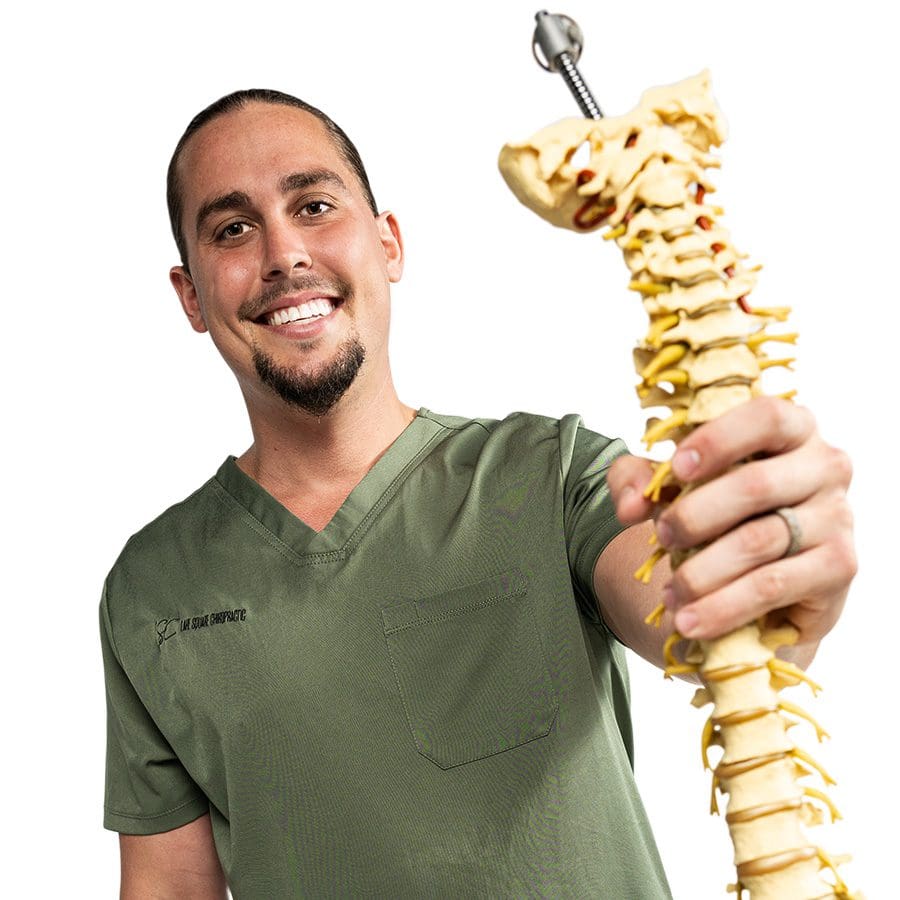 Nathaniel Biegler chosen to carry on healing hands legacy.
Nathaniel Biegler always knew he wanted a career in healthcare, but he wanted to help individuals optimize their health through a more natural approach. The answer was chiropractic. 
"After being a student at the National University of Health Sciences, I fell in love with chiropractic and knew this was my calling," Nathaniel says. 
In his last trimester of Chiropractic school, Nathaniel was contacted by Dr. Foy Dark of Lake Square Chiropractic. Dr. Dark was looking for someone to become his associate and, unbeknownst to Nathaniel, eventually take over the practice. Only two months into his new role, Dr. Dark passed the torch to Nathaniel. 
"Without any hesitation I said I would love to purchase the practice," says Nathaniel, who continued to study under Dr. Dark and took over in July
2020 at age 27. "Dr. Dark has had such an amazing reputation in this area, and I want to carry out that legacy."
Growing up in Apopka, Nathaniel felt this career move would keep him close to his family and plant him in the right location for his own practice.
The traditional hands-on manipulation techniques used by Dr. Dark are continued at Lake Square Chiropractic, and Nathaniel has introduced new features, including instrument assisted soft tissue mobilization, therapeutic exercises, cupping, kinesiology taping, and a new EHR system to increase efficiency and productivity.
He also promotes self-treatment outside of the office, including how to manage stress, exercise, healthy eating and surrounding yourself with positivity. 
"Your treatment outcome plays a big role on making certain lifestyle modifications outside of receiving chiropractic treatment," he says. 
When Nathaniel is not working—a rare occurrence—he enjoys working outside, boating, hanging out with family, and spending time alone with his wife Taylor. 
In the future, Nathaniel hopes to implement physical therapy with his brother, Dr. Matthew Biegler, who runs an online treatment program called The Bodyfix Blueprint. 
"I am blessed the Lord provided me with healing hands to help my community," Nathaniel says.
"To my existing patients, thank you for trusting in me. To my future patients, I will do my absolute best to help you live a pain free, healthy life. Always remember, life is a gift. Live it well." 
Originally from the small town of Berryville, Arkansas, Cindy has become a multimedia specialist in journalism, photography, videography and video editing.
She has a B.S. in Communications from the University of Central Arkansas and is a correspondent for The Daily Commercial, LakeFront TV and Beacon College's PBS talk show, "A World of Difference," where she received an Anthem Award and Telly Award.
When she isn't working, Cindy spends time with her husband, Ryan, and son, David, traveling and taking photos of landscapes and wildlife.
Share This Story!