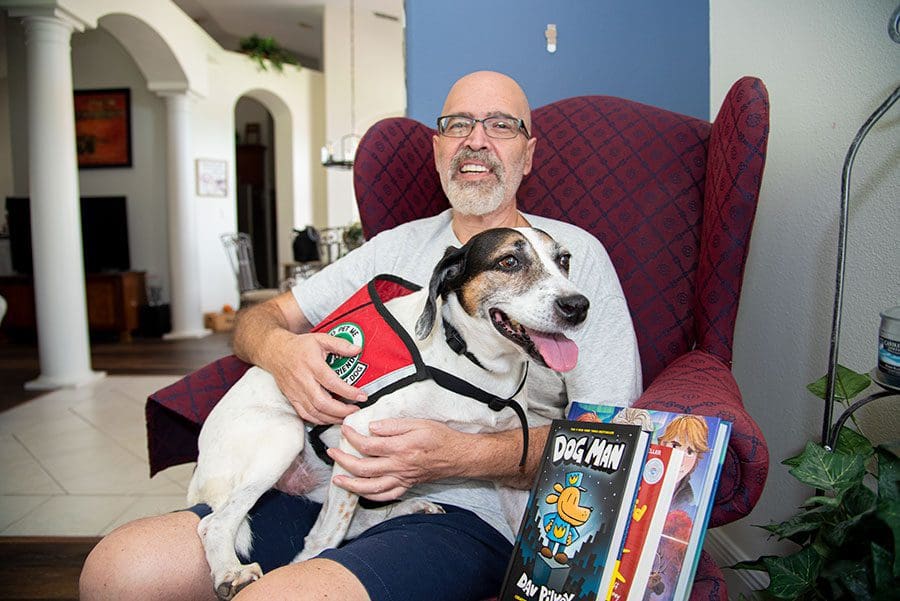 Read to Sydney brings books, children, and trained therapy dogs together for a reading experience that transcends boundaries.
Photos: Nicole Hamel
Even though it was about 11 years ago, Thom Battisto clearly remembers the day he visited a local foster home to meet a border collie he was thinking of adopting when a brown Australian shepherd-chow mix named Sydney stole his heart.
"She walked over, sat on my lap, put her head on my shoulder and I was like, 'OK, this is the dog,'" says Thom of Sydney. "She was 4 when I adopted her, and she was already named."
On recommendation of some colleagues at an animal shelter where he worked, and based on Sydney's easy-going demeanor, Thom went through therapy dog training with her.
After passing with flying colors, Thom and Sydney began visiting different schools teaching humane education, talking on topics like adopting versus buying a pet, why not to get a cat declawed, and more. 
Little did Thom know where that road would lead; that is, until a get-together with family and friends, during which a young girl obsessed with watching television, revealed their path. 
"All she wanted to do was watch the movie "Bolt" over-and-over again, so finally, I handed her a book and I said, 'Why don't you read a book to Sydney?'" Thom says.  "I said it kind of jokingly, but she started reading to Sydney, and Sydney actually sat there watching her."
Thom says that's when he began Googling things like 'reading dogs' and 'reading paws,' which in turn, brought back memories of the reading struggles he once experienced.



"When I was a child, I had dyslexia, I had learning disabilities, and suffered from ADHD, but back then, it was 'Well, he's lazy.' There was nothing to help me," Thom explains.  
Soon after that, Thom had a revelation about starting a literacy program, that has since become known in Lake County and beyond as "Read to Sydney." 
"Basically, it started with Sydney and me walking into the Cooper Memorial Library in Clermont, going up to the children's librarian and asking: 'Hey, would you like Sydney to come in once a month on a Saturday so kids can read to her?' Thom tells. "It just took off from there."
This year, the non-profit organization celebrated 10 years in the community.
"Kids feel more comfortable reading to a dog because if they are struggling with a word, or with getting through a sentence, they're not going to be picked on or bullied, and no one's gonna laugh at them," says Thom about why the program works.
The Read to Sydney website says, "Autistic children and children with learning disabilities become much more open to learning while interacting with trained and accredited therapy dogs." 
And Thom says that even if kids are too young to read, they oftentimes improvise.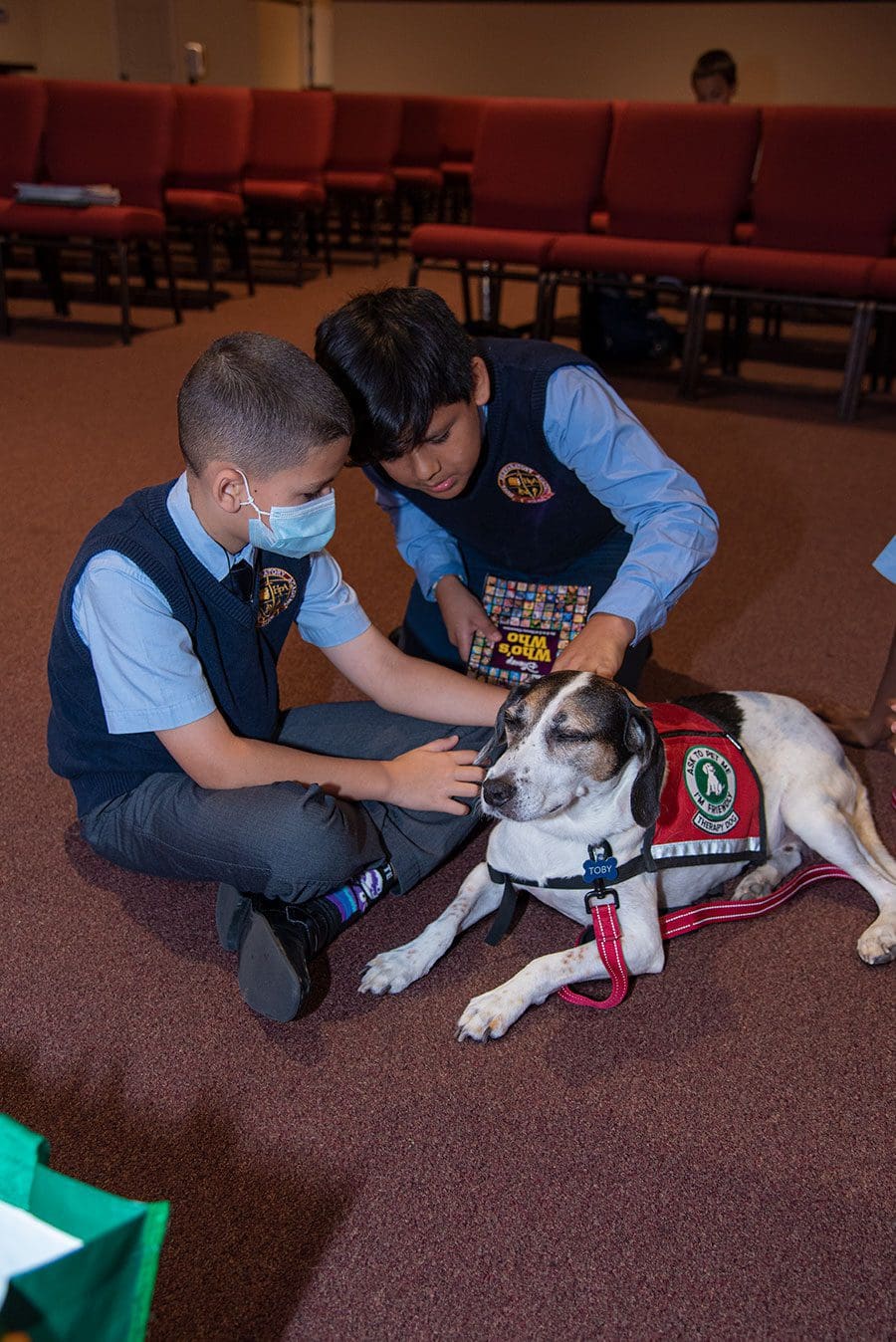 "They just show the dogs pictures in the book and make up their own stories, but either way, the whole activity encourages them," he adds.
About six weeks after adopting Sydney, Thom went back to the same foster home, adopted a beagle named Toby, and put him through therapy dog training, as well. 
The trio continued with Read to Sydney, and the program flourished.  
They began visiting nursing homes and memory care facilities, thrilling residents with a chance to pet and visit with the dogs. 
A book about Sydney finding a job as a therapy dog to help a little girl with autism learn to read was even published, and though it is no longer in circulation, it can still be found at libraries around the world. 
Read to Sydney even landed in the national spotlight when Women's Day magazine did an article about Thom and Sydney, and Thom and Toby were interviewed by and appeared on "Access Hollywood."
"Access Hollywood took us to Universal Studios and the surprise there was that Toby and Scooby Doo got to meet on stage at the end of the segment," Thom says.
About six years ago, Thom lost Sydney, but despite his sadness, he was determined to keep going with what they'd started. Thom decided to keep the name of the organization and its mission in-tact with Toby as top dog.
"People would ask me if I was going to change the name of the organization, and I'd say, 'No, it's always going to be "Read to Sydney," but we'll be doing different programs with different dogs, including Toby, who was already trained,'" says Thom.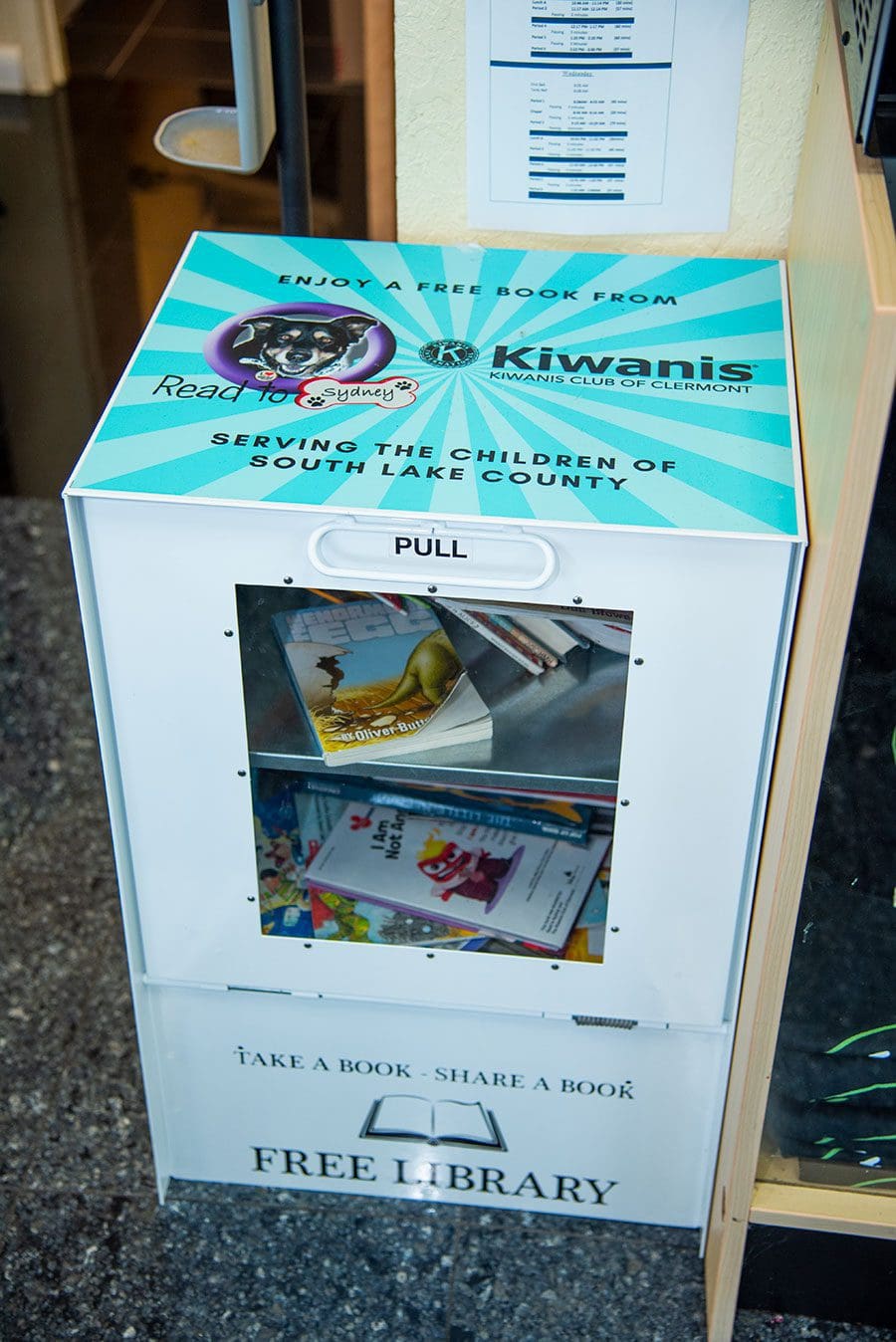 At one point, Thom opened a 2,700-square-foot reading center at the West Oaks Mall in Ocoee, where families and children could read to Toby, hold parties, and work on crafts. 
Thom also became a member of the Kiwanis Club of Clermont and when fellow Kiwanians found out about his organization, they backed it with a donation of $3,000 for books that Thom could use as gifts for children to take with them after reading sessions with Toby. 
In 2019, however, Thom closed the center to focus back on schools and libraries.
Today, Read to Sydney has a collaboration with the Orlando Cat Café, where Thom hosts a children's hour every Wednesday that includes crafting, reading, cat visitations and adoptions to spread the word about Read to Sydney. Thom also has a pending partnership with the Dream Center in Winter Garden, where he and Toby will be leading a Thursday afternoon reading program for kids who need help improving their reading skills.
"These programs get me very excited because I see these kids wanting to learn and I realize that we are helping them do that, but on their own levels," Thom says.
And with another $3,000 donation from the Kiwanis Club of Clermont in May 2021, Thom was able to purchase a cargo van for his new "Literacy on the Move" program. Thom, who drives around town in the colorfully wrapped bookmobile, says it acts like a billboard; bringing awareness about the organization, but also, makes it easier to transport Toby, hundreds of books, tables, and other supplies, to and from their pop-up library events. 
"People are noticing the bookmobile, it's hard to miss," Thom says, adding that he is always looking for businesses or schools to host pop-up library events he sets up at no charge, though he happily accepts donations he uses for more books.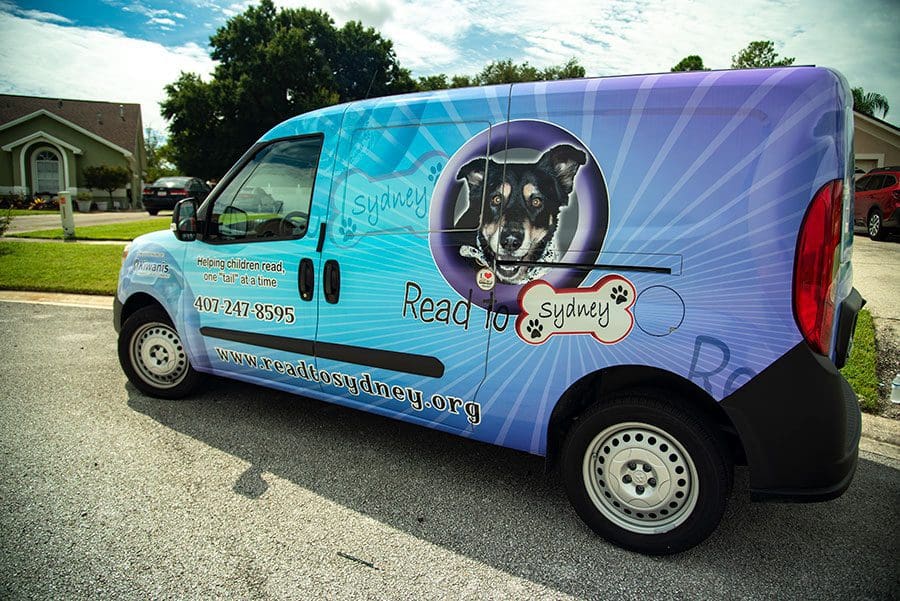 Thom says he and Toby are even prepared for holiday-themed events, since Toby has outfits for different occasions, like a doggie Santa suit for Christmas.
"We teamed up with the City of Groveland on two of their children's events and with the bookmobile, we can set up outside when it's not possible for us to be inside, like we did with the Big Red Bus," Thom says.  "The parents were coming in and giving blood, and the kids were outside at our pop-up library getting books, and reading to Toby, so it worked out perfectly."
And if that's not enough, Read to Sydney and the Kiwanis Club of Clermont have placed four lending library boxes throughout South Lake County, allowing people access to free reading material to take home, then swap out. 
The boxes, which the two organizations keep stocked with gently used children's books, are located at Groveland's Hope International Church, and in Clermont at the Orlando Cat Cafe, Weichert Realty, and the Central Florida Dreamplex, with more ready for placement by request.
"We want to make sure that if a child wants a book, they're able to get one," Thom says. 
Nadia Booker, an English and Language Arts teacher for grades 3-6 at Hope Academy in Groveland – after a recent visit from Thom and Toby – says she believes Read to Sydney is a great program for children because it encourages them in a fun way.
"Allowing the kids to read to a therapy dog like Toby, is really beneficial because it calms them down and takes the pressure of having to perform perfectly in reading off of them," Nadia says. "The dog gives them a nice distraction. They get to pet and read to him, and it brings excitement, especially for those kids who may not have a dog or other pets at home."
Sabrina Westbrook, 8, says she likes reading in general, but reading to Toby was a bonus. 
"I like reading to people, but I really liked reading to Toby because he's such a sweet dog," Sabrina says. 
Kelvin Akins, 10, called the experience "fun," and says it proved more successful than what he experienced on his own.
"I tried to read to my dog at home, but it didn't work out, but Toby is very calm, cute and a much better listener," Kelvin says.
Looking forward, Thom says he hopes to bring other therapy dogs on board with Read to Sydney. He says it would help when there are multiple events on any given day and because Toby, at 12 years old, is only allowed to work an event for about two hours at a time. 
He would also love to see Read to Sydney be invited to more schools and businesses, especially now that places are opened back up after the pandemic that in 2020, basically grounded them.
Thom says although they still gave books to schools, who in turn distributed them to students during 2020, the main purpose of the program is for children to reap the benefits of reading to Toby themselves.
He says pre-COVID, he and Toby were averaging 40-45 school visits per year, but since returning in 2021, it's been slow-going. 
"Our motto is 'Helping children read, one "tail" at a time,' and we are literally doing that. "The kids really love it, and Toby and I enjoy it too," Thom says, explaining that something someone said after attending one of their pop-up library events, sums it up perfectly. 
"She said, 'Everybody needs a little Toby time,' and I agree."
For more information about Read to Sydney, to host a pop-up library, or to donate, visit readtosydney.org." 
Originally from Nogales, Arizona, Roxanne worked in the customer service industry while writing independently for years. After moving to Florida in 1999, Roxanne eventually switched her career path to focus more on writing and went on to become an award-winning reporter for The Daily Commercial/South Lake Press newspapers for 16 years prior to coming on board with Akers Media as a staff writer in July 2020 – her dream job come true.
Share This Story!