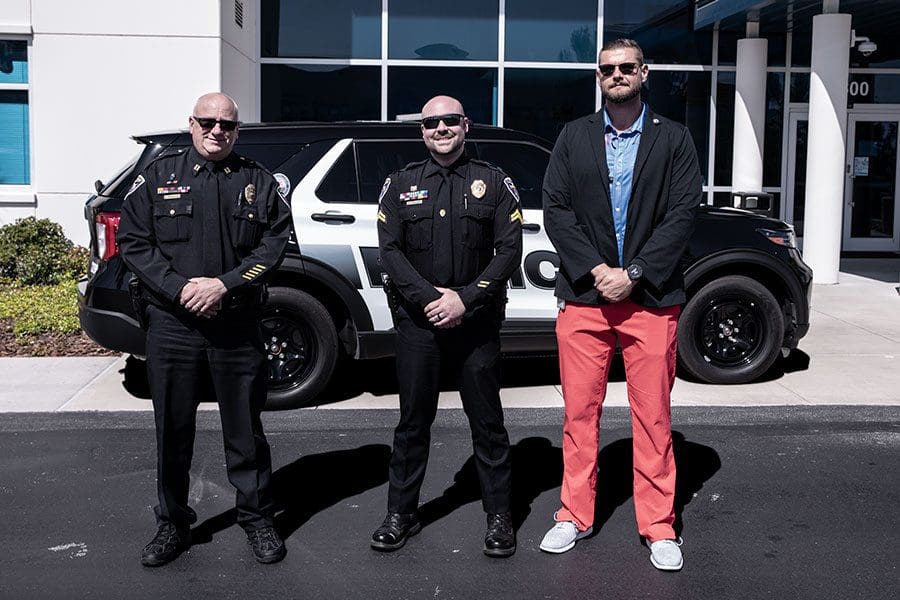 A program in South Lake County serves those with mental health conditions.
Photos: Nicole Hamel
When people experiencing a mental health crisis display erratic behavior, there is a greater likelihood of encountering police than medical professionals. 
Those encounters don't always have happy endings. When officers who are not properly trained to deal with people who have mental illness, confrontation can escalate quickly, putting everyone in danger. 
Two agencies in Lake County have developed an operational model for effectively policing the mentally ill. 
The Mobile Crisis Response Service, a partnership between LifeStream Behavioral Center and the Clermont Police Department, trains a team of police officers and mental health professionals to respond to those with mental health problems as patients rather than offenders. Instead of making arrests, they focus on connecting these patients to adequate medical resources. 
The program, which is funded through a grant from the Bureau of Justice Assistance, allows mental health professionals to work with officers in the field to help people suffering from conditions such as drug and alcohol abuse, anxiety disorders, autism, bipolar disorders, depression, schizophrenia, Alzheimer's disease, and post-traumatic stress disorder.
"This program is about building a more resilient community," says Karen Rogers, adult clinical services director of LifeStream Behavioral Center. "Clermont is working toward a quality of life that has to do not just with beautification of downtown or the expansion of recreational facilities, but also the big picture of health that includes behavioral health. There's hope. Through this program, you're increasing the health and resilience of an entire community."
A major component of the program is Crisis Intervention Team (CIT) training. Philip Pollen, a Clermont Police Department corporal, teaches a 40-hour class that educates officers about mental illness and effective strategies and techniques for deescalating potentially volatile encounters. Newly hired officers at CPD undergo a shortened 24-hour crisis intervention course. Training equips them with the necessary knowledge to recognize when an individual is suffering from a mental health crisis.
"Undergoing training improves their attitude toward people with mental illnesses," Philip says. "It also reduces injury to the individual they're responding to and themselves. Having a better understanding of what's happening in that person's mind greatly alters the way we respond to something. Knowledge provides us that reduction in fear." 
Officers responding to a call do not diagnose conditions. That's left to Norman Bissel, a licensed mental health counselor with LifeStream Behavioral Center whose office is located inside the Clermont Police Department. He provides an on-the-scene clinical evaluation to determine the appropriate treatment someone needs, as well as follow-up care. He also tries to keep people who commit nonviolent offenses such as trespassing or drug possession from going to jail, where 83 percent of mentally ill inmates do not receive adequate treatment, according to the National Alliance on Mental Illness (NAM). 
"We're constantly meeting people where they're at," Norman says. "If someone stole a bottle of booze, should we lock them up for theft or figure out why that person is self-medicating?" 
There are other valid reasons to keep mentally ill people out of jail. They may not be productive members of society, may lack identity, be separated from loved ones, or are exposed to violence. These factors can exacerbate their condition. Moreover, people with severe mental illness have a 54 percent reincarceration rate, according to a study conducted by the Mandel School of Applied Social Sciences. 
"I cannot state how important it is to intervene at the first opportunity before someone enters into the criminal justice system," Karen says. "Once someone hits that system–especially if they're in poverty or have limited resources—that's a real trap. Anyone with a serious chronic mental illness is likely in poverty and cannot afford to be bonded out. So, they stay in jail longer." 
Travis Price, program services manager at LifeStream, has witnessed favorable results of someone being diverted out of the criminal justice system. Two years ago, a man in his 30s who had ideations of murdering his mother and killing himself was taken into custody under the Baker Act, a Florida law that allows people to be held involuntarily for up to 72 hours in a mental health treatment facility. From there, he underwent intensive treatment involving a therapist, peer specialist, and group therapy. 
"We recently received an email from his mother saying that their relationship has never been better," Travis says. "He worked toward what he needed to accomplish."
That success and others haven't gone unnoticed. In recent years, representatives from law enforcement agencies throughout the state have visited Clermont to inquire about implementing the same program in their respective counties. The program has also won multiple awards, including one from the Florida Crime Prevention Association, which honors agencies for implementing effective crime-prevention strategies. 
"For each person we help, we're helping at least 15 other people," Philip says. "We're helping their families, we're helping the school system, we're helping the community, and we're helping police officers. Assisting one person is assisting a web of people. We're all connected."
Captain Michael McMaster, who has served the Clermont Police Department for 20 years, says the Mobile Crisis Response Service offers a superior approach to dealing with people facing a mental health crisis. 
"In the past, police officers would arrive to a scene, take command, and attempt to solve the problem as fast as possible," he says. "So, we'd Baker Act them if they met the criteria and drop them off at LifeStream. Unfortunately, we would see them anywhere from 24 to 84 hours later. It was almost like a revolving door. Now that we're more proactive than reactive, we're now seeing these people only once or twice instead of multiple times." 
In addition, the program has strengthened the bond between the Clermont Police Department and the community. 
"Our agency participates in events all over the city," Michael says. "Families will come up to us and say, 'Susie is doing much better' or 'my mom is doing great.' They understand that we do more than simply arrest people. We're going the extra mile to make a difference and offer our community the best mental health services we can possibly give them."  
Akers Media Group's James Combs has been a staff writer for several local publications since August 2000. He has had the privilege of interviewing some of Lake County's many fascinating residents—from innovative business owners to heroic war veterans—and bringing their stories to life. A resident of Lake County since 1986, James recently embarked on a journey to lead a healthier lifestyle. He has lost 60 pounds and walks nearly five miles a day. In his spare time, he enjoys target shooting, skeet shooting and watching his beloved Kentucky Wildcats!
Share This Story!