Person of Interest: Chad Weber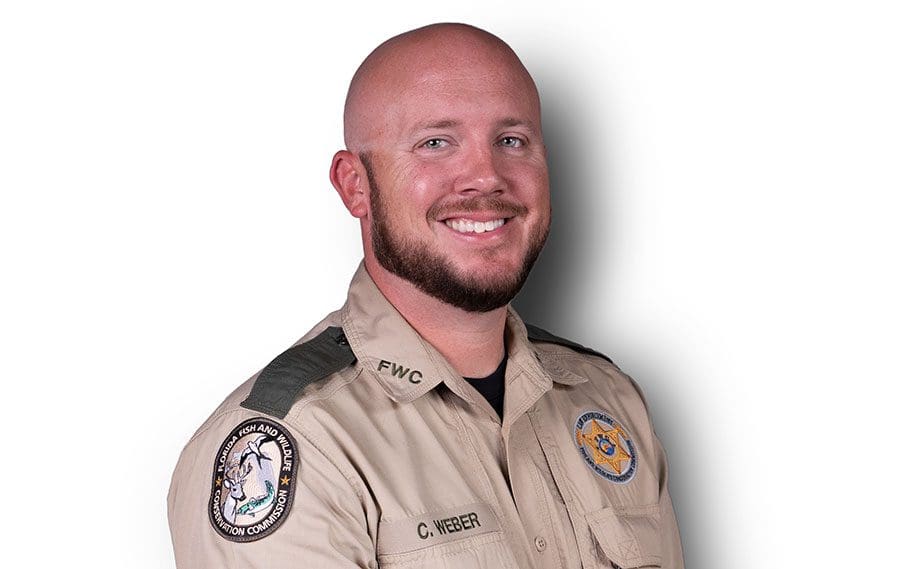 Florida Fish and Wildlife Conservation Commission spokesman and public information officer serves 11 counties.
Photo: Nicole Hamel
Vital Stats
38 years old.
Lives in Leesburg.
Born in Minnesota.
Served with the U.S. Marines.

 

Employed with FWC for 12 years.
Proud father of son, Landon, 12.

 
---
My desire to work for FWC began: When I was younger, I saw some officers and I always thought that it was a very interesting job. When I got out of the Marines, I applied knowing it would be appealing to be outdoors all the time and operating boats out on the water. You kind of get the best of law enforcement in being able to help people and work with animals. 
Unforgettable career moments: I've been on hurricane response details, and also the (BP) Deepwater Horizon oil spill in the Gulf of Mexico in 2010. With FWC, we are state officers, and we were working with the local law enforcement in the Pensacola area locating where some of the oil was coming in from offshore. I've also worked down in the Florida Keys and dealt with an individual who found a kilo of cocaine floating and he decided to test it and was overdosing offshore. 
Other parts of my job: I'm the regional public information officer, so I cover 11 counties in my area. I work with several different agencies putting together special events, and there are times we coordinate with the governor's office. One of my favorite things are the outreaches that we do at schools; the kids always ask such great questions.
'Wow' factor moments: When we bring in alligators, little kids think it's great. The kids also love it when I bring an airboat or an ATV; we do have cool toys.
On my bucket list: To travel and see the West Coast of the United States and go to Australia.  
In my free time: I enjoy spending time with my son, Landon. We do a lot of outdoor activities and I like to fish. My happy place is on my boat fishing. 
What I wish more people knew or did: You do not have to be a Fish and Wildlife officer to protect Florida's natural resources. It starts with cleaning up trash or simply getting involved if you see something that doesn't seem to be right. 
Originally from Anderson, Ind., Theresa worked for The Herald-Bulletin for many years. After experiencing a winter with 53 inches of snow, her late husband asked her to get a job in Florida, and they headed south. Well known in the area, Theresa worked with The Daily Sun and The Daily Commercial prior to joining Akers.
Share This Story!