Person Of Interest: Dee Dee Bitter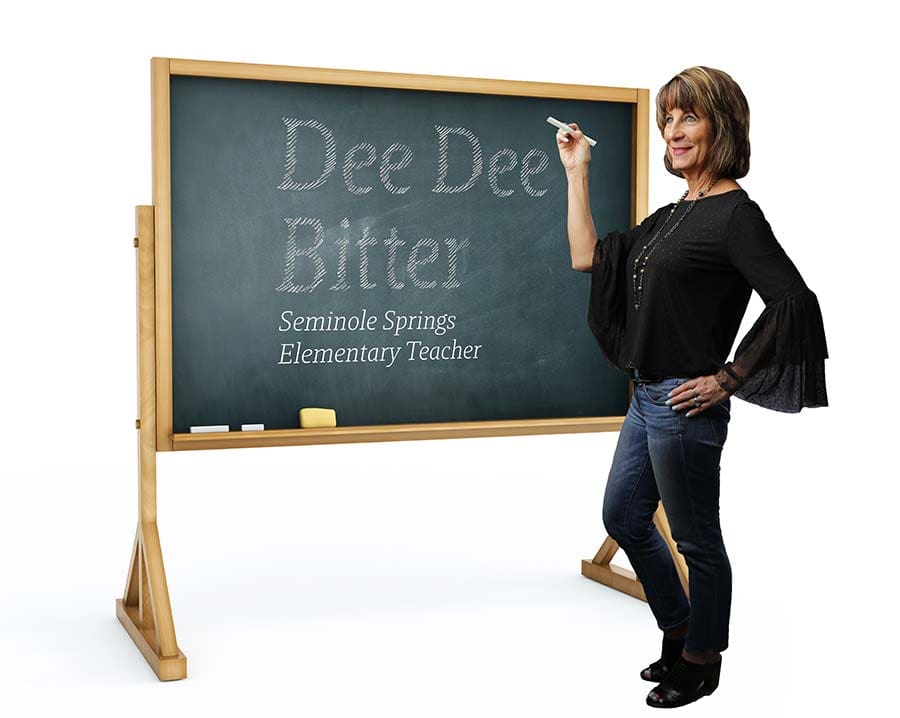 Vital Stats
Lives in Grand Island.
Has been teaching 29 years.
Family includes husband, Randy; two sons, Austin and Alex.
My motivation to teach: Ever since I was a little girl, I knew I wanted to be a teacher. My dad was a middle school teacher and when he would bring home papers to grade, I would sit at the table and secretly write comments on his students' papers. For Christmas, I would always ask for school supplies such as a chalkboard and chalk, teacher books, and colored pens so that I could pretend to be a teacher. I would sit all of my stuffed animals on my bed and pretend that they were my students. 
What I love most about teaching at Seminole Springs Elementary School: It's a rural community with such loving children and very supportive parents. We have the best administration that allows teachers to teach using individual styles. It is a welcoming environment where students feel loved and safe.
My hero: My father. He is a strong Christian man who loves with all of his heart and soul. He is a true role model for any man becoming a husband or a dad. I love and respect him with all of my being. 
Three words to describe myself: Loving, tender-hearted, and supportive.
What I hope my students learn the most from me: Important life lessons that will help them succeed way beyond test scores, class projects, and daily struggles.
Guilty pleasure: Butter pecan ice cream.
If I could have dinner with anyone (living or dead) it would be: My dad's dad who died before I was born.
My goals or bucket list: I want to own a beach house on the West Coast.
Something about me that no one knows: I'm good at playing ping-pong.
Pet peeve: People who leave their Christmas lights up past Jan 2.  
Secret to my success: My supportive family.
Favorite quote: "Be still and know that I am God."
My advice to new or future teachers: Teaching is a journey with adventurous twists and turns. You will have your ups and downs but hang in there—it's all worth the time and effort. Surround yourself with positive people and be open for change. Definitely don't lose sight of why you are a teacher. Simply love your kids.