Person of Interest: John Molenda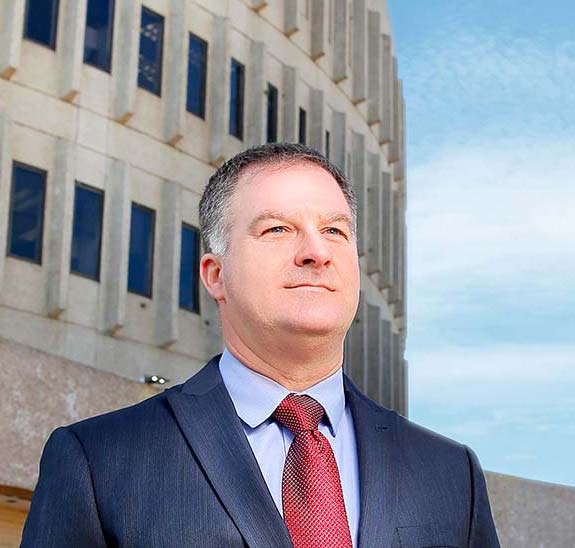 Lake County deputy county manager
Vital Stats:
Joined Lake County Public Safety in 2016; promoted this year to deputy county manager.
Born in South Florida; spent 22 years with Fort Lauderdale Fire Rescue.
Served as FEMA Urban Search and Rescue Team manager.
He and wife Leah have two children, Emily and Devin.
Describe your FEMA experiences: 9/11 (at Ground Zero in New York) was my first real experience unfolding the potential magnitude of terrorism. It showed you how easy it was to suffer death and destruction anywhere, anytime. Hurricane Katrina (in New Orleans) was by far the worst destruction I have seen. It's hard to fathom the ocean rising 30 feet a half-mile inland. I still remember gasping when we stepped out of the helicopter next to a 700-foot-long freighter ship resting on land in a residential neighborhood. Hundreds drowned in their own attics. Those experiences made me realize there is no such thing as over-preparing for an emergency and the surreal is very possible.
What was a gratifying aspect? Knowing all of our training and family sacrifice made a difference in the lives of others. Firefighters miss so many family holidays, birthdays, etc., you can't help but feel guilty. I have a job I love but I also have a responsibility to my family. At the times when everyone looks to their own families for comfort and assistance, we are usually forced to leave ours and assist a stranger. It's something you love and hate about that line of work.
What was Hurricane Irma's biggest challenge? During the storm, the response was difficult. The projected path changed a dozen times, and when the storm hit, it moved very slowly, sustaining damage for a long period. After the storm, the biggest challenge is debris. Every pile of debris must be inspected, weighed, and recorded for a chance at federal reimbursement. This takes time in itself, let alone the extent of the damage and lack of resources around the state. We have seen many different storms here in Florida but few with such widespread devastation. Irma's recovery will be much more difficult than other storms we have seen.
Hobbies? Farming—peanuts and cotton on our 300-acre farm in South Georgia—hunting, and fishing.
Favorite food? BBQ.
Favorite band? The Cadillac Three.
Biggest pet peeve? Complainers! I have seen a lot of tragedy in the work I have done. Stop complaining and enjoy the simple gifts in life you have, or strive to make it better. There is always someone worse off than you!