Person of Interest: Keshia Rytter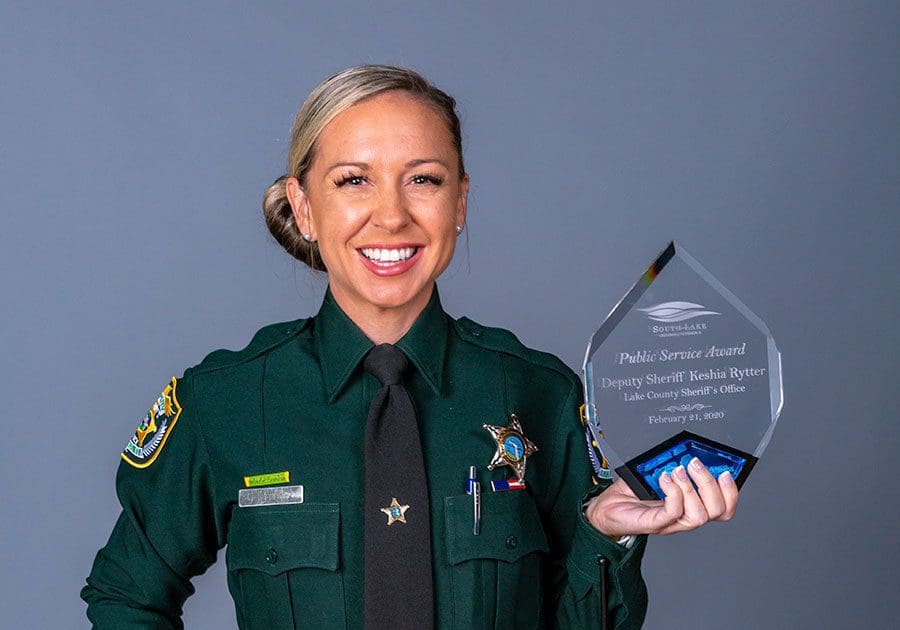 School resource deputy with Lake County Sheriff's Office has heart for kids.
Photo: Nicole Hamel
Vital stats: 
Born in New York and moved to Groveland as a child.
Resided in Leesburg for 14+ years before moving to Davenport last March.

 

Has worked in law enforcement seven years; the past two years with Lake County Sheriff's Office.

 

Has supportive boyfriend, Maurice, who is employed with Orlando Police Department.

 

Family includes daughter, 3, son, 12, and Maurice's two daughters, 5 and 7.
---
What I enjoy most about my job: It's not about how many arrests you can make or how many tickets you can write, it's about how many lives you can steer in the right direction. Working in the schools you aren't just a deputy, you become a mentor, a counselor, a positive role model in these children's lives. I'm seeing the impact I've had on several kids that disliked law enforcement. They eventually see me for me, not just the uniform I wear because I was able to have one-on-one time with certain children and an open-door policy of being visible where kids felt comfortable talking to me. Just hearing the kids say, "Thank you for being here, thank you for keeping us safe, thank you for what you do" is rewarding in many ways.
Career inspiration: My father was a correctional officer for over 25 years. I followed his footsteps in law enforcement. In 2012, I joined the police academy. After graduating, it was tough getting a job; not many agencies were hiring. Being a single mother at the time, I knew I needed a career and landed a job as correctional officer. Eventually, my father and I worked together in the prison having each other's back more than ever. My father died in 2016 at the age of 54 from cancer, and I knew life was way too short. I prayed constantly for God to lead me in the right direction. As much as I enjoyed working at the prison, I knew there was more out there for me. I saved up enough money to put myself back through the police academy.
Working for LCSO at East Ridge Middle School: This was where I was meant to be. My day-to-day life as a school resource deputy, I am not just a deputy, I am part of the East Ridge Middle School family. That is exactly how I am treated, and I enjoy being a part of their team. Changing lives, opening young minds to the important things in life. 
Goals with the youths: Not only do I enjoy improving youths' life skills, including leadership, communication, trust and confidence, but I have made my own goals for the kids teaching them how important education is. I have set up incentives for the kids who receive As and Bs on their report cards to be entered into a drawing at the end of each quarter to receive an award from me. 
The thrill of winning South Lake's Community Service Award: Honestly, the things I do for the community isn't to be awarded and noticed. I do it from my heart. Maybe that's how things have always been, and I am used to just doing what I should or what I feel is right. Being recognized felt rewarding and made me proud. It was nice to know my supervisors noticed my dedication.
Interests outside of work: I'm a church going, fitness loving, sports mom. I have been very involved in fitness approximately 10 years. Keeping my children active is very important to me. With my son playing travel baseball, my daughter in dance and soccer, my boyfriend's kids in soccer as well. I live a busy life. I set aside one hour for myself four days a week to work out in the gym. Being a mother who works five days a week, four kids to attend to, sporting events, dinner, laundry, the nonstop cleaning. I firmly believe being strong and healthy on the inside and outside makes a difference.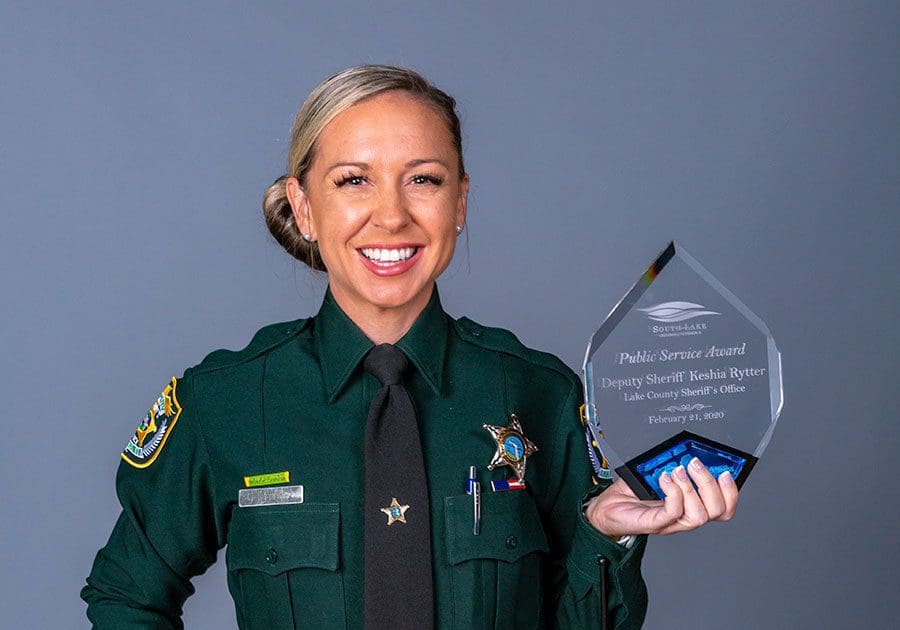 Favorite quote: "Take into account that great love and great achievements involve great risk." – Dalai Lama
My hero as a child: My dad.
Guilty pleasure: Free coffee from Dunkin Donuts.
Words I live by: "Be brave to stand for what you believe in even if you stand alone."—Roy T Bennett
Proudest accomplishments: Starting over, going back through the police academy after six years. I knew the struggles, shift work, and asking friends and family to watch my children (one thing I hate to do is ask for help). Being where I am today and knowing the struggle would only be temporary, I'm proud of myself for taking that chance. Failing wasn't an option in my book; I fought for where I am today. 
Ways I coped during COVID-19: First and foremost, being thankful I still had a job. Maurice and I started working out together in our driveway and included our kids. I grew to enjoy the time spent with my family. It's so important to make and spend time with your family. Time goes by so fast; our kids grow like weeds. 
On my bucket list: To travel the world; add more stamps to my passport.
---
 Know a person of interest? Tell us! → Email your recommendation to theresa@akersmediagroup.com.
Originally from Anderson, Ind., Theresa worked for The Herald-Bulletin for many years. After experiencing a winter with 53 inches of snow, her late husband asked her to get a job in Florida, and they headed south. Well known in the area, Theresa worked with The Daily Sun and The Daily Commercial prior to joining Akers.
Share This Story!