Person of Interest: That's amore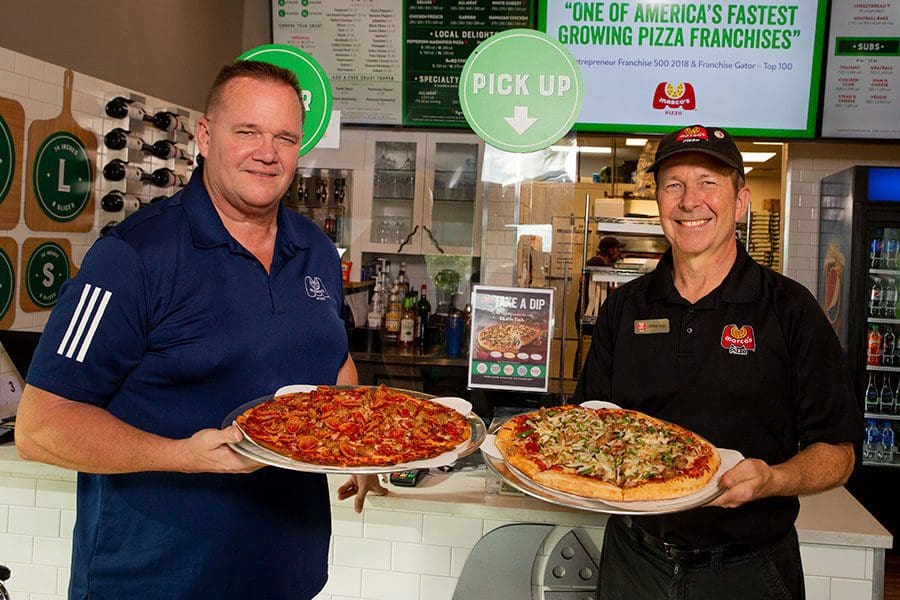 Business partners had no qualms opening Marco's Pizza in Wildwood during the pandemic and they intend to open seven to 10 more stores.
Photo: Nicole Hamel
Many businesses, especially restaurants, have experienced challenges during the coronavirus pandemic, however two innovative, driven, and optimistic business partners and friends, Pete Hiles and Roger Mellen, viewed it as the ideal time to open Marco's Pizza in the greater Villages area. 
They're enjoying bringing authentic Italian flavors to Marco's Pizza at 5806 7 Mile Drive, Wildwood, and pleased to be contributing to the greater Villages economy. The business partners plan to open seven to 10 more stores and they envision going to the bank, backing others interested in the franchise venture, like in the TV show "Shark Tank." 
Pizza is reportedly a growing $47 billion industry with 91 percent of Americans eating pizza once a month.
"The pandemic is what made us want to open Marco's Pizza because this is the type of business that doubles because most people want delivery or carryout," says Roger, 60, of Astatula, recalling it was July 2019 when he first met Pete, 64, of Windemere.
Roger was building a Marco's Pizza in Poinciana when he went to Pete's opening of one his two Orlando locations of Marco's for some business insight, and the two men found they share a common appreciation for the taste and authentic ingredients of Marco's Pizza, including the fresh (never frozen) proprietary five-blend cheese. They also loved that the dough is made daily onsite, and that the secret original pizza sauce recipe is from Marco's founder Pat Giammarco, a native Italian. 
"We clicked; it was immediate," Roger recalls of meeting Pete.
"And our friendship has grown to where it makes sense," adds Pete of being business partners. The pair also enjoys interacting with their staff, customers, and they view Marco's Pizza as a great "people business." 
Roger had a background as a chef and he worked in food sales before opening his first Marco's Pizza; Pete had been in the pizza business for over 30 years with another chain, before he made the switch.  
"Oh, my god, I've been making the wrong pizza," Pete recalls of his initial reaction when he tasted a Marco's Pizza for the first time. Roger also was so impressed after his first bite of the pie that he ended up ordering three pizzas in one week. His favorite is a thin crust, all-meat toppings pizza, "and that is what made me invest in Marco's; the thin crust has very low carbs and that is why I eat it." 
As the business partners continue to expand, they seek 30-plus people for each store and are actively hiring for all positions, including pizza makers, drivers, shift leads leading to assistant and general manager positions for all locations.
"And we love taking care veterans," says Pete, adding the Wildwood pizzeria is offering a "V4V" (Villages for Veterans) special with donations going to the veteran's charity of choice. 
---
Pizza chat with Roger and Pete
Ultimate compliment from a customer: "I have to say, your pizza is better than mine," Pete recalls hearing from an Italian restaurant owner who has been in The Villages 30 years.
Best advice been given: "You have to take some chances," says Pete. "The best advice I was given was from Pete of 'let's invest in this one together,'" adds Roger.
Favorite quote: "Get it right the first time," says Peter. "Customers first," adds Roger.
---
Marco's trivia
In addition to pizza:  Marco's has salads with croutons made daily; subs on Italian white bread, hearth baked for authentic European flavor, and creations like the Meatball Bake, Chicken Dippers and CheezyBread. Marco's also is the first national pizza delivery brand to offer Specialty Pizza Bowls – a crustless pie made to meet consumers ever-changing dietary preferences. 
Company history: Marco's Pizza founder, Pasquale "Pat" Giammarco, grew up making pizzas with his father after they immigrated to the United States from Sulmona, Italy. Fast forward several years later, he created Marco's Pizza to capture the flavors he was raised on. The company was founded in 1978, is headquartered in Toledo, Ohio, and is now one of the fastest-growing pizza companies in the U.S. 
Milestone: The founder was recently in Florida to celebrate the 1,000th opening of a Marco's Pizza in Kissimmee.
Originally from Anderson, Ind., Theresa worked for The Herald-Bulletin for many years. After experiencing a winter with 53 inches of snow, her late husband asked her to get a job in Florida, and they headed south. Well known in the area, Theresa worked with The Daily Sun and The Daily Commercial prior to joining Akers.
Share This Story!