Person of Interest: Turning the page on a new life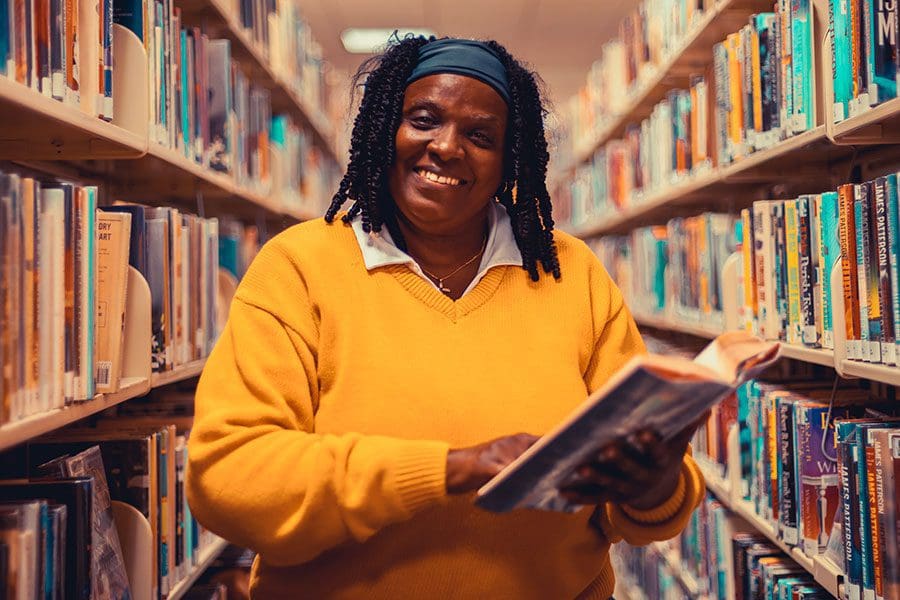 Reading transforms Eustis woman's life.
Photos: Douglas Tyler
On paper, Johnnie Coley seemed pretty much set. 
A 35-year social worker, published author, COVID-19 survivor and college-scholarship basketball player with a bachelor's degree in psychology and a master's in human services management, her life seemed complete.
A huge secret the 59-year-old Eustis woman kept well-hidden her whole life; however, was weighing her down and affecting every aspect of her life. She couldn't read past a 4th-grade reading level. And she knew she needed to come clean.
"I saw myself just kind of going through life and I was trying to get myself together, get myself right as far as my relationship with God," Johnnie said. "I would do these little talks for women about a life-changing place in God, about getting stuff together, putting away your sins and putting away those things that are not right, not true, not honest, and so, as I was doing that, I began looking at me and thought, just get transformed Johnnie, just get right."
"That's when I thought, You know what? I've got to stop the lying about reading. I said, 'God, can you forgive me for fake reading, for projecting the type of person that I wasn't?' And then I got my help."
Johnnie signed up for a tutoring program at the W.T. Bland Public Library in Mount Dora that worked with Lake County's free adult literacy program, but weekly tutoring sessions were during working hours.
Undeterred, Johnnie presented her problem to her boss at the Mount Dora Children's Home. When he offered to let her leave early every Wednesday, she embraced the opportunity to improve her reading.
Four years later, with the help of very committed and loyal tutor Lisa Dunklin, Johnnie reached her goal. In October 2020, Johnnie graduated the program able to read at a 12th-grade level. 
"To think of somebody looking at a grown woman who has two degrees and saying, 'I'm going to invest in you for four years,' that's just unbelievable. That's powerful. I will remember her for the rest of my life," Johnnie says of Lisa.
Lisa responds that she was inspired by helping Johnnie learn to read.
"There was no real plan. We were learning together through the whole process. At our first meeting, Johnnie had goals in mind, and I felt it was my job to figure out a way to get to those goals, and though it was harder than we both probably thought, we kind of held on to each other and took it one step at a time," Lisa says. "Knowing I was able to help her is satisfying but I look at her and think it took a tremendous amount of courage for her to ask for help."
Looking back, Johnnie says she doesn't exactly know how she got by. She'd skim through emails, memos, documents at work, church readings, songs and more, picking out enough words to get through.
"I was fake reading all over the place. When my eyes would fall on the paper to read, it's like I just froze. It was like too big for me," Johnnie says.
Johnnie would memorize certain things and ask people to talk about the topics to make it look like she'd read about them. In college, she occasionally copied off other students to get by.
"I'm not proud of that," says Johnnie, adding that she is glad to be rid of that type of pressure and shame.
"I feel like a ton of bricks have been lifted off my shoulders. I don't have to fake anymore. I don't have to lie anymore," she says. "I've always worked in social work, and it kind of hit me that in working in an environment where I am helping people help themselves, interestingly enough, I ended up with everything I needed around me to be able to help myself."
Johnnie admits she never realized what she was missing. Because of that, she signed on as a tutor for the same program that helped her.
"I'm a better, more confident, happy person and I don't know how reading can make you better in so many other ways like that, but it does," Johnnie says. "Because someone reached out to help me, I want to turn around and do the same for someone else. They just need that one person to say, 'Yeah, I know what that's like.' To point someone in the right direction is a beautiful thing."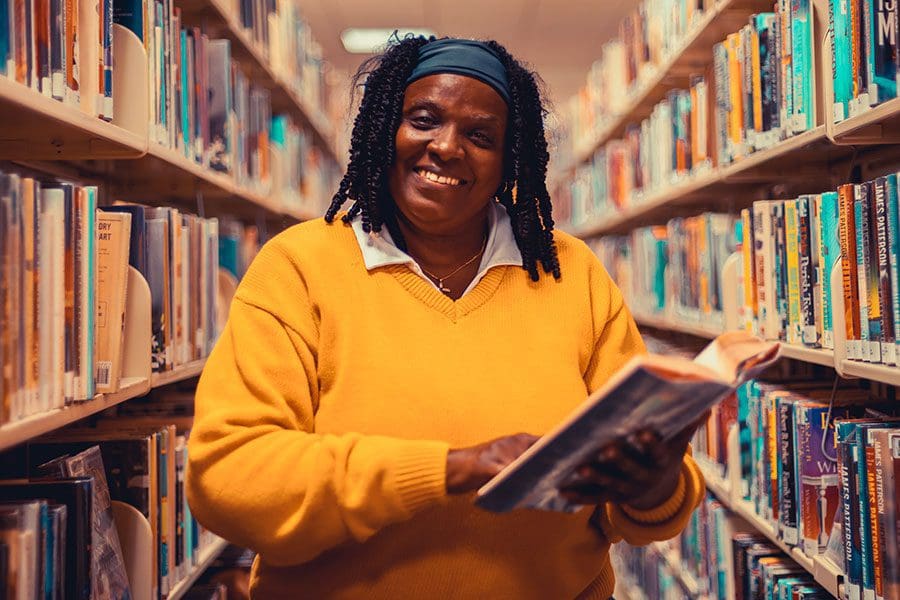 ---
How has learning to read changed your life?
"You get to see the world through reading, and I didn't even know that. I mean, I'm black and I didn't even know that Martin Luther King won a Nobel Peace Prize. But I know it now, because I read it in the readings Lisa gave me.  
When I read something, I actually read it with happiness, because yes, I'm reading it, but most importantly, I understand what I'm reading. 
Sometimes I feel like I'm a little bit embarrassed by it (not knowing how to read), but my happiness in learning how to read exceeds my embarrassment about it."
What are your thoughts on how you got by all those years fake-reading?
"I look back and I am like, What in the world went down? It's unbelievable. I mean, I lived the life, but I'm still in shock that I was able to survive with such a cover-up, with such a lie. 
Today, I can say I don't have a husband, I don't have children, I don't have much, but I can read."
How do you feel about Lisa?
"Basically, I just look back and appreciate what God did for me in sending me the right person. Because if it had been somebody else, somebody not so patient or understanding through the whole tutoring experience, it may not have come out this way. 
I'll be honest with you, there were times she told me to read something and I'd be crying, I couldn't figure out the words and I would get mad. It was hard. It was challenging. 
To somebody else, this might not be a big deal, but it's a big deal to me. 
It's just amazing what she's done for my life, I don't even think she really understands it."
Tell about your childhood.
"I am one of eight children of a single-parent household.
My mom, she wasn't very academic you might say, in that she didn't graduate from high school, but she later went back in her adulthood and that was a pretty big deal.
She was big on surviving. She had many relationships; I mean she had eight kids and we all have different fathers but one, so she wasn't very present as far as working with us academically. Like in normal families, you read to your kids and you let your kids read to you, but not my mom, she was surviving. At least that's one of the things, one of the skills she passed on to me – to just to survive and go forward. 
For having eight kids, my mom did the best she could. She was on the hustle all the time and if there is a gene called 'on the hustle,' yeah, I'd say I got it."
What are the most impactful memories of your tutoring sessions with Lisa?
"Even when I could read something, I just read the words. Lisa taught me how to read with comprehension because that's a whole other story; that's some high-class stuff.
Plus, she worked hard. For instance, when picking out stuff for me to read, she took everything she knew about me and brought it into our tutoring session.
I'd told her I like basketball, and what does she do? The girl goes out and gets me stuff about basketball and about sports to read. She went out of her way. 
She didn't even stop when I had knee surgery. I couldn't make it to the library so she would come to me and when I got COVID, she sent me emails with things to read.
She didn't miss a beat and I'm telling you, that's some kind of diligence she showed to education and to helping people be the best that they can be. You don't see that very often. 
But perhaps my greatest memory is of Lisa reading to me. I think back and at 58 years old, I'm sitting there, and this tutor is reading to me like a mother reads to a child. And then I had to read to her, and I really felt like a child then. Boy, my legs would be shaking, the palms of my hands would be up on my head, my lips were trembling, and stuff and she would just sit there no matter how long it took me to get through what I was reading, and I love her so much for that."
---
Know a person of interest? Tell us! → Email your recommendation
to roxanne@akersmediagroup.com.
Originally from Nogales, Arizona, Roxanne worked in the customer service industry while writing independently for years. After moving to Florida in 1999, Roxanne eventually switched her career path to focus more on writing and went on to become an award-winning reporter for The Daily Commercial/South Lake Press newspapers for 16 years prior to coming on board with Akers Media as a staff writer in July 2020 – her dream job come true.
Share This Story!