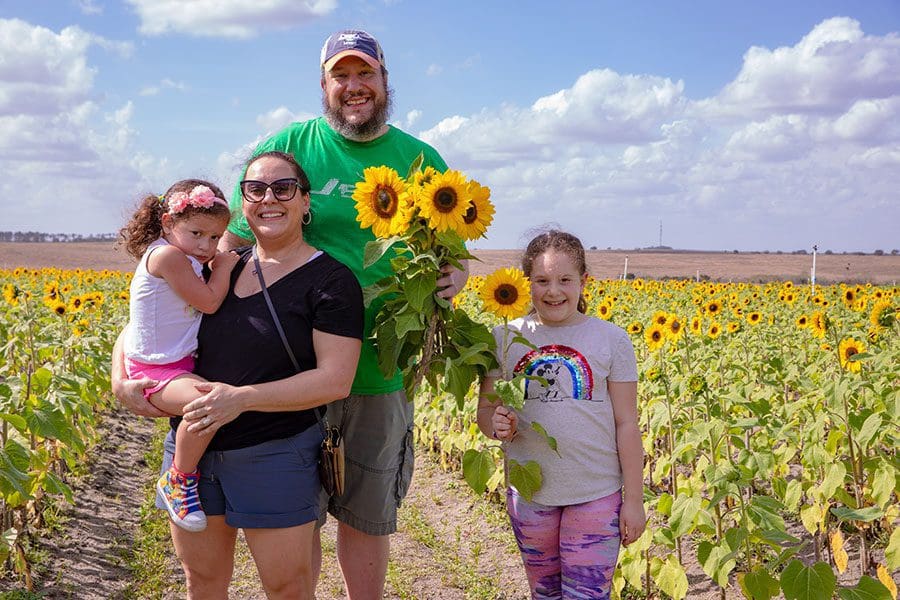 Southern Hill Farms u-pick is the berries, and much, much more.
Photos: Nicole Hamel
Ten years ago, Southern Hill Farms owners David and Lisa Hill never dreamed they would welcome thousands of people onto their 120-acre property at 16651 Schofield Road in Clermont.
That's because that first blueberry crop was strictly commercial. Today, Southern Hills Farm is a u-pick operation, and David and Lisa wouldn't have it any other way.
"We did a couple years of commercial pick for the blueberries and my kids wanted me to start a u-pick, but I didn't want to because I was nervous having the public on the farm with the liability and all that stuff," David says. "But they passed an agrotourism law in 2013 that protects the farmer from people getting injured, as long as there is no negligence, so that helped me with wanting to try it."
David and his family started their first blueberry u-pick in 2014, but kept it relatively small for about three years.
Southern Hill Farms has since blossomed into a u-pick mecca with a wide variety of fruits, flowers, and vegetables people can harvest themselves.
The farm added peaches in 2017, sunflowers and sweet corn in 2018, and strawberries in February 2021. 
"This is our first year with strawberries and so we started kind of small, just 4 ½ acres because it was all the land I had available at the moment, and because we wanted to see if the demand warranted more, and it does," David says, explaining that by 2022, their strawberry field will be three times as large, but they will continue to plant
20-plus acres of sunflowers, zinnias, and sweet corn, 4 ½ acres of peaches, and 40 acres of blueberries.
"I have customers telling me it's great that they have different times of the year where they can come out and pick something," David says.
This year will also mark another milestone for the family, since it will cease its ornamental tree business, which will free up 80 acres for the additional crops and other fun.
David says he sees the farm becoming more of an all-day agro-destination with a little something for everyone in the family.
"Although landscape trees are hot right now with a lot of new construction, we've decided just to cut that out to make room for more crops and our agrotourism operation," David says, before breaking out into a smile and chuckling to himself.
"My kids, my family, they make so much fun of me because I was the one who at first said, 'No, we're not going to do any u-picking,' but now, I'm kind of the ambassador."
 David says he does a lot of farming, but he often focuses on visitors when he's maneuvering around on his tractor.
"I go around and give people rides and I talk to them, you know, they love to meet the owner and the farmer, and they like to get to know about the food, who's growing it, how It grows and stuff. It's nice," he says.
David enjoys interacting with u-pickers, but he says the commercial blueberry operation will remain a top priority. "You can't u-pick 40 acres of blueberries, that's just too many. You wouldn't be able to pick them fast enough as they ripen throughout the season; they'd just go bad."
 In Florida, for the most part, strawberry season runs from February to March, and blueberry and peach seasons start in late March and can last through May, if lucky.
Sunflowers and zinnias can be picked during the spring and fall seasons, and sweet corn from about October to June.
David says he's noticed that people love picking the most when the Florida heat is not so brutal.
"I think that's been half the allure with the strawberries, that's it's not too hot to be out here picking them. This is the first time we've had something in the winter," David says. "I think the two biggest complaints we get about our u-pick in general, is that the (clay) road getting to us is too bumpy and that it's hot; and I can't do too much about either one of those things."
What he could do something about is adding to the farm's offerings.
Already, there is a market where people can purchase jams, jellies, candles, honey, soaps, souvenirs, and other small gift items. There's also a pavilion where various food trucks are parked, including one that sells baked goods–like cobblers and muffins–made using farm fresh fruit. There is also a donut shed that in February debuted fresh strawberry donuts made from scratch, and a beverage shed that sells blueberry and strawberry lemonade, plus beer, wine, and more.
People can also climb the steps to a wooden deck, sit and enjoy their food and drinks and a peaceful view overlooking the farm and neighboring land, a serene sunset, sunrise, and just relax.
The farm also hosts weddings, monthly movie nights, and an annual fall festival David hopes will return this year, but with possible limited capacity. 
There is also a stage for live music on weekends, and a children's area with a playground, rock-climbing wall and more. By next year, that section will include a huge slide, a motorized swing ride, huge jump pads and inflatables, an obstacle course, a carousel, and more. 
David says one of the most welcomed additions has been a bathroom structure that replaced what he called portallettes.
"I'll tell you what, our regular customers would come, they'd find me and it seemed like they practically wanted to kiss me on the lips for building those bathrooms," David says. "They are air-conditioned with chandeliers and stuff; that was my wife Lisa's thing."
David says he hopes 2021 and the years ahead will be better than 2020, the year of the pandemic and the farm's subsequent scramble to survive.
 "The u-pick operation is pretty lucrative, but last year we really took it on the chin. The pandemic hit in March (2020) and we were just getting ready to open for blueberries," David says. "The state got shut down literally one week before we opened and so we were struck hard."
David says they could have stayed open since the farm was deemed an essential business, but with all the uncertainty surrounding social distancing, etc., the family decided to halt the u-pick and get creative.
 "People would order online and then come pick up their stuff. They'd never get out of their cars, but just come through and we had sunflowers picked for them, zinnias picked for them, peaches, blueberries, all our market and bakery stuff, and we did pretty good," David says. "We didn't do nearly what we would have normally, but we stayed afloat."
"You can't come to a sunflower field and not pick sunflowers."

—Lorraine Duberstein
David adds: "We didn't know what to expect the first week because it was new to people, but the second weekend we did that, we had traffic backed up for miles.  We really appreciate the community for backing us."
This year, during the farm's first week of strawberries and sunflowers, people were thrilled with the farm's newest endeavor.
Orlando resident Lorraine Duberstein, at the farm with her daughter Savannah, daughter-in-law Keysha Vidal and her two sons, says she intends to use some of the fruit they picked to make chocolate covered strawberries for Valentine's Day and freeze the rest to have for smoothies and other treats throughout the year.
As for the dozens of sunflowers they picked, Lorraine explains that the décor in her dining room is sunflower-themed and adds: "You can't come to a sunflower field and not pick sunflowers."
Other people come to relish the experience or vibe, including Alexus Scott, her mom, Raven Shank, and one-year-old daughter, Lavender. They picked and just took pictures among the sunflowers. 
"We bought some generational jewelry, and we came out here today to take some beautiful photos of our love, friendship, relationship, affection for each other, and the sunflowers and beautiful day is a good representation of that," Alexus says.
Orlando couple Mariah Delgado and Joseph Cruz enjoyed a romantic afternoon picking sunflowers and strawberries after coming across a TikTok video shot at the farm.
Mariah says, "We love strawberries, and the sunflowers are so pretty, plus this is a fun, outdoor activity that is not very expensive, and that is good for bonding and for spending some quality time together."
Plus, David says, anything picked fresh just tastes better. 
---
In Lake County, there are a variety of U-Pick farms to visit, including the following:
Blackberries: (March-May)
H&H Berry Farms
15217 CR 455, Montverde
800.716.4740
Strawberries: (February-March)
Far Reach Ranch
1255 S. Dora Blvd., Tavares
352.343.7389
farreachranch.com
Oak Haven Farms & Winery
32418 Avington Rd., Sorrento
352.735.1996
berriesandwines.com
Southern Hill Farms
16651 Schofield Rd., Clermont
407.986.5806
southernhillfarms.com
Peaches: (March-April)
Graham Farms
14803 Lake Yale Rd., Umatilla
352.636.3821
Lady Lake Peach
2917 Lake Griffin Rd., Lady Lake
352.217.8853
ladylakepeach.com
Peachy P's
600 Crescent St., Umatilla
352.267.0149
Southern Hills Farms
16651 Schofield Rd., Clermont
407.986.5806
southernhillfarms.com
Blueberries: (March-April or May)
Artisan Acres 
(formerly Sand Hills Farms)
31614 Bottany Woods Dr., Eustis
407.915.4122
artisanacres.com
Atwood Family Farms
36111 N. CR 44A, Eustis
352.630.0145
atwoodfamilyfarm.com
Blue Bayou Farms
26921 Bloomfield Ave., Yalaha
352.324.4069
bluebayoufarm.com
Blueberry Hills Farm
5000 Berry Groves Rd., Clermont
863.944.1401
blueberryhillfarm.net
Far Reach Ranch
1255 S. Dora Blvd., Tavares
352.343.7389
farreachranch.com
H&H Berry Farms
15217 CR 455, Montverde
800.716.4740
Heather Oaks Farm
4240 Christmas Land, Lady Lake
352.753.1184
heatheroaksfarm.com
King Grove Organic Farm
19714 CR 44A, Eustis
352.589.2469
kinggrove.com
Lake Catherine Blueberries
5849 Lake Catherine Rd., Groveland
352.551.4110
lakecatherineblueberries.com
Southern Hill Farms
16651 Schofield Rd., Clermont
407.986.5806
southernhillfarms.com
The Vintage Berry
2230 Sloans Ridge Rd., Groveland
352.242.7443
Olives: (August)
A Natural Farm
23630 SR 19, Howey-in-the-Hills
352.536.3112
anaturalfarm.com
Originally from Nogales, Arizona, Roxanne worked in the customer service industry while writing independently for years. After moving to Florida in 1999, Roxanne eventually switched her career path to focus more on writing and went on to become an award-winning reporter for The Daily Commercial/South Lake Press newspapers for 16 years prior to coming on board with Akers Media as a staff writer in July 2020 – her dream job come true.
Share This Story!