Poet & Novelist Darlene Finch Kuhn to Speak at Beacon Salon Series March 21st @7pm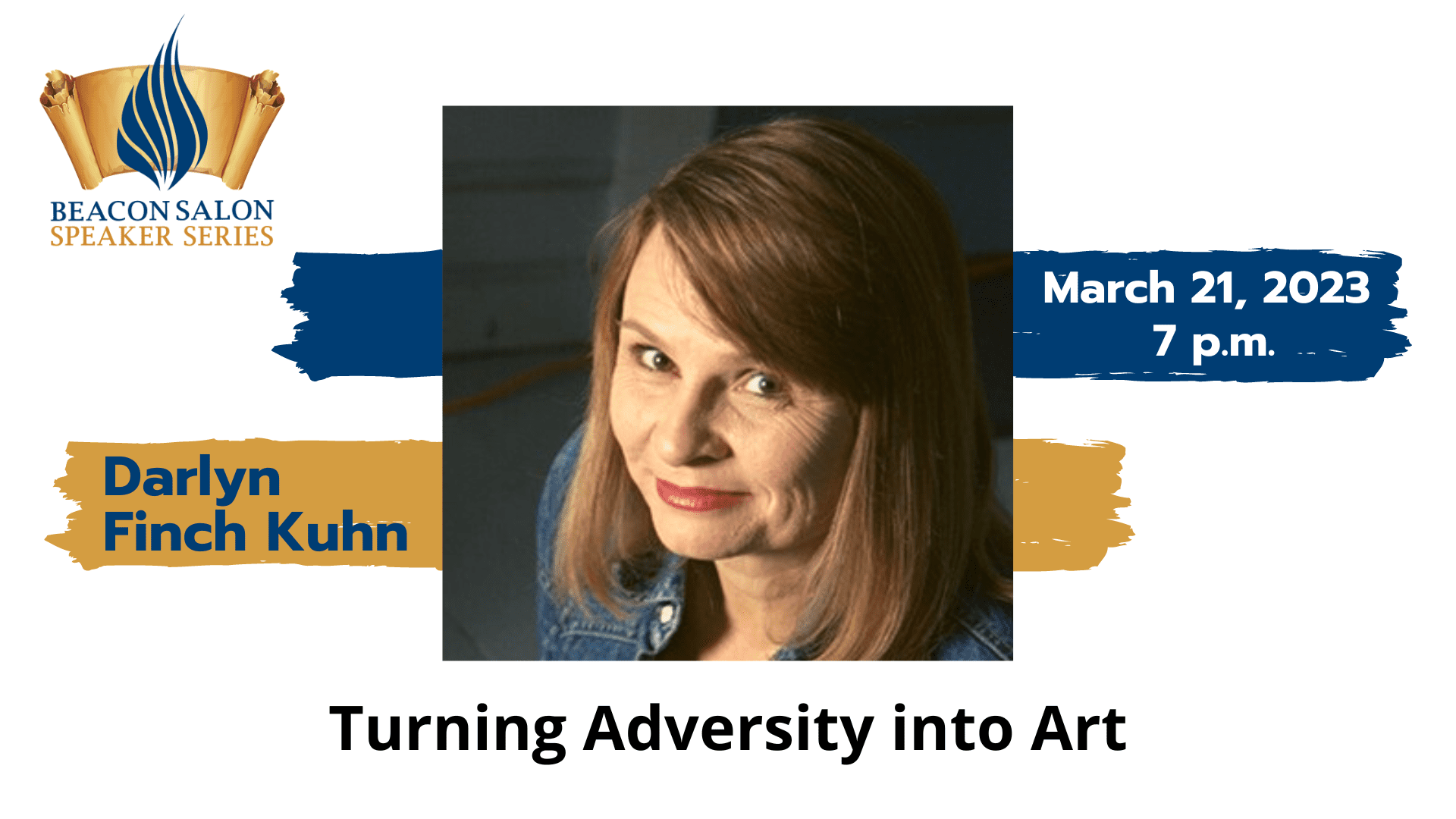 Poet & Novelist Darlene Finch Kuhn to Speak at Beacon Salon Series March 21st @7pm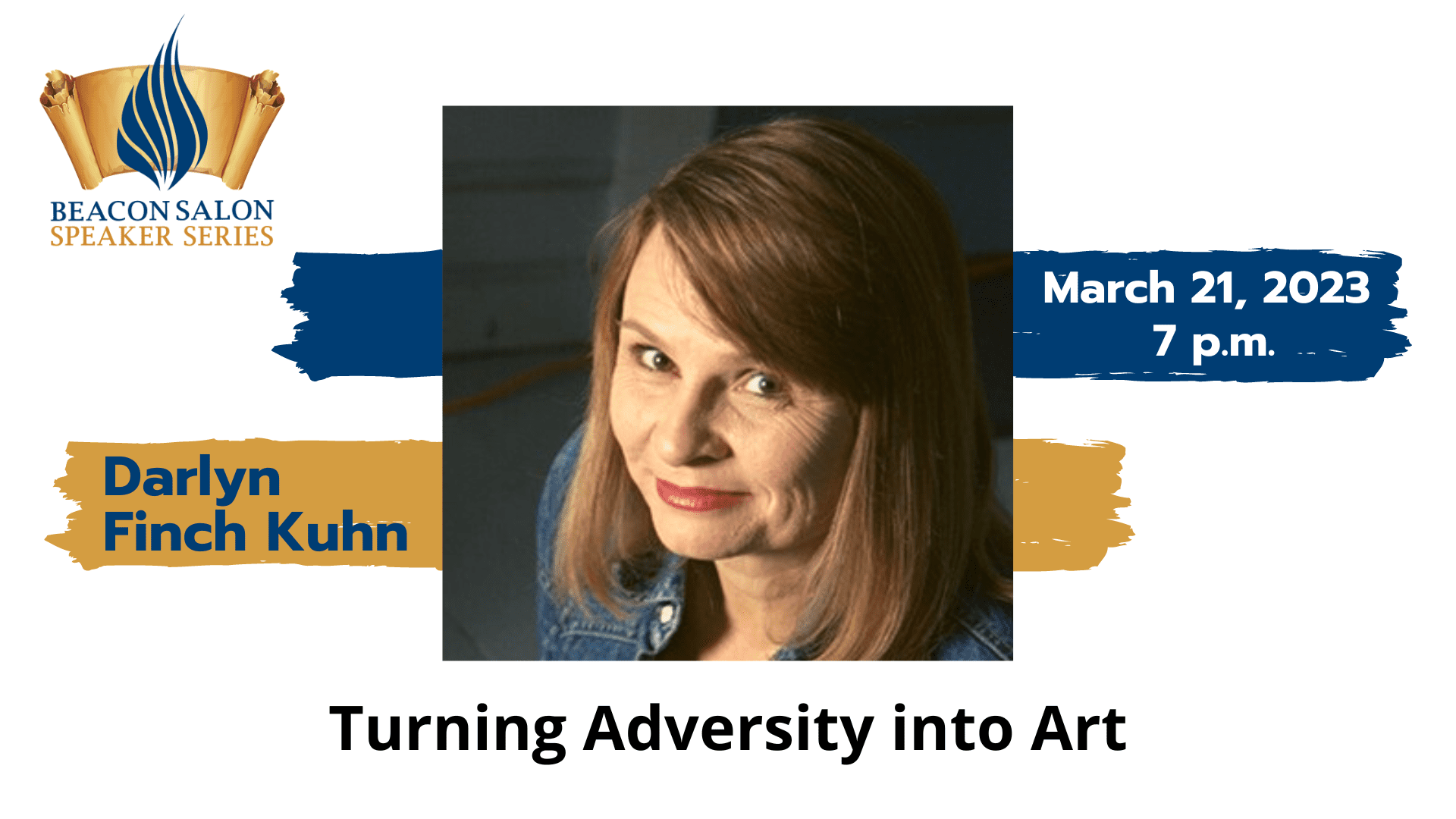 Turning Adversity Into Art
Poet and novelist Darlyn Finch Kuhn will explore turning adversity into art at Beacon College's Salon Speaker Series on March 21 at 7 p.m. at the Venetian Center. Kuhn will illustrate that the difficult moments in life shape our character, become fuel for self-expression, and ultimately inspire artistic expression in others. Sharing excerpts from her poetry and prose, Kuhn will show the benefits of paying close attention to pain, sharing the universal through the specific, and being vulnerable enough to collaborate with others through ekphrastic art.
The event is free and a boxed meal is provided. Registration is requested at https://secure.qgiv.com/for/dfk/event/853117/
Darlyn Finch Kuhn is a poet, short-story writer, and novelist who edits the Scribbles literary e-newsletter, ghostwrites books, and produces short films. Her debut novel, Sewing Holes, won a 2015 Royal Palm Literary Award, and she is working on the film script. In addition to her two poetry collections (Red Wax Rose and Three Houses) her work has appeared in literary journals, newspapers, magazines, and online. She works in administration at FSCJ and teaches journalism at UNF. Together with her husband, the author Brad Kuhn, Darlyn directs the JaxbyJax Literary Arts Festival.
About The Beacon Salon Speaker Series
In its sixth year, the Beacon Salon Speaker Series at Beacon College is the school's flagship community education outreach program. The Speaker Series brings in speakers, educators, authors, and entertainers from Florida and around the country to educate, edify, and entertain by exploring Florida history, waxing poetic, delving into popular culture, and clenching the political third rail. Channeling its ethos from the Parisian salons of the Enlightenment, the Speaker Series honors the college's sacrosanct duty as an institution of higher learning to uplift the community in which it operates, spark engagement, and sow seeds of conversation and discovery.
Founded in 1989, Beacon College is the first accredited baccalaureate institution dedicated to educating primarily students with learning disabilities, ADHD, dyslexia, and other learning differences.
Information Provided By:
Beacon College, 105 E. Main Street, Leesburg, FL 34748 United States.
Kyle Coppola was born in Newton, Massachusetts and received his Bachelor of Fine Arts in Communications from Curry College in 2016. After traveling to Florida on a family vacation, he decided he could not get enough of the warm weather and made the move from snowy Massachusetts to central Florida 8 years ago.
For the last decade Kyle has gained valuable experience in social media content creation, marketing and sales, writing, video production, sports announcing and even broadcasting for local radio stations, such as FM 102.9 in The Villages and FM 91.5 in Massachusetts. Every year he volunteers at The Villages Charter High School as a play-by-play sports announcer for the football games as well as a public address announcer for the basketball games, including the annual Battle at The Villages Tournament.
Outside the office Kyle is a husband and father to two beautiful girls along with their cat. In his spare time he likes to spend time with his family, travel, play golf and swim. He is also a huge sports junkie and even bigger motorsports fan and loves to attend racing events when he can.
Share This Story!