Fork on the Road: Quite The Catch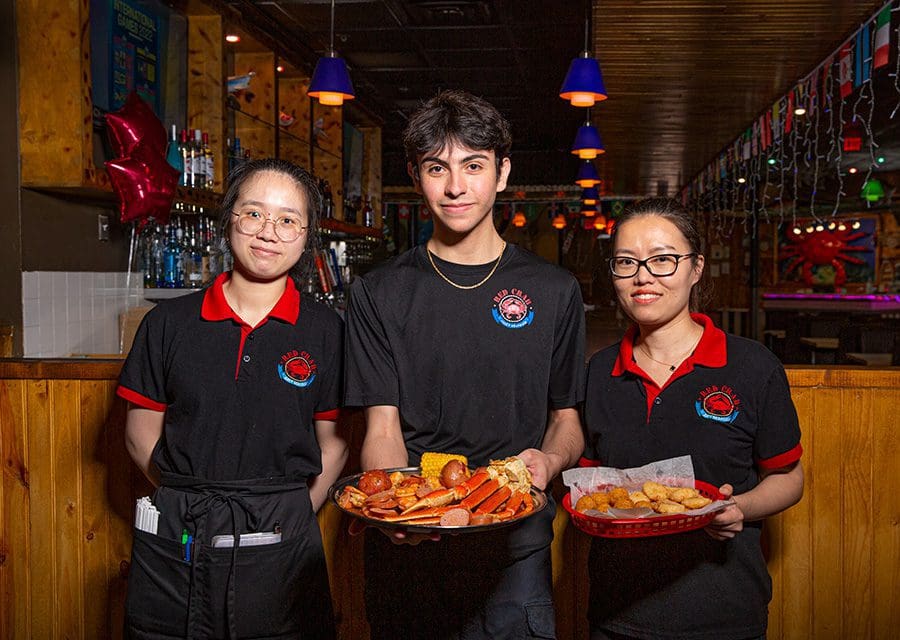 At this scrumptious seafood restaurant, nobody will leave feeling crabby.
At first glance, Red Crab Juicy Seafood and Bar looks like a fish out of water. 
It's located in the Eustis Village Shopping Center alongside corporate giants like Bealls and Publix. That's quite a deviation from the lakeside and oceanside seafood restaurants abundant throughout Florida. It also means there are no views of beautiful sunsets, soaring seaplanes, or bikini-clad beachgoers. 
Don't let the location throw you. 
Trust the long line of snowbirds during winter and trust the thousands of voters who named Red Crab as the "Best Seafood Restaurant" in Lake and Sumter Style's 2021 "Best of the Best" awards. Both are sure-fire signs that this restaurant is a place that serves delicious food. 
With so many tempting choices, you'll need more than a few minutes to study the menu. There's pasta with shrimp or pasta with mixed seafood. Or perhaps you might opt for the fried shrimp, fried tilapia, or fried oysters. Certainly, one could not go wrong with the catfish sandwich. There's even an option to mix and match among the ocean's most edible creatures: blue crab, shrimp, snow crab legs, crawfish, shrimp, clams, green mussels, black mussels, and scallops. 
However, I found myself fishing in the menu's "Red Crab Specials" section and loved what I ultimately reeled in: the low country boil, a famous dish in the low country of Georgia and South Carolina. The meal features one-half pound snow crab legs, one-half pound of shrimp, and one-half pound of sausage. It comes with corn on the cob and three potatoes.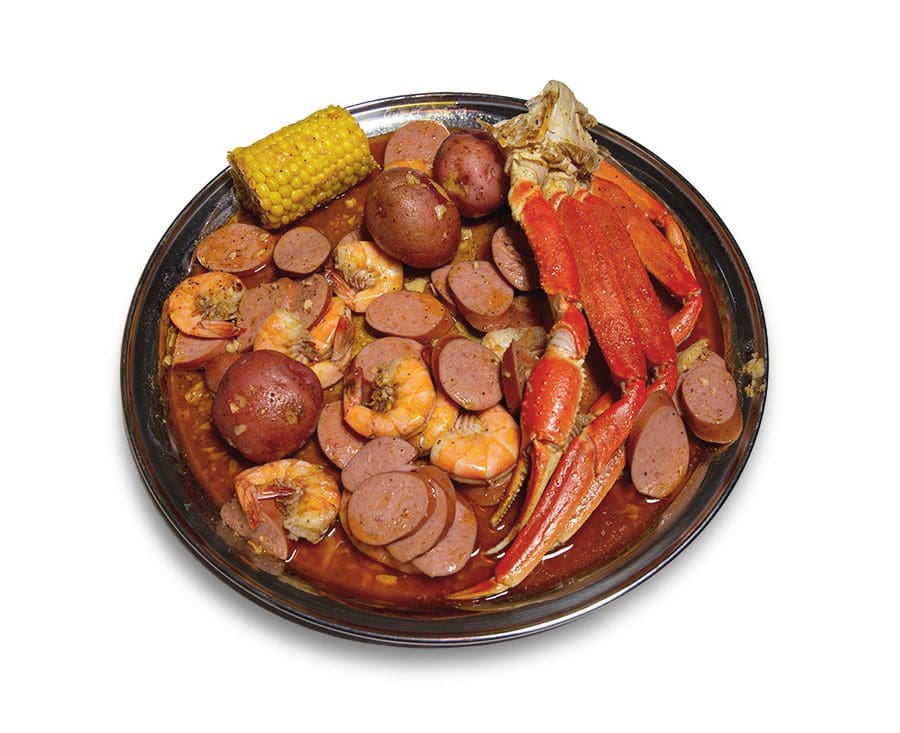 Minutes after ordering, waiter Steven Jabbour brought out the pre-meal essentials: a small trash bucket, a white bib with the restaurant's logo, napkin wipes, and gloves. Yes, the low country boil is a juice-dripping-down-your-arms, full-on sensory meal. Be prepared for the messiness of peeling shrimp and cracking and twisting crab legs. Never fear, though. You're also supplied with important tools—crab crackers and a crab leg pick—to help minimize the effort of digging meat out of the crab legs. 
I knew the minute Steve brought out the meal I made the right choice. It was served on a silver platter—literally—and covered with a puffed-up seafood bag that preserves the freshness and heat. 
Best of all, each item in the boil soaked in a special garlic butter sauce that has become a staple at Red Crab. Actually, the restaurant's special homemade sauces also come in Cajun, lemon pepper, or all of the above, and the spiciness level ranges from not spicy to extra hot. I purposefully drenched each bite of the crab leg, sausage, shrimp, and potato in the garlic butter sauce. The sauce made all of It taste fantastic. 
Those looking for a meal that leaves less of a mess on and around your plate might want to consider the fried scallops. A lightly crisped, golden-brown crust and delicate center makes them nearly melt in your mouth. In fact, they were so delicious that I refused dipping them into the accompanying cocktail sauce. 
At Red Crab, you won't hear waves crashing against the shore or see alligators quietly sinking underneath the water, but the restaurant's nautical-themed decor is impressive, nonetheless. Potential photo opportunities await as diners gaze skyward and see a variety of fish and starfish, as well as a canoe with wooden paddles, hanging from the ceiling. Admire the colorful, twinkling lights that wrap around the dining room. Glance at the unique display of miniature flags representing countries around the world. Or simply watch your favorite show or a sporting event on one of the restaurant's nine television sets. 
Red Crab offers everything you could want in a seafood restaurant: Great service, great food, and a great atmosphere. 
I left knowing there's nothing fishy about Red Crab's stellar reputation. 
Akers Media Group's James Combs has been a staff writer for several local publications since August 2000. He has had the privilege of interviewing some of Lake County's many fascinating residents—from innovative business owners to heroic war veterans—and bringing their stories to life. A resident of Lake County since 1986, James recently embarked on a journey to lead a healthier lifestyle. He has lost 60 pounds and walks nearly five miles a day. In his spare time, he enjoys target shooting, skeet shooting and watching his beloved Kentucky Wildcats!
Share This Story!