Ramshackle Cafe in Leesburg Under New Ownership!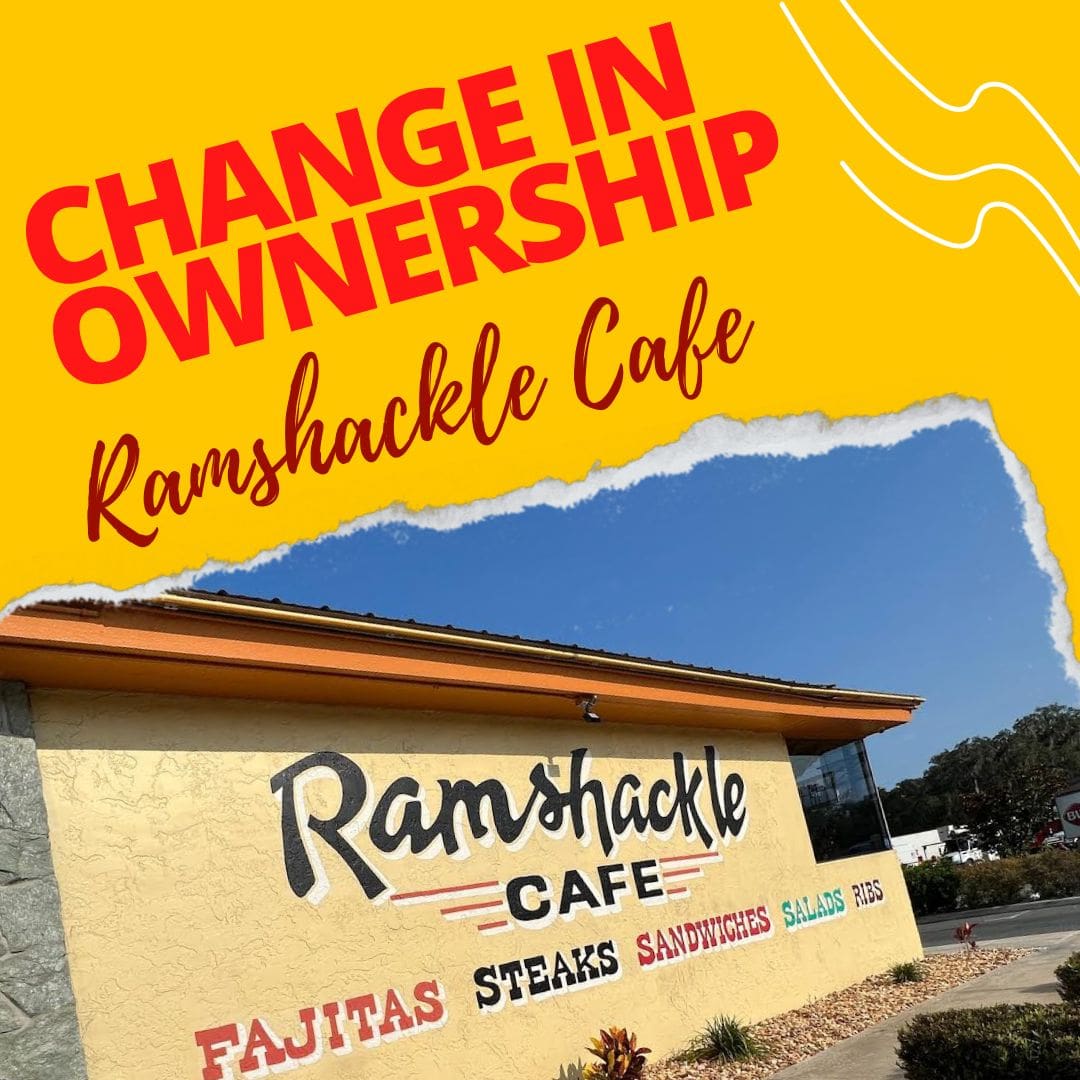 Ramshackle Cafe in Leesburg is a local landmark that has been serving customers since 1989 in the prime location right off of US 27/441 in Leesburg. From it's creation in 1989 the location has been owned by Glenn C Gerken. However various inside sources have said that Ramshackle has been sold as of Wednesday, July 19th and is under new ownership! We reached out to Ramshackle for comment regarding who the new owners are but they have not returned our calls. The location has had many mottos over the years including "Landmark for Great Food" "Locally World Famous" and "Your Favorite Neighborhood Grazing & Watering Hole Excess In Moderation…"
The restaurant is famous for their Sizzling Fajitas, Steaks, Killer Wings, Sandwiches, Salads and Ribs and Frozen Margaritas. They also have been known to put up happy birthday signs when a customer is celebrating a birthday if you call in advance.
This will be Ramshackle Cafe's first ownership change in their nearly 35 year history. The spot became very popular with locals in the early 1990s and began attracting outside attention due to its amazing location and friendly service provided. Back in 1989 Ramshackle was one of only a few businesses opened on this particular stretch of road. Over time the influx of people to the area only grew, other businesses sprouted up in the area and Ramshackle was not just known for its good food anymore, it became a local landmark. Ramshackle absolutely took off in popularity in the 2000s.
Local Leesburg Landmark
"Go straight when you hit Ramshackle" or "Bare left when you hit Ramshackle." Anyone who has ever driven by the restaurant has seen its familiar yellow paint job, yellow and white outdoor canopy and the big bright oversized lettering on the side of the building that promote what they have. It is a treasured location of Leesburg and the establishment has taken on somewhat of a landmark status in the town. Almost everyone who has lived in the area knows about this place even if you have never had a meal there, the building is instantly recognizable. But what does the future hold?
New Ownership Does Not Plan To Make Changes
From what our sources have told us, the new ownership has elected not to make changes. But the change in ownership has left some people in the area feeling uneasy. A few locations went through ownership changes recently including Giovannis, which was an italian establishment in The Villages. Within a few months of the new owners taking over, the establishment closed its doors for good. The restaurant is now a Chinese Food location. We absolutely do not envision this happening with Ramshackle. They have too good of a staff and management to let anything like that take place.
These are ever changing times for our area. Ramshackle wants to make one thing clear. They are NOT GOING ANYWHERE. They will continue to be a staple of this area for a very long time. That is the general consensus among employees that I talked to who wanted to remain anonymous. From a few employees I was able to talk to, they seemed upbeat and felt like this was a positive thing to happen for Ramshackle Cafe.
Ramshackle Has Made It Through Almost Everything
Many of the employees have been with Ramshackle for over a decade and they don't seem worried at all. One unnamed employee said "This restaurant has been through everything. We survived the great recession in 2008, we made it through Covid-19. If we can make it through all of that we will make it through anything together as a family."
That is what Ramshackle is like. Family. Rhonda the General Manager has had people that have been coming to the establishment since the early 1990s. Rhonda, who was then a young server, worked her way up to becoming the general manager and she has been at the same business for all of that time making sure guests have a good experience and come back.
We hope that the new ownership sees the value of this location. It appears they already have. By letting the business continue its daily operations untouched, we should see Ramshackle continue to thrive into the mid to late 2020s as the population continues to increase in our area. Ramshackle will celebrate their 35th Anniversary in 2024. We think Ramshackle will be around for a long time to come.
Kyle Coppola was born in Newton, Massachusetts and received his Bachelor of Fine Arts in Communications from Curry College in 2016. After traveling to Florida on a family vacation, he decided he could not get enough of the warm weather and made the move from snowy Massachusetts to central Florida 8 years ago.
For the last decade Kyle has gained valuable experience in social media content creation, marketing and sales, writing, video production, sports announcing and even broadcasting for local radio stations, such as FM 102.9 in The Villages and FM 91.5 in Massachusetts. Every year he volunteers at The Villages Charter High School as a play-by-play sports announcer for the football games as well as a public address announcer for the basketball games, including the annual Battle at The Villages Tournament.
Outside the office Kyle is a husband and father to two beautiful girls along with their cat. In his spare time he likes to spend time with his family, travel, play golf and swim. He is also a huge sports junkie and even bigger motorsports fan and loves to attend racing events when he can.
Share This Story!