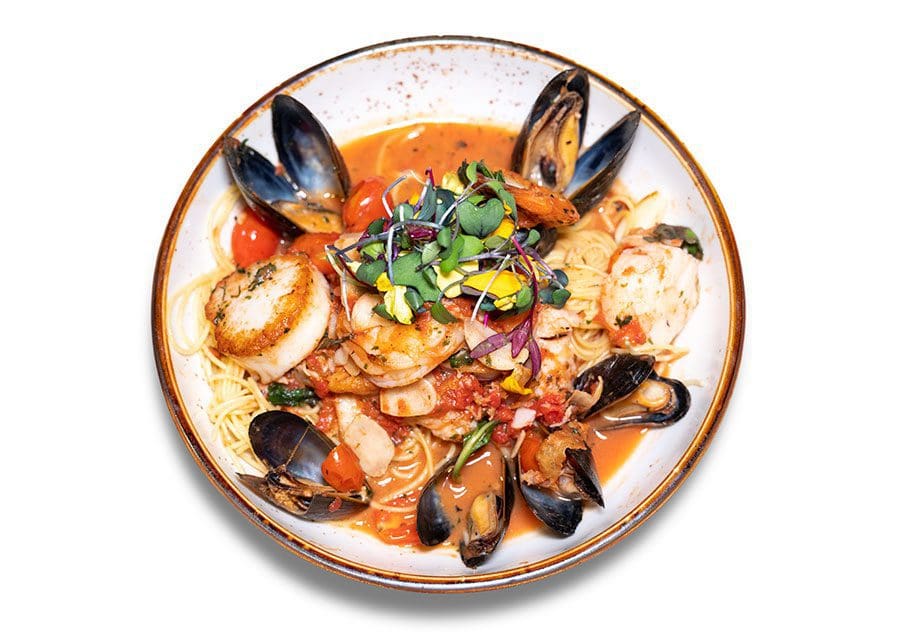 Chef Matt Street of Prima Italian Steakhouse shared with Style a few of the restaurant's popular dishes.
"We pride ourselves in top quality, fresh foods that not only taste good, but look amazing," Chef Matt says.
Spice up your dinner table this evening with the Cacciucco recipe and read the full story of Prima Italian Steakhouse here. Enjoy!
---
Ingredients
8 oz grouper (two 4 oz filet)
4 6 /10 sea scallops
6 16 /20 shrimp (peeled)
10 black mussels
4 tablespoons of olive oil
3-4 cloves of garlic, sliced
1/2 cup white wine
1/2 cup clam juice
6 oz marinara sauce
16 oz Cappellini pasta
Fresh basil and parsley to taste
Directions
Peel, clean and pre-cook shrimp.

Melt butter in frying pan over medium heat.

Add shrimp and water and lower the heat.

Let simmer for a few minutes, stirring so the shrimp won't stick. 

Add peppers and olive oil and season with seasoning salt, sea salt and black pepper.

Let it cook for 10 minutes, flipping them every few minutes so they don't stick and cook evenly.

Remove from heat, garnish with chopped chives and serve.

 
---
See also from Prima Italian Steakhouse these tasty recipes:
Blackberry & Fig Salad
with homemade balsamic vinaigrette