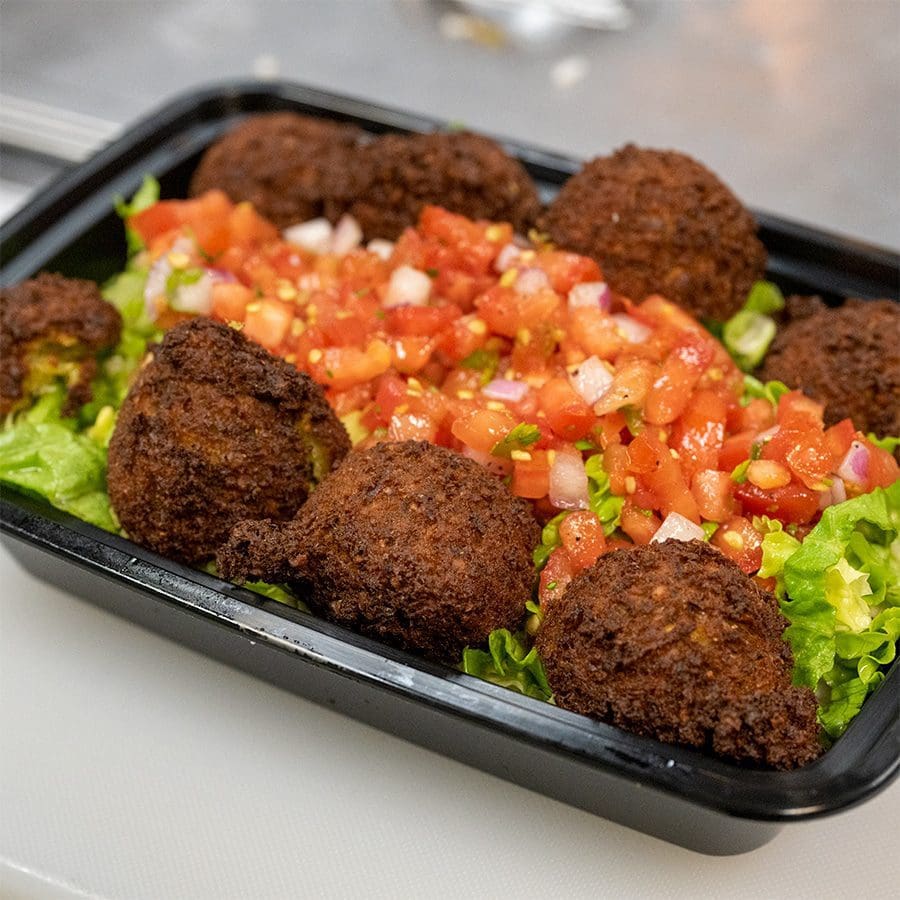 Read the story behind the recipe here!
Ingredients
1 cup of rice
1/2 cup black beans
4 falafels

 

Optional toppings: lettuce, cheddar cheese, pico de gallo, fire roasted salsa, fajita veggies, guacamole or sour cream

 
Falafel Ingredients
Makes about 12 falafels
2 cups dry chickpeas, soaked and cooked
1/2 an onion

 

8 cloves of garlic

 

1 jalapeno

 

Small handful of fresh cilantro
Small handful of Italian parsley

 

1/8 cup olive oil

 

1/8 cup lemon juice

 

1/8 cup vinegar

 

Falafel spice – mixture with cumin and coriander

 

Salt to taste

 

1/2 cup of flour

 

1/2 cup bread crumbs
1/2 tbsp baking powder
Falafel Directions
Blend onion and garlic in food processor. Rinse in cold water to remove acid from the onion and garlic and replace in food processor. Add jalapeño, cilantro, parsley, olive oil, lemon juice, vinegar and spices to processor and blend until creamy. Be sure to scrape down the sides to ensure everything is blended. For chickpeas, a meat grinder is best, but a blender may be used as well. Grind or blend the beans into a very fine mixture. Place in a large bowl and add flour, bread crumbs and baking powder and mix. Add the wet mixture and stir until it is fully combined. Use an ice cream scoop or form balls from mixture and deep fry until golden brown. 
Falafel Bowl Directions
Cook rice and black beans according to directions. Place rice in bowl first with black beans on top. Place desired toppings, like lettuce, pico de gallo, fajita veggies or cheddar cheese. Top with sliced falafel balls.
---
Over The Top Pita
240 Citrus Tower Blvd., Suite B, Clermont, FL
Hours: 11 a.m. to 8 p.m.
Mon-Sat, closed Sunday (hours subject to change)
352.708.6588
overthetoppita.com
info@overthetoppita.com
---