Recipe: Pan Seared Mahi-Mahi over Coconut Rice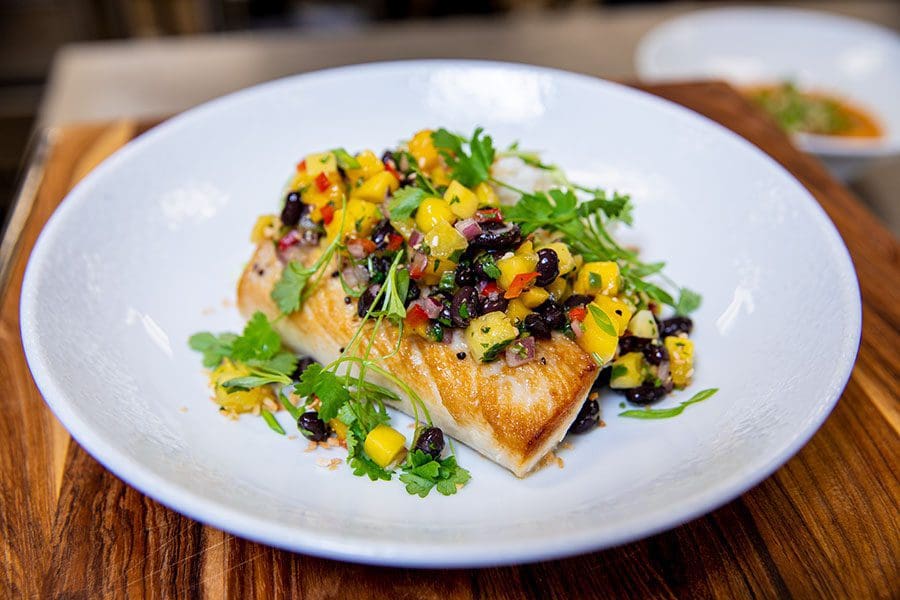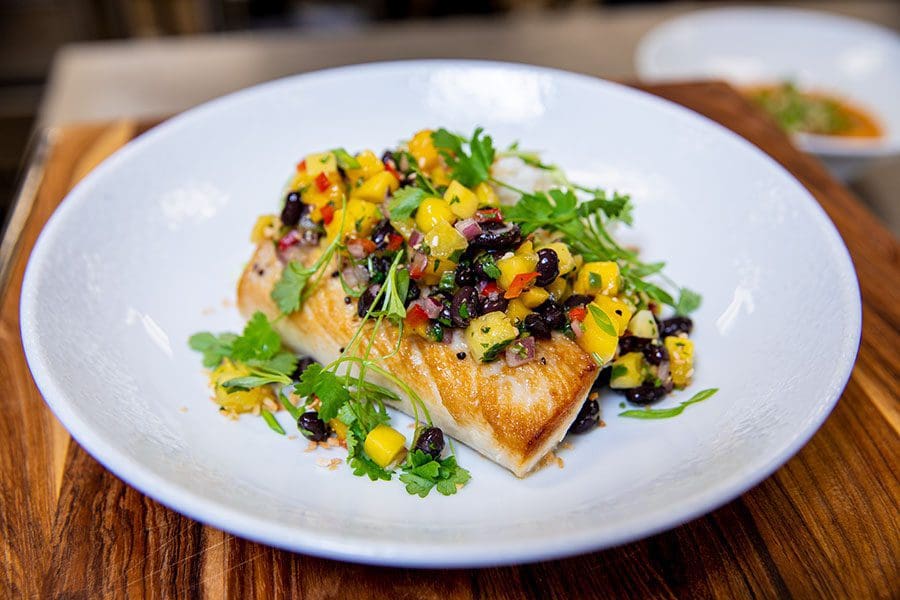 Daphne García Lebrón shared with us her delicious tasting culinary masterpieces. This recipe is for her special Pan Seared Mahi-Mahi over Coconut Rice topped with mango, black bean salsa.
Read her story as the head chef at The Brownwood Hotel & Spa in The Villages while you enjoy! Bon appétit!
---
Pan Seared Mahi – Mahi
Ingredients:
6oz Mahi-Mahi fillets (one per person)
Salt and pepper to taste
Olive oil as needed.
Directions:
Pat the mahi-mahi dry with paper towels. Season all over with salt and pepper.
In a medium nonstick pan over medium-high heat, add olive oil and heat for 3-5 minutes until just starting to smoke. Add the mahi-mahi and sear undisturbed for about 4 minutes until bottoms are well-browned and sides are cooked about halfway up the fillets. Flip the fillets and continue to sear, about 2 to 4 minutes more depending on the thickness of the fillets, until just cooked through and the flesh flakes easily.
---
Coconut Rice Recipe
Serves 8 people
Ingredients:
2 cups of Jazmine rice

 

1 can of coconut milk
1 ½ cups of water
1 cup of toasted coconut flakes
½ cup of chopped scallions
Directions:
Rinse Jazmine Rice.
Heat coconut milk and water in a medium nonstick saucepan set over medium-high heat, bring to a boil and season top with salt and pepper. Add rice and bring to a simmer. Reduce heat to low, cover and simmer for about 15-20 minutes until liquid has been absorbed.
Remove from heat, leaving it covered so it can rest for about 15 minutes.

 

Uncover, fluff with a fork, then add some of the toasted coconut and chopped scallions on top and use some to garnish the plate.
---
Mango-Black Bean Salsa
Serves: 6 people
Ingredients:
½ cup mango, diced
½ cup black beans
½ cup red and green peppers diced
½ cup diced red onions
1 tablespoon chopped cilantro
1 Lime juice
1 tablespoon extra-virgin olive oil
Salt and pepper to taste
Directions:
Place all ingredients in a mixing bowl and stir together. Add salt and pepper to taste. Ready to serve.