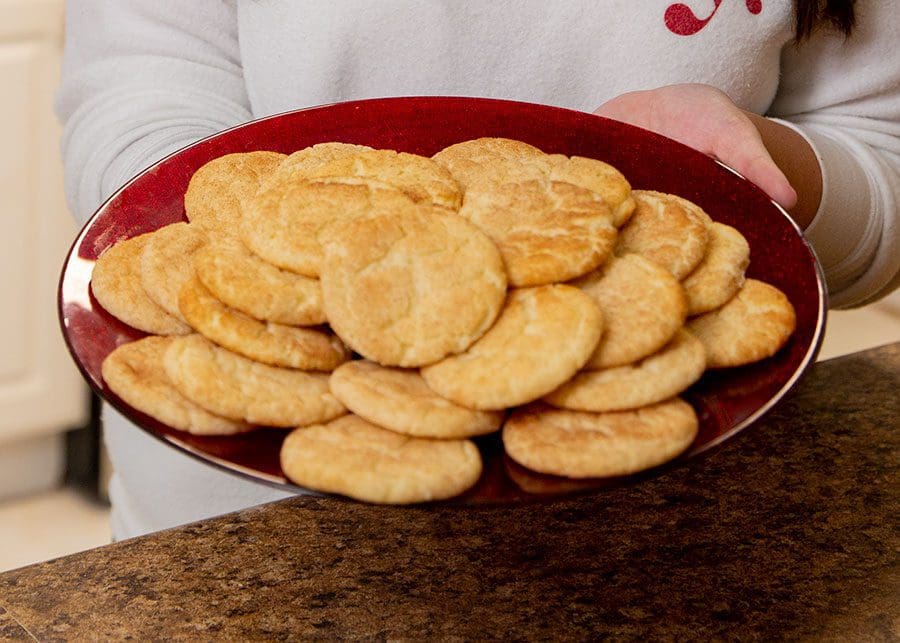 Nikki Anderson shared with us her sweet homemade delights and has given us a few of her own personal recipes. This recipe is for her snickerdoodle cookies.
Read her story as a self-employed home baker here as you enjoy! Happy Holidays!
---
Snickerdoodles
Ingredients
1 cup soft shortening (can be butter instead)
1 1/2 cups sugar
2 eggs
2 3/4 cups self-rising flour (or all-purpose flour + 1/2 teaspoon salt and 1 teaspoon baking soda)
2 teaspoons cream of tartar
Directions
Mix together shortening, sugar, and eggs.
Sift and stir in the flour and the cream of tartar.
Chill dough (about 30 mins, enough to not be sticky when rolling out).
Roll into walnut-size balls.
Roll in mixture of 2 tablespoons sugar and 2 tablespoons cinnamon.
Place 2 inches apart on cookie sheet.
Bake until lightly browned but still soft.
They puff up and then flatten with crinkled tops.
Bake: 400 degrees for 8 – 10 minutes.
Makes around 3 1/2 dozen with a small cookie scoop.