Regional Finals Football Playoff Preview 11.25.2022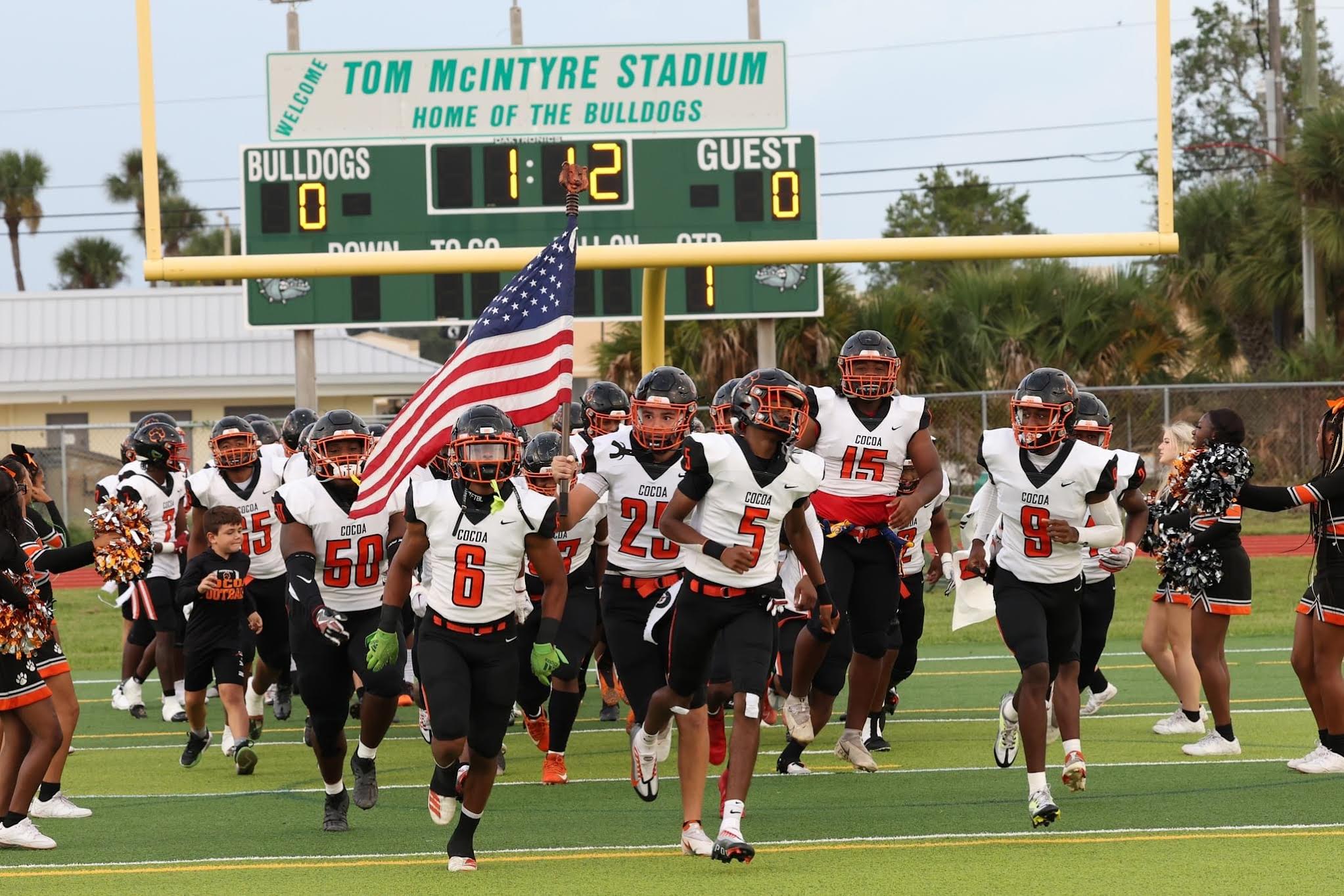 Lake Minneola and South Sumter are in the High School Football Regional Finals!
Two high school football teams remain in Lake & Sumter County as they try to stay alive and earn a trip to the FHSAA State Semifinals a week from Friday night! Both Lake Minneola and South Sumter earned the right to play the day after thanksgiving! These two teams have some fantastic matchups with absolutely everything on the line! Let's take a look at how they stack up!
#2 Cocoa High 8-3 @ #1 South Sumter High 12-0 : 
Friday at 7:30pm
South Sumter comes into this game 12-0. It's tied for the most wins in South Sumter history. The only other teams to successfully make it this far in the season and win 12 games was the 2005 team and 2013 team. The 2013 team made it exactly this far and nearly made the states but were eliminated by Lakewood from St. Petersburg Florida. This team would like nothing more than to not only break the school wins record but get to a state final four! This is a Raider team that went 0-10 just 5 years ago! A truly incredibly turn around
The Raiders have been laying waste to teams all year long but now they have to contend with Cocoa a team that's used to success and championship runs. The Tigers went to the state semi finals last year but lost to Cardinal Gibbons so they are looking to get back there again. In fact the last three years Cocoa has been eliminated from the playoffs by Cardinal Gibbons. They would like nothing more than another championship run so Cocoa will be coming into this game with plenty on the plate.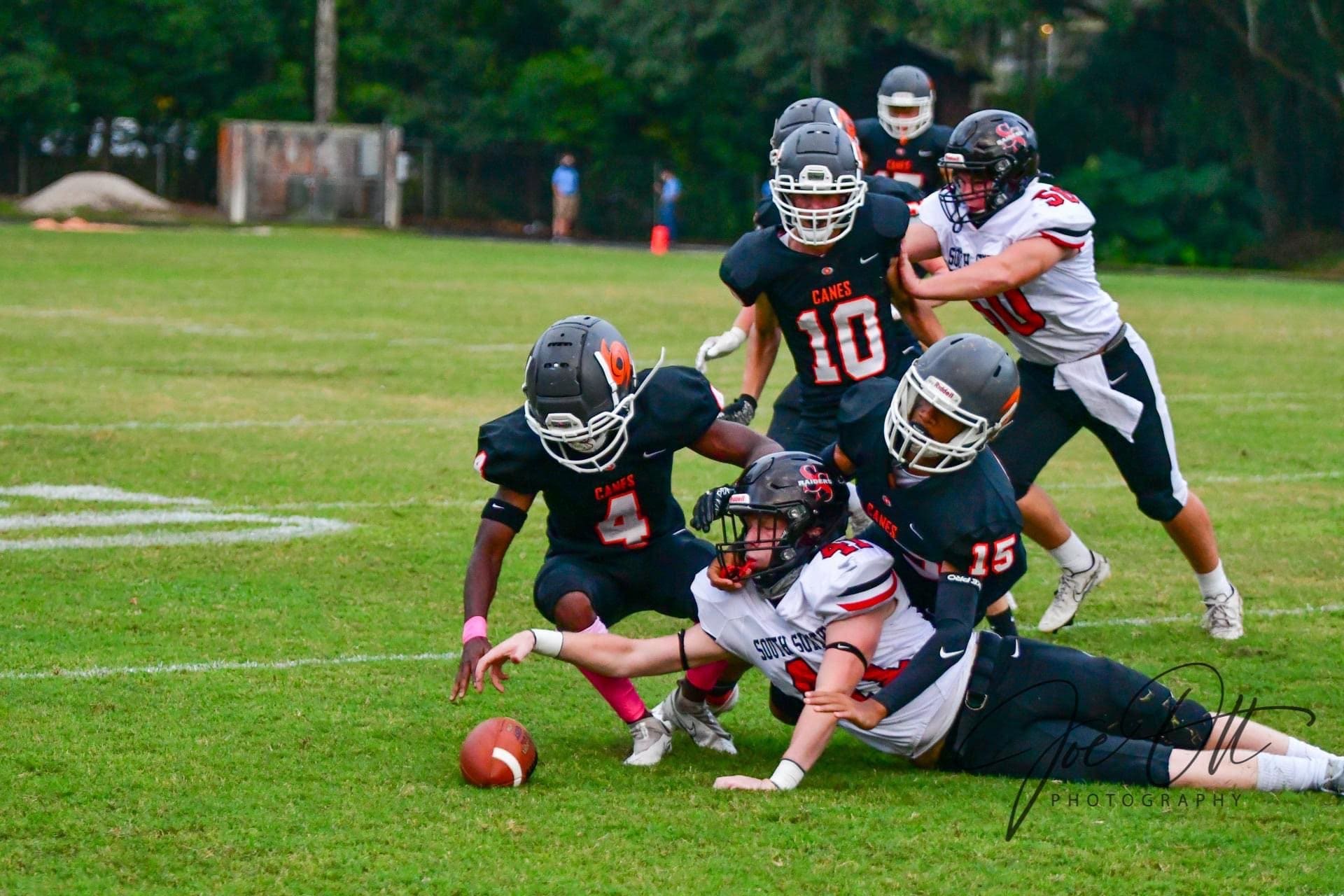 The Tigers have had what some have called an off year for them. Cocoa hasn't lost more than 3 games in a season since the Covid 19 shortened season in 2019. But those losses came at the beginning of the year for the Tigers. Cocoa has gone on to win their last 6 games in a row and look really good coming into this game against South Sumter. What many don't realize is those 3 losses came against really good teams.
Both offenses will be key to winning the game but we will also be touching on the defenses both teams provide because defense wins championships. South Sumter comes in with perhaps one of the scariest offenses in the league. Senior QB #5 Eian Finkley is closing in on 2,000 total yards on the season. He not only hurts opponents through the air but on the ground as well. He averages 19.6 yards per pass and has 24 total touchdowns though the air and on the ground this season.
Finkley has some great help with Junior RB #3 Jamare Dorsey who is lighting up defenses. Dorsey has an impressive 8.3 yards per carry and 20 touchdowns. That yards per carry average means if South Sumter can rely on the run game it could set up for a long night for Cocoa's defense. Dorsey is known for wearing defenses down so be on the lookout for the run game to be a factor. Dorsey splits time with Senior RB who also compliments the Raider offense with 9 touchdowns and nearly 700 yards of offense. He's a great change of pace back that keeps defenses on edge.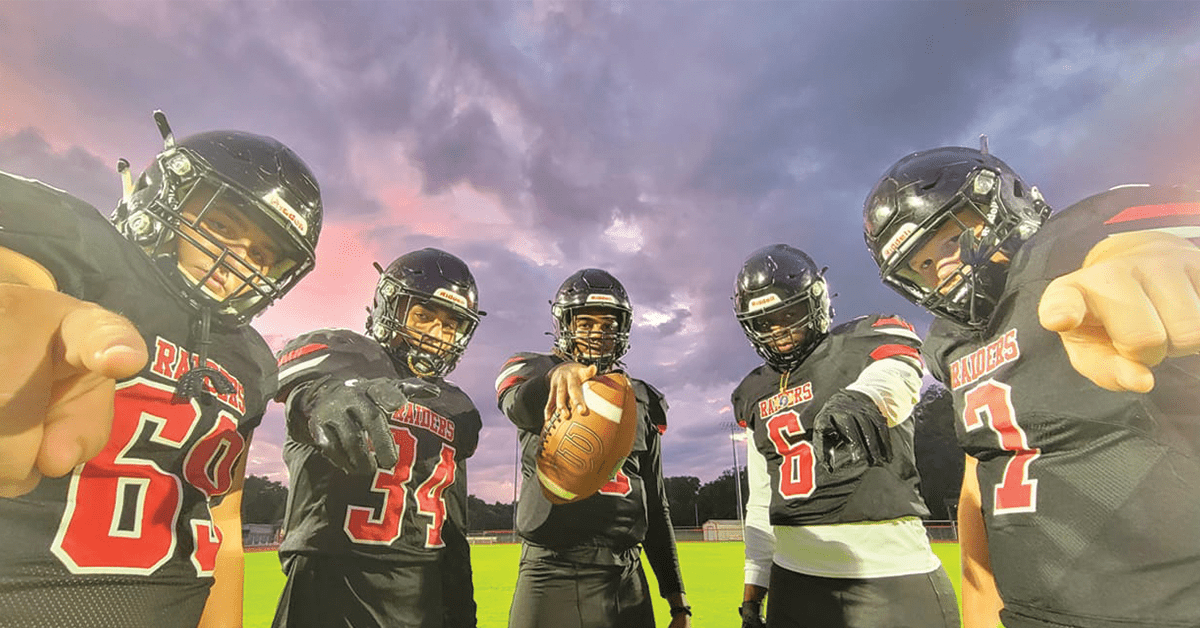 Meanwhile the pass attack for South Sumter has been excellent as well this season. Sophomore WR #28 Stanley Young and Senior WR #8 Elijah Adams both combine for over 700 yards and 11 touchdowns between the two. Young is the number 1 wide out whole Adam's is also a formidable target especially when South Sumter is working the hurry up offense.
The Tigers also boast an incredible offense. Cocoa has one of the best QBs your going to find in Florida. Senior QB Blake Boda has unleashed a firestorm of destruction upon opposing defenses this season. Boda has an impressive 3,000 yards passing and 150 yards on the ground. He has 43 total touchdowns this season which leads the team! The next closest player is Junior WR #7 Dayday Farmer with 9 on the year. Overall this is the top play maker for the Tigers and South Sumter will need to contain him.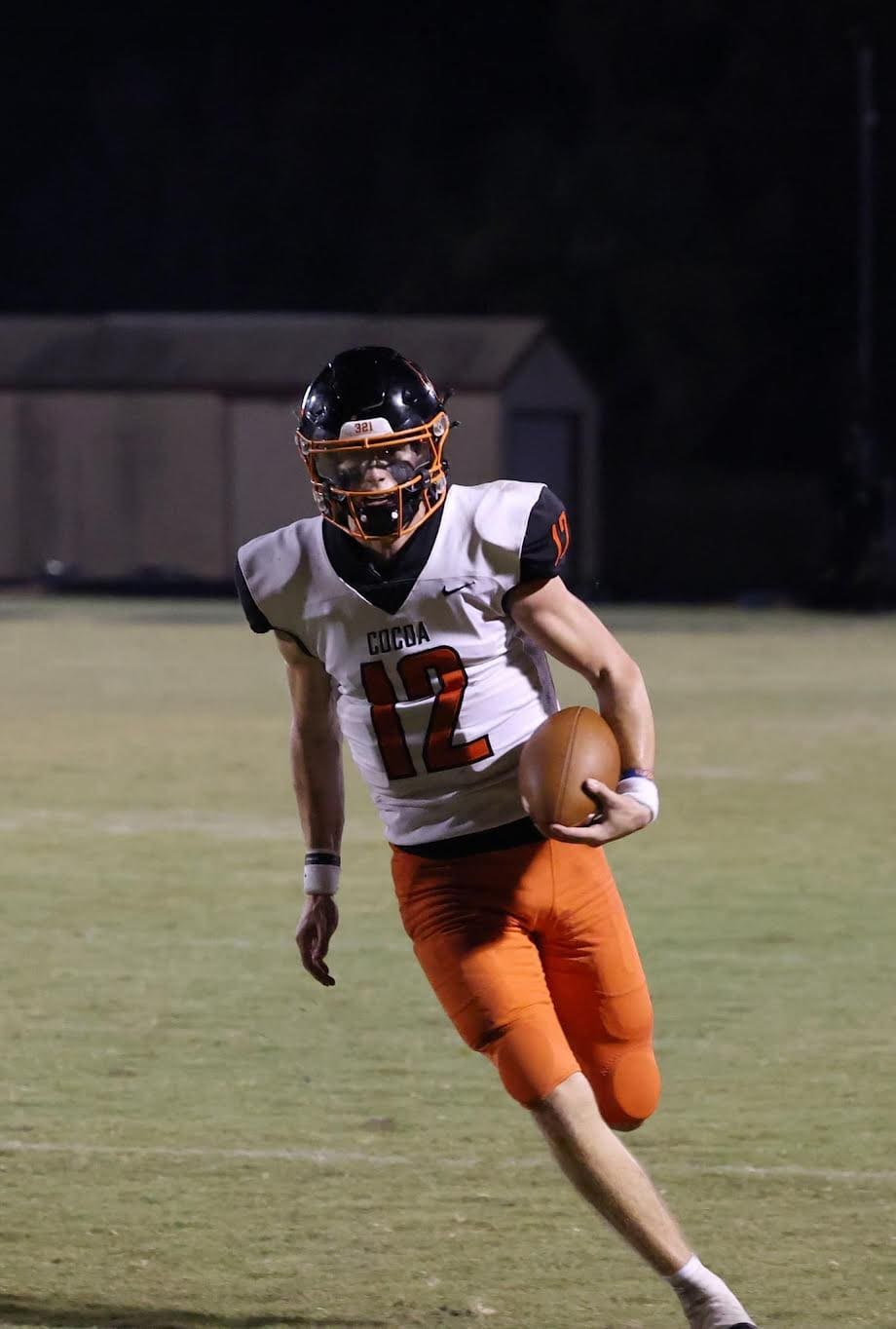 The rushing attack for Cocoa isn't as fierce as it's been in recent years but they still offer a punch. They rotate running backs constantly so each running back is fresh. Some standouts at the position include Senior #2 Anthony Bridgewater who leads the team in touches and touchdowns. Elsewhere the wide receivers also provide a ton of upside for the Tigers.
The Tigers wide receiver corp is really good this year aided by the fact Cocoa has an insanely good QB. Junior WR #7 Dayday Farmer is the teams best receiver. Senior WR #8 Kyon Calhoun and Senior WR #21 Cedrick Hawkins and Sophomore Jayvan Boggs combine for over 900 yards through the air so South Sumter will need to protect against the pass.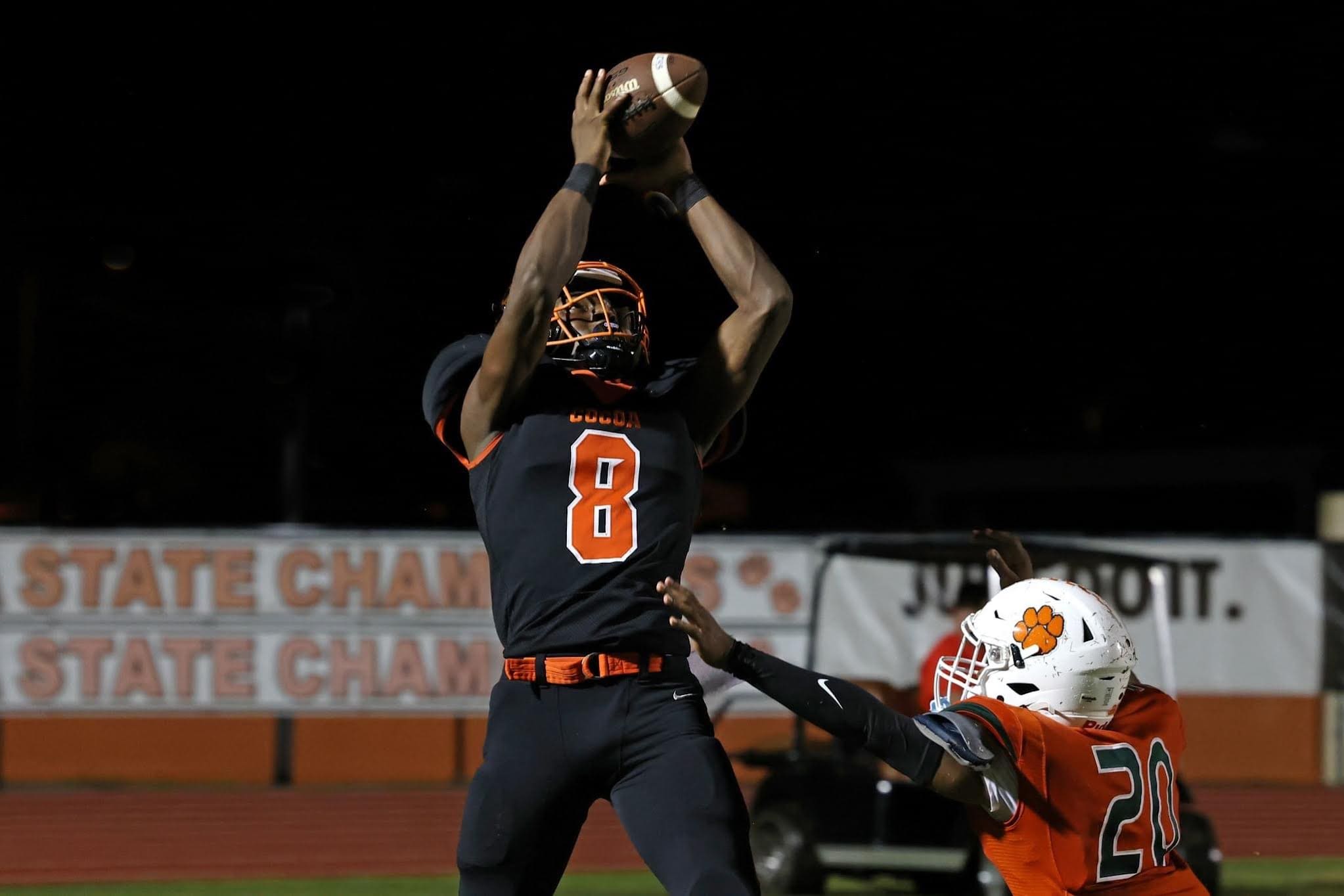 Defensively it's a great matchup. South Sumter has only given up 110 offensive points this season thats one of the lowest totals in the state of Florida. Very impressive statistics and the defense is lead by Sophomore Offensive Linebacker #42 Malakhi Boone. He is scary standing 6"2 230lbs and leads the team in tackles with 67 while adding 7 sacks this season. Boone also gets help from fellow linebacker Junior #30 Ty Kadur who leads the team in sacks with 13 total on the season.
Kadur and Boone are great leaders and are only underclassman so we look forward to great things from them the rest of this season into the next one. South Sumter also has a good kicker and in a pinch he can help the Raiders win a game if it comes to that. Senior Abasai Mejia Lopez has been excellent this year and is one of the best kickers in the league.
Cocoa has a very similar defense that will pose challenges to The Raiders. Senior DT #50 D'Andrevius Dorsey leads the team in sacks with 6 on the season. Junior Outside Linebacker #24 Joshua Brown leads the Tigers in tackles with 47 while he's aided by Senior #5 Caleb Dobbs who also has 44 tackles.
Both defense are good but South Sumter has the edge in a few categories which means the offense of Cocoa is really going to need to bring their A game in order to compete. While The QB situation absolutely favors the Tigers overall South Sumter has a more equal footing when it comes to the ground attack and passing so it should be a real competitive contest!
We wish both teams the best of luck as the winner represents their region in the State Semifinals with a trip to a potential Super Bowl on the line!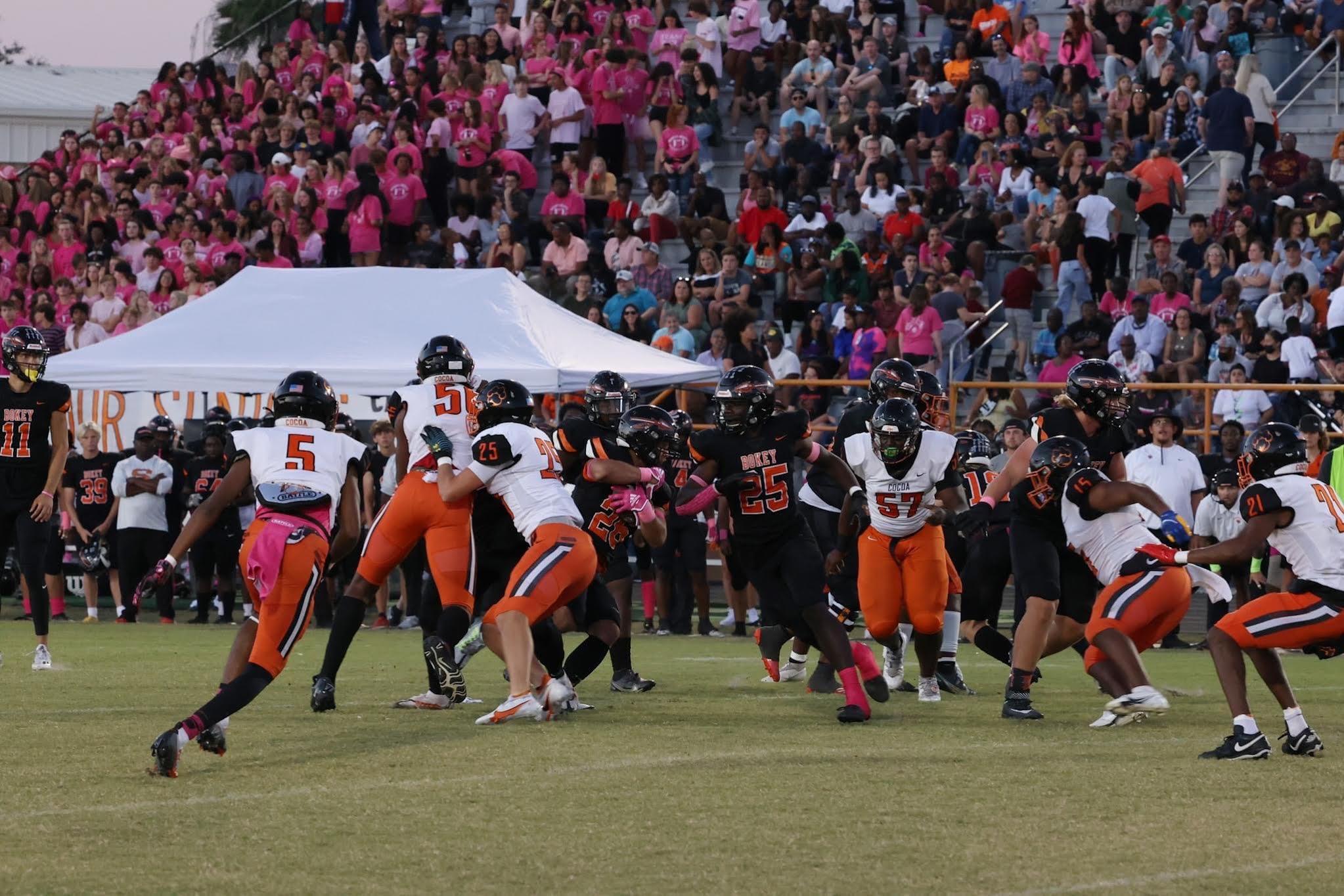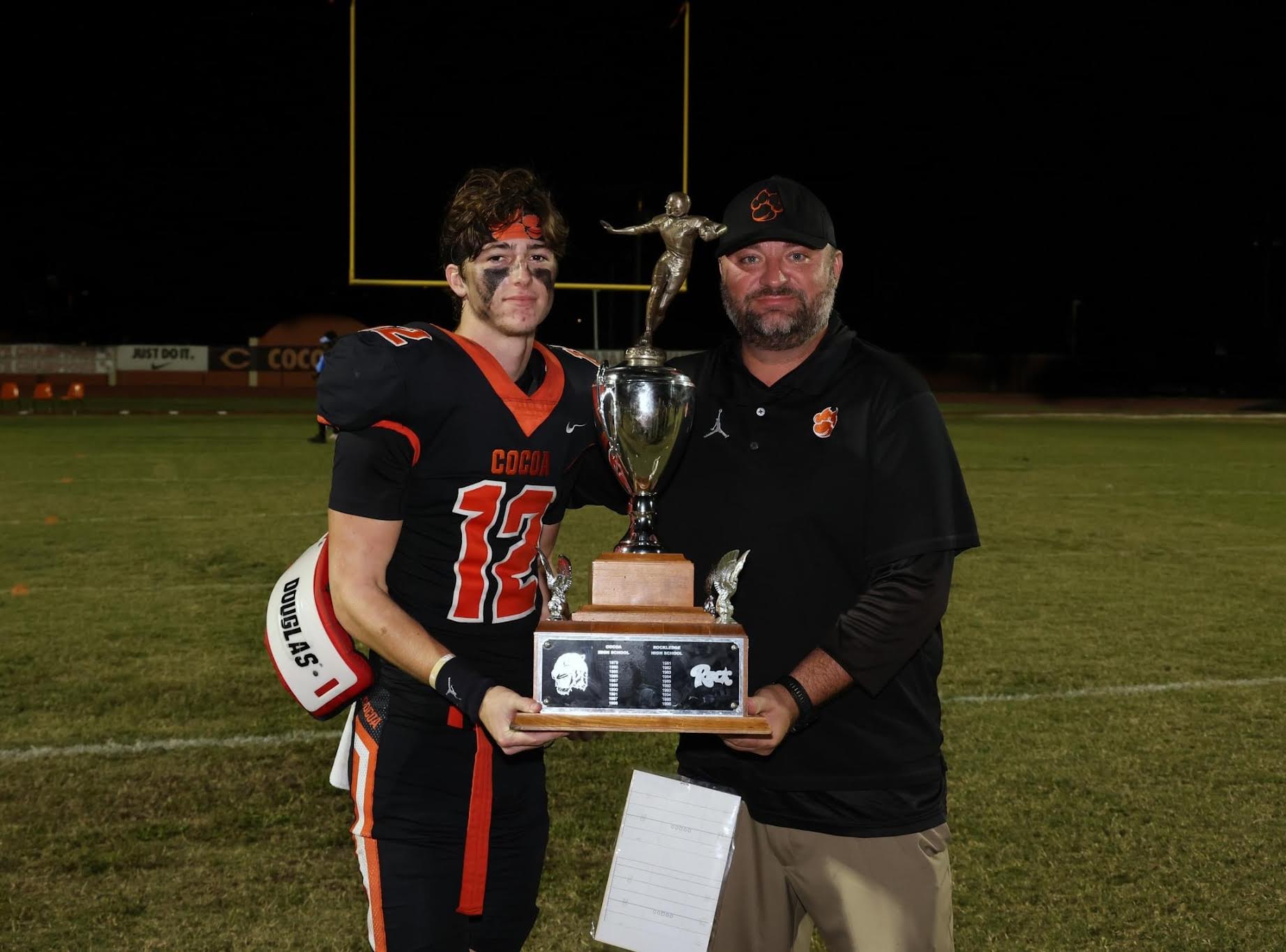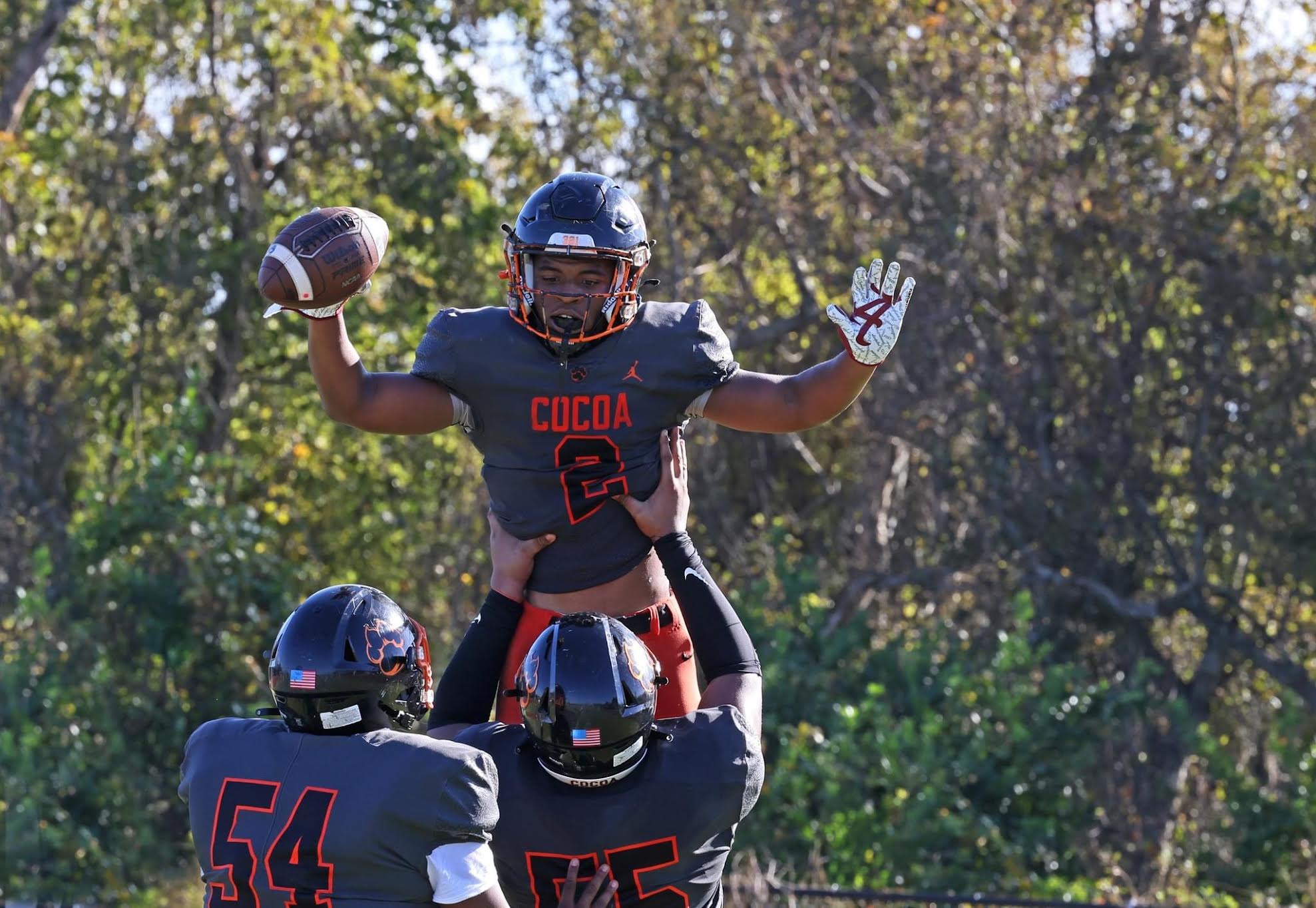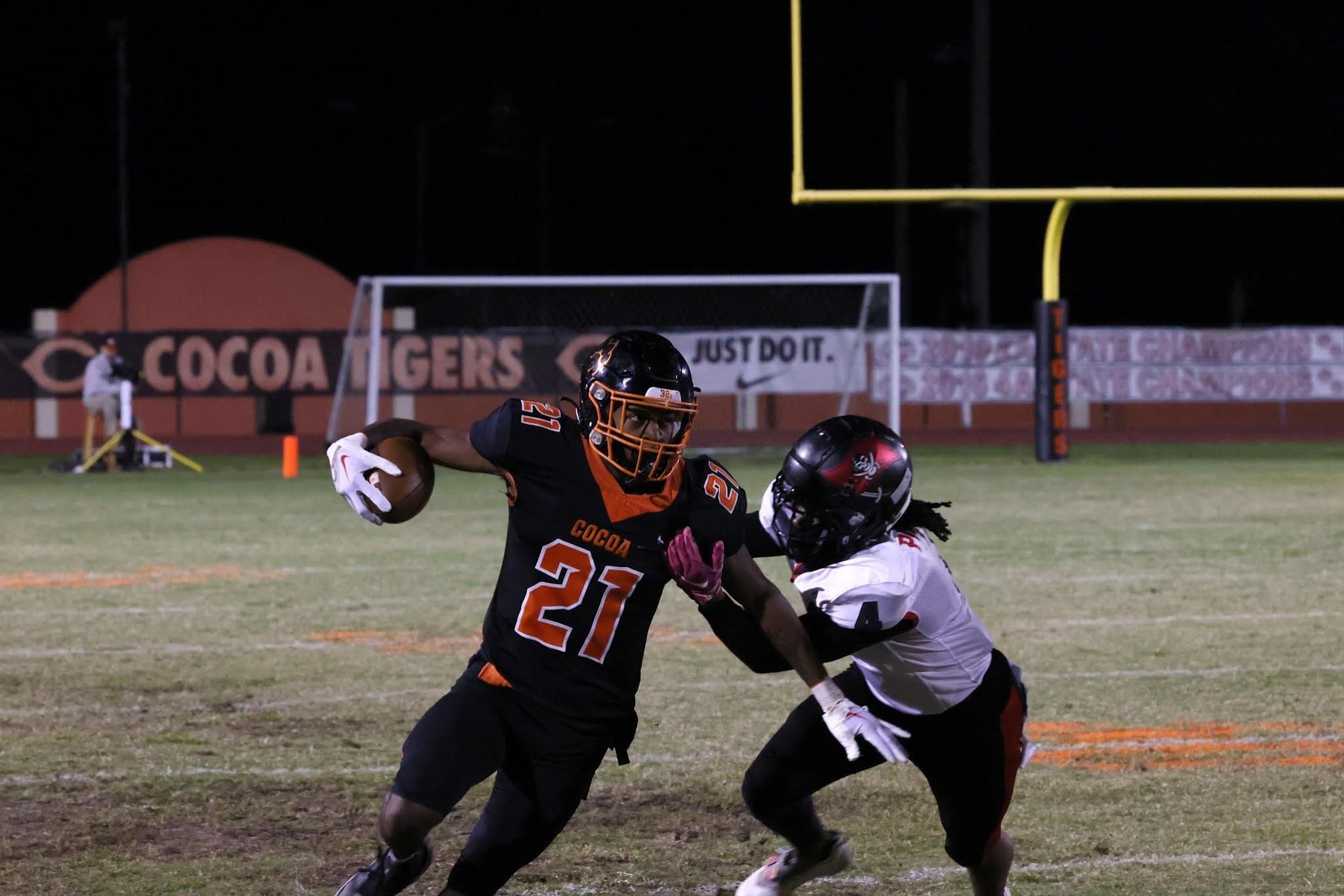 #2 Lake Minneola 10-1 @ #1 Lakeland High 11-0 : 
Friday at 7:30pm
Lake Minneola comes into this game after handing a beat down to Bartow and Winter Haven. The Hawks are looking amazing coming down the final stretch of the 2022 season. As much of a great victory as it was for Lake Minneola against Winter Haven this contest appears like it may actually be a much tougher matchup for the Hawks and for one of the first times all season Lake Minneola will actually be the underdogs in this matchup as they travel to what will be a very hostile environment down in Lakeland!
Lakeland comes into this game at 11-0 on the season. The Dreadnoughts have one of the coolest names in the sport and honestly they play as their name suggests. This team is absolutely stacked with talent and if Lake Minneola is going to pull a would be upset they will very much need to contain the offensive threats that Lakeland has while trying to wear down that defense with the likes of John Celestin and Braylen Knauth who we will touch on.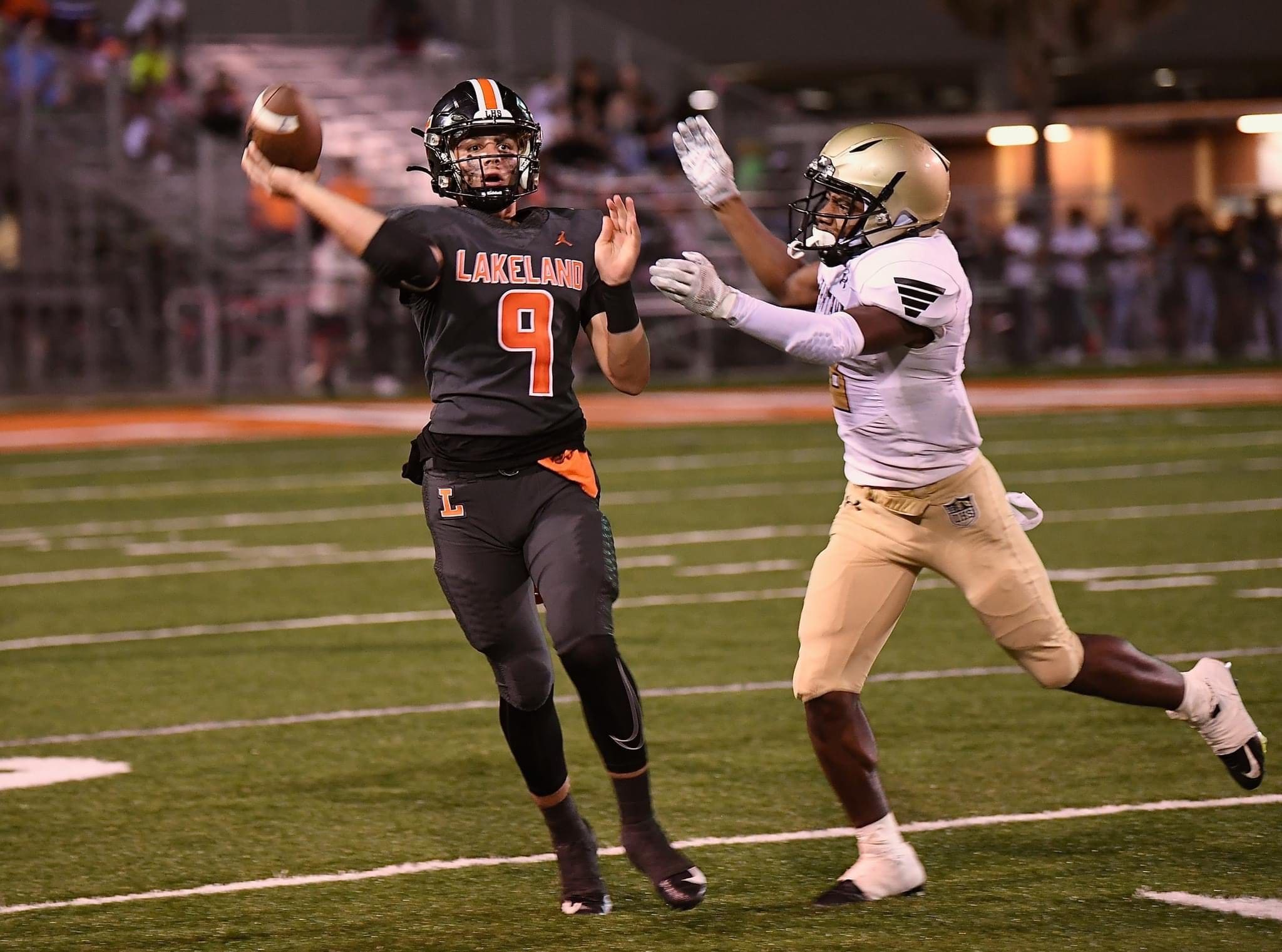 Lakeland comes in perfect on the year. While the statistics may not be as much as The Hawks, the Dreadnoughts have faced some stiff competition this season. Senior QB #9 Zach Pleuss has been just as dangerous on the ground as he has been through the air but is averaging 15.4 yards per throw so anytime he decides  to air the ball out he is dangerous. Pleuss has 12 touchdowns through the air while running 6 more on the season totaling close to 20 of Lakeland's total this season.
Overall the rushing attack is very good for the Dreadnoughts. Lead by Junior RB #3 D'marius Rucker and #22 Markell Johnson. Both these players have bee terrific splitting time in the backfield and have run for over 1,300 yards combined. Senior RB #3 Don'Ares Johnson also contributes heavily averaging 8.7 yards per run. But it's D'marius Rucker who owns the best yards per run at 10.8 yards. That is a dangerous statistic and if Lakeland can get Rucker moving the ball well it could be a long night for The Hawks defense.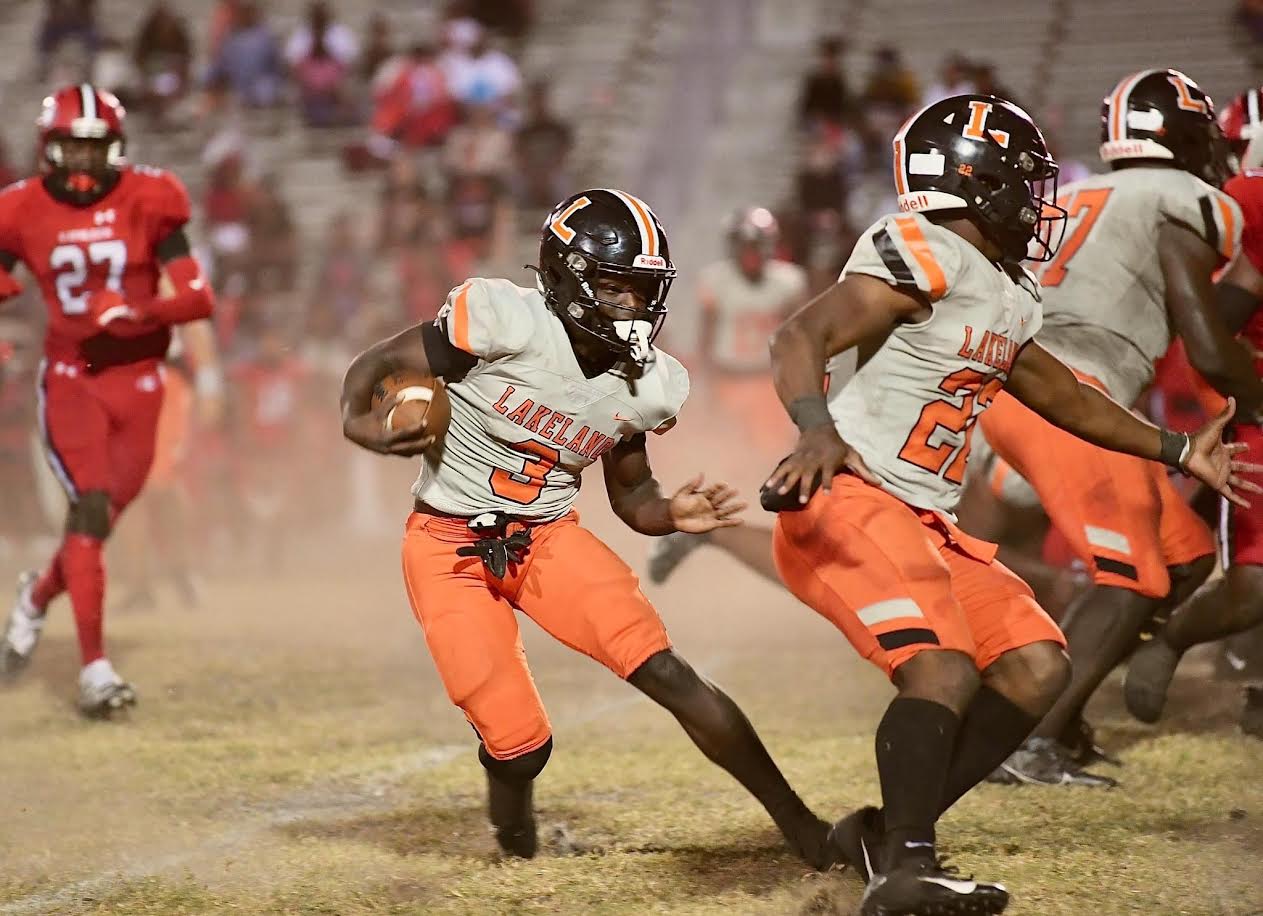 We can't forget about the receiving corp for the Dreadnoughts! Lakeland likes to spread the ball around the field. They do so by dishing the ball out to some excellent wide outs. Senior WR #6 Daidren Zipperer along with Senior WR #10 Tyler Williams and Senior WR #16 Jhoelle Velazquez have been tearing apart opposing defenses all year. Between all these players they have a combined average of 17 yards per reception. Given the volume they get during the course of a game that can make things very difficult on defenses to combat.
On the other side of the ball, The Hawks are lead by Senior QB #14 Quinn Neimann. To say this guy has been terrific this season would be an understatement. He isn't just terrific he has been playing lights out football. Neimann comes into this contest having thrown for over 2,097 yards. He is now one of the all time leaders in yards by a QB in Lake Minneola history. Neimann has 23 touchdowns this season of which 21 have come through the air.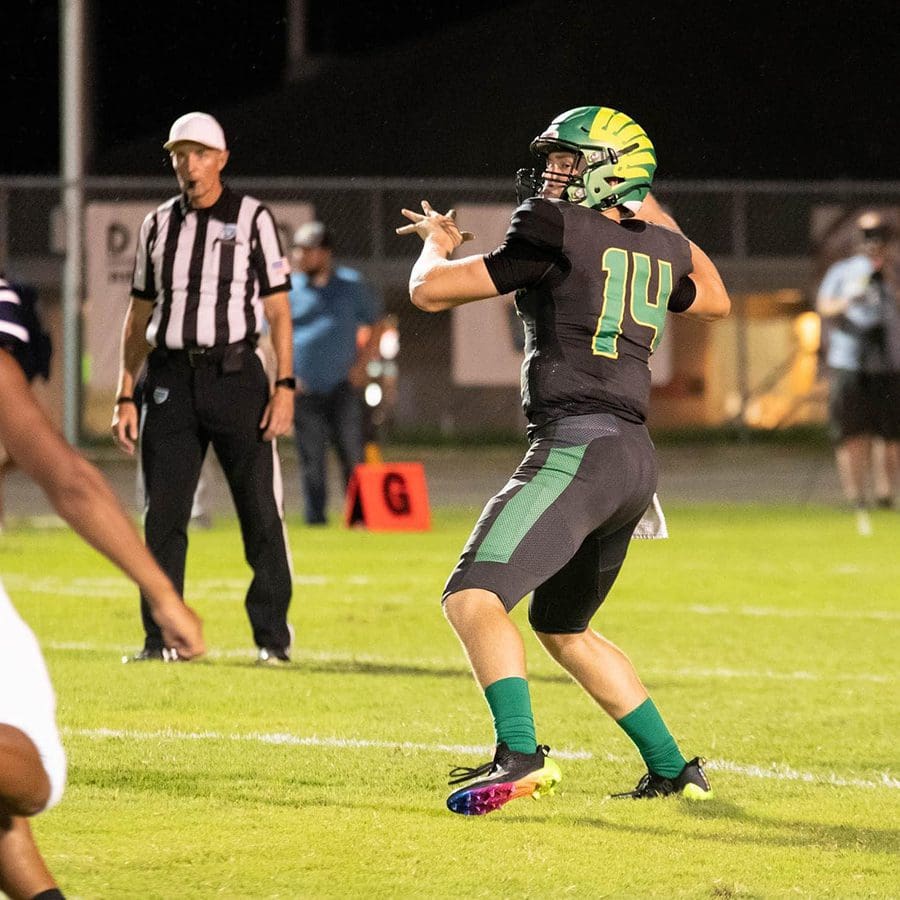 Neimann hasn't had to rush much because his starting Running Back has been absolutely insane this season. Senior RB #5 John Celestin has an impressive 7.8 yards per carry but even more impressive is that he has scored 32 touchdowns this season and has run for well over 1500 yards! That kind of productivity between these two has had opposing defense in shambles all year long.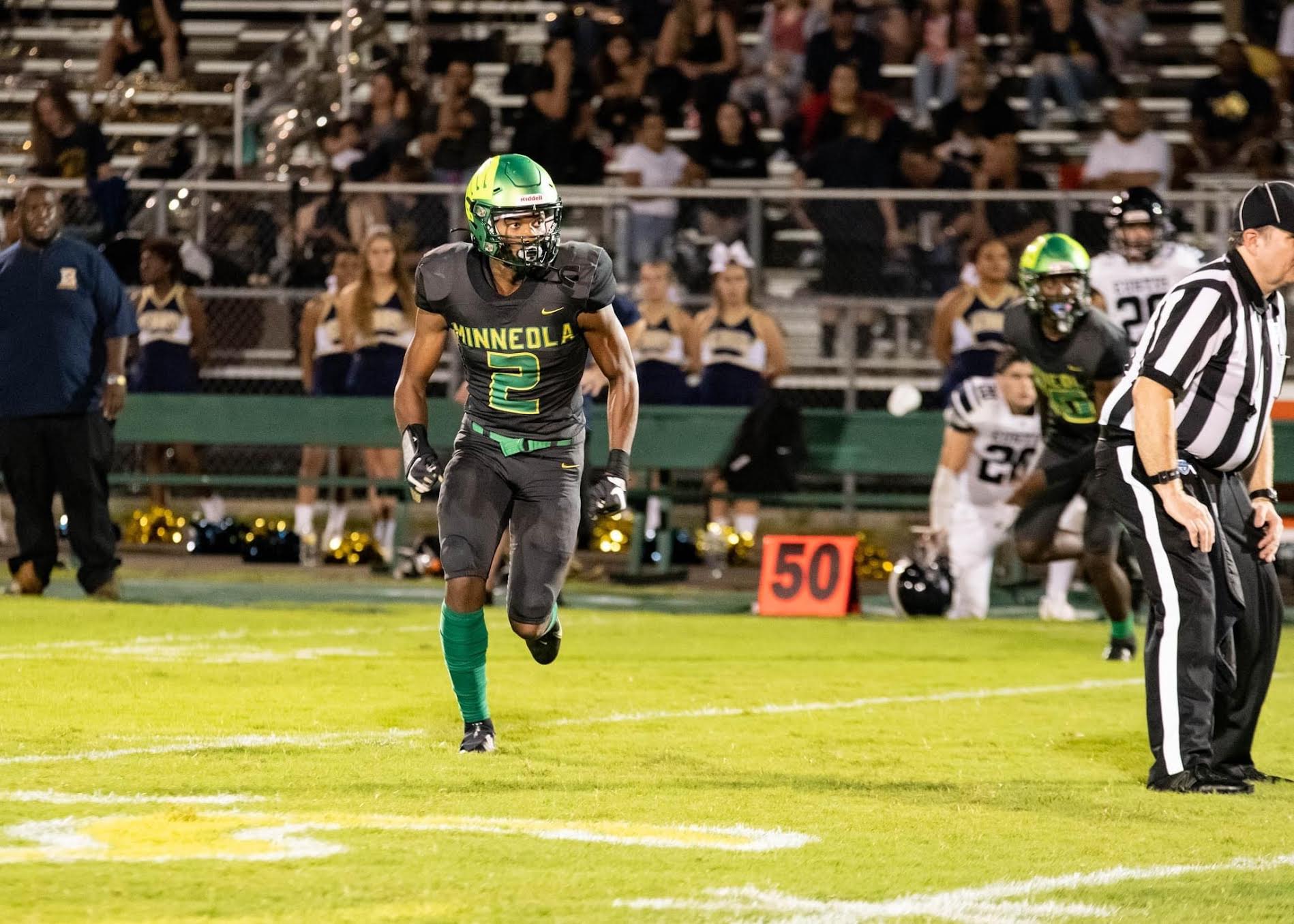 The Hawks utilize two standout wide outs including Braylon Knauth and David Ramos who combine for over 1,500 yards and 16 touchdowns between the two of them. We believe the Hawks will try and start with the ball on the ground and attempt to control the pace of this game but if the Hawks get behind early don't be surprised if these two have big games. When the Hawks decide to put the ball in the air they can be on of the best in state to do it. Regardless its been an excellent season for both these players. For Ramos he is coming into the final days of his playing career at Lake Minneola and would like nothing more to get to a state final four. All seniors on both sides know that this game will be someone's last but neither team want's to go out like that.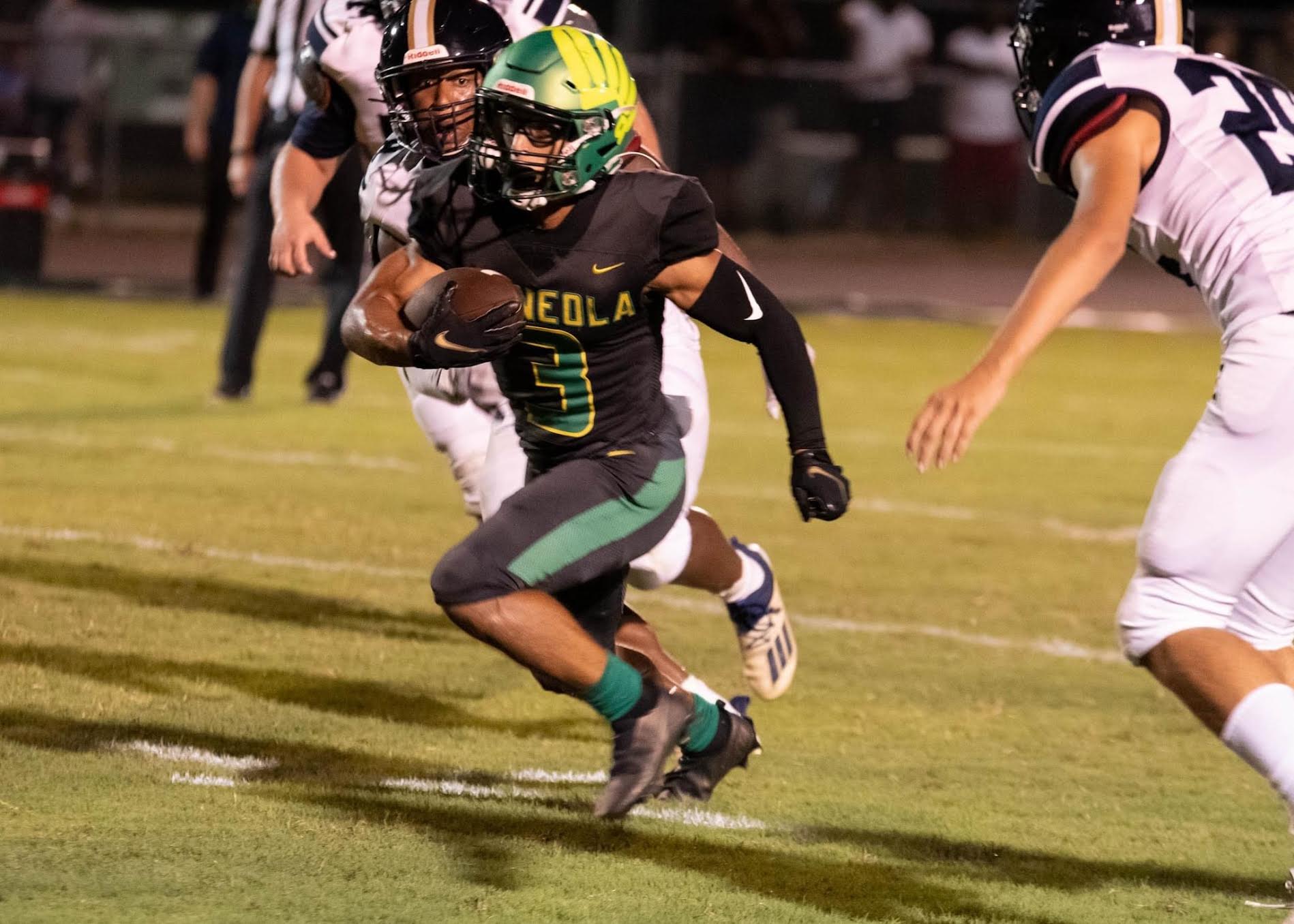 Defensively the Hawks have some great leaders that include Junior MLB #33 Andrew Bowles and Senior ILB #9 Miles Mitchell. Both of these players combine for over 100 tackles this season. Mitchell leads the team in total sacks with 4.5 on the season while he also leads the team in tackles. The Hawks have the tendency to force teams to turn the ball over and they will need to make some key stops in this game. They should give The Dreadnoughts a tough time of it. If they don't the offense will certainly need to back them up considering what's on the other side of the field.
Lakeland likewise has a stout defense that has certainly helped this team stay undefeated all season long. The defense is run by Senior #5 Rolijah Hardy. He leads the team in tackles. Hardy is helped by Junior Defensive End #8 Joshua Smith. Smith has 5 sacks this season and 57 tackles so far. Leading the Dreadnoughts as far as sacks is Senior Middle Linebacker #1 Larry Jones. He is a massive human standing at 6″2 240lbs. Not a person you want to run into if your a running back or receiver. Jones has 13 sacks this season. We think if the defense of Lakeland can somehow prevent John Celestin from tearing it up on the ground then they have a chance in this game. The more The Hawks have to put the ball in the air the more potential for this defense to possibly come up with some turnovers or 3 and outs.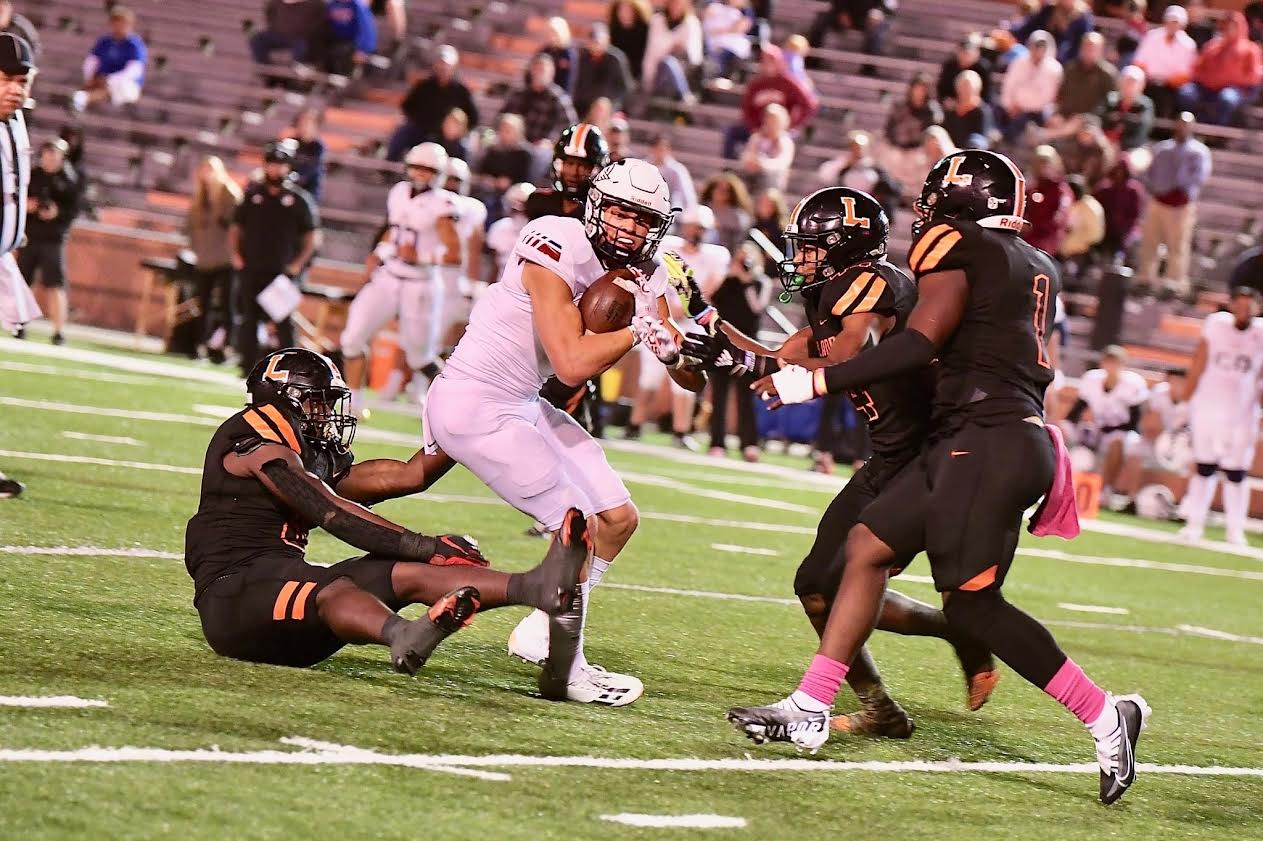 Overall this should be a great matchup! This is a home game for Lake Minneola and possibly the last one of the season. The winner of this game takes on either #1 seeded Lakeland or #5 Mitchell High. That should also be a fun contest. Mitchell should give Lakeland a run for their money. What a great section of the bracket this is! We can't wait to see how it all plays out. If you are in the area come out and support the Hawks as they try and make the Regional Finals!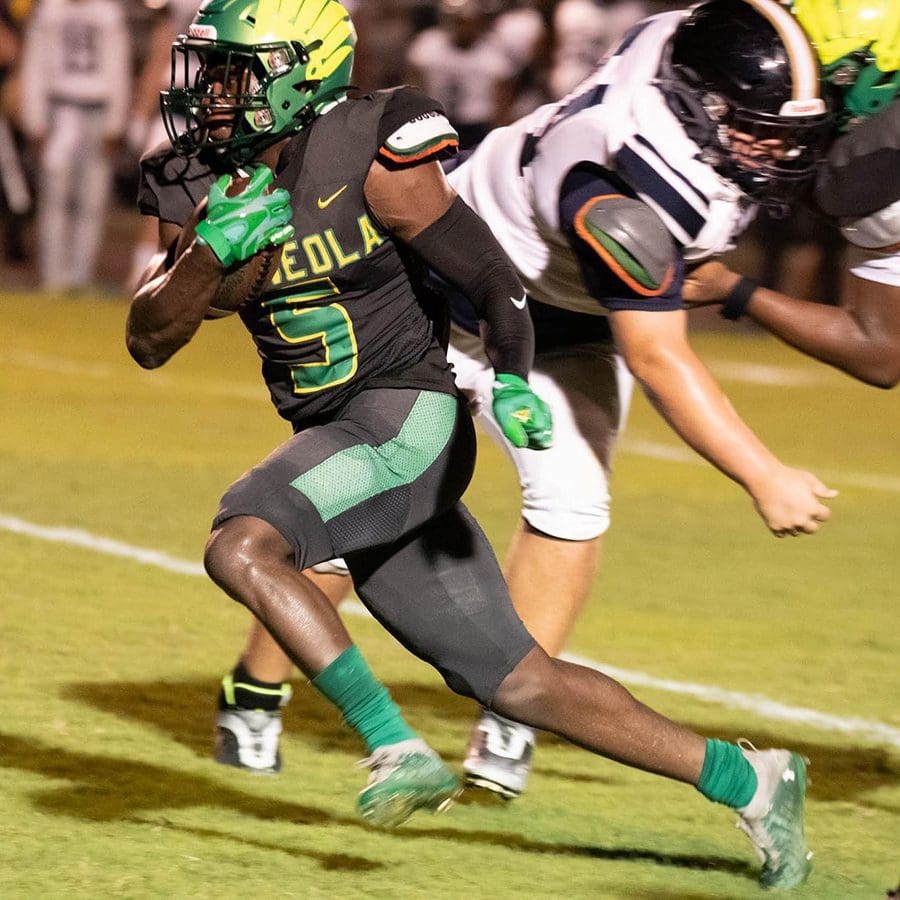 Happy Thanksgiving Everyone! We hope that each and every one of you enjoyed the holidays with family and friends. We also hope the teams didn't enjoy too much because as I know all too well thanksgiving day games can be rather nasty if you go too hard the day before. But then again playing up north we all played thanksgiving morning so the thought of a victory and the sweet taste of turkey, stuffing and gravy after a hard fought game would be tantalizing. These two games are going to be fantastic. We wish bot teams luck on attempting to make it to the State Semi Finals! The Super Bowls are just a few weeks away! Two wins is all Lake Minneola and South Sumter need to get there! It's one of the hardest things to do in high school sports. If you are in the are please get out to Bushnell and support South Sumter in their final home contest of 2022! They need all the support! Likewise if your able to make the drive to Lakeland the game likely be a sellout so plan accordingly.
Photos From
Elite Factory Productions
Steed Multimedia
Wildwood High School
Luke Hutchinson
Lakeland High School
Cocoa High School
Kyle Coppola was born in Newton, Massachusetts and received his Bachelor of Fine Arts in Communications from Curry College in 2016. After traveling to Florida on a family vacation, he decided he could not get enough of the warm weather and made the move from snowy Massachusetts to central Florida 8 years ago.
For the last decade Kyle has gained valuable experience in social media content creation, marketing and sales, writing, video production, sports announcing and even broadcasting for local radio stations, such as FM 102.9 in The Villages and FM 91.5 in Massachusetts. Every year he volunteers at The Villages Charter High School as a play-by-play sports announcer for the football games as well as a public address announcer for the basketball games, including the annual Battle at The Villages Tournament.
Outside the office Kyle is a husband and father to two beautiful girls along with their cat. In his spare time he likes to spend time with his family, travel, play golf and swim. He is also a huge sports junkie and even bigger motorsports fan and loves to attend racing events when he can.
Share This Story!