Remembering The Last Call: Jack Wilson's Farewell To Leesburg Football 19 Years On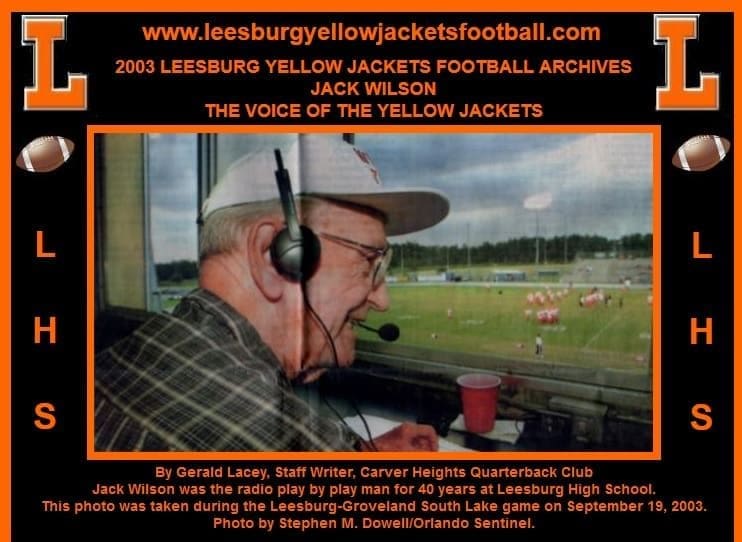 Remembering The Last Call: Jack Wilson's Farewell To Leesburg Football 19 Years On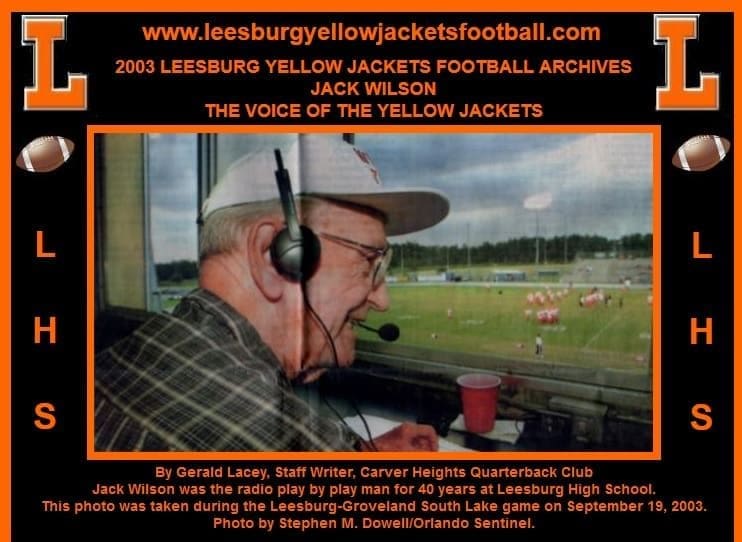 In the heart of central Florida, many have been eagerly following the remarkable journey of the Leesburg High School Yellow Jackets football team during the 2023 season. The team's triumphant 9-1 finish marked its best performance since the glory days of 1992. A wave of enthusiasm and jubilation has swept through the fan base, but amidst all the celebrations, one name stands out – Jack Wilson.
Jack Wilson, a beloved figure in the world of Leesburg High football, is a name synonymous with the team's history. November of 2023, marks the 19th anniversary of the final broadcast in the legendary 40-year career of Jack Wilson as the voice of the Yellow Jackets. Wilson's journey began in 1964 when he first took to the microphone to announce games for Leesburg High. Back then, the school was in the midst of a transformative period as it embarked on the journey of integration with Carver High School.
At that time, Leesburg High was an all-white school, while Carver High was the black high school in the community. It wasn't until the mid-1960s that integration occurred, with Carver High becoming a middle school and Leesburg High emerging as one of the pioneering Florida schools in the integration of Black and White students. The times were historic and fraught with change, reminiscent of the inspirational tale of "Remember the Titans."
Jack Wilson's roots in Leesburg extended beyond the broadcast booth. He had been a star running back at Webster High in the 1950s, but life took him to Leesburg in the 1960s, where he pursued a career as a barber. It was during this time that he received an unexpected proposition from a local radio station, WLBE 790AM. They asked him to step into the world of football broadcasting, a world he knew little about, but the station's management was convinced that he had the perfect voice for the job.
From that moment on, for 40 years, every time the Leesburg High football team took the field, it was the resonant voice of Jack Wilson that guided fans through the action. WLBE 790AM, which still exists today but with a regional Mexican format, became the platform for his passionate broadcasts.
But there was more to Jack Wilson than just his announcing career. He was known for his love of routine, a trait instilled in him during his time in the Army and honed during his four decades as the voice of the Yellow Jackets. Every morning at 5:58 a.m., he would sit in his Chevy Lumina, tuning in to the CBS radio news update. His daily ritual continued with a visit to Wolfy's, where he would join friends and enjoy his favorite meal of Egg Beaters. By 8 o'clock, he was already home, taking his daily nap. Jack was enjoying his life and the 1990s had been some of the best years of Leesburg High Football.
However, life took an unexpected turn in 1996 when Jack Wilson suffered a debilitating stroke during the first week of the football season. It was a blow that hit him harder than any heartburn ever could. Wilson was confined to a hospital room while the Yellow Jackets took the field without him. He underwent a series of surgeries, including a triple bypass, in a slow and painful recovery.
The entire season passed by, and Jack Wilson missed the first games of his long-standing career. However, his determination led him to return for the final game of the year. Seated in the very first row of the stadium, he watched his beloved team and old friends from WLBE help him return briefly to the airwaves.
That night must have been something truly special to be a part of. As a broadcaster myself I would have done whatever it took to get him broadcasting a game even for a brief period.
Though Jack Wilson had not missed a game since that fateful season, it's undeniable that things changed after his stroke and there were moments of silence during game broadcasts when he should be speaking. When the 2003 season arrived it was to be Jack Wilsons final season in the booth. That season was a difficult one including two teammates who were killed in a car crash. Willie Tucker Jr. and Howard Russell were both tragically killed in a crash in Clermont on September 11th, 2003. For Wilson it was somber start to the 2003 season but the season had to go on. During the year Wilson would honor the two students killed on every broadcast with a moment of silence before kickoff. However Jack did not want his final season overshadowed by tragedy and he would return in 2004 for one final season before signing off for good in November of 2004.
Jack Wilson's 40-year career as the voice of the Leesburg High Yellow Jackets came to an end in 2004 and tragically we would lose Jack Wilson in 2005. Jack served two terms on the Leesburg City Commission and as Mayor in 1970. He was a member of the First Baptist Church. Wilsons legacy remains deeply ingrained in the hearts of fans and the history of the team. As the Yellow Jackets prepare to host just their second home football playoff game without Wilson on the call in over 60 years, they do so with gratitude for a man who was, and always will be, a vital part of their football journey.
Photo Credit – www.leesburgyellowjacketsfootball.com presented by the Carver Heights Quarterback Club.
Kyle Coppola was born in Newton, Massachusetts and received his Bachelor of Fine Arts in Communications from Curry College in 2016. After traveling to Florida on a family vacation, he decided he could not get enough of the warm weather and made the move from snowy Massachusetts to central Florida 8 years ago.
For the last decade Kyle has gained valuable experience in social media content creation, marketing and sales, writing, video production, sports announcing and even broadcasting for local radio stations, such as FM 102.9 in The Villages and FM 91.5 in Massachusetts. Every year he volunteers at The Villages Charter High School as a play-by-play sports announcer for the football games as well as a public address announcer for the basketball games, including the annual Battle at The Villages Tournament.
Outside the office Kyle is a husband and father to two beautiful girls along with their cat. In his spare time he likes to spend time with his family, travel, play golf and swim. He is also a huge sports junkie and even bigger motorsports fan and loves to attend racing events when he can.
Share This Story!